I like it when the market starts to correct a very big mistake. It made a move to do just that in the homebuilders, a group that hasn't participated in this year's move up and yet has been seeing extraordinary growth. Tuesday they all went up - DR Horton (NYSE:DHI), Lennar (NYSE:LEN), PulteGroup (NYSE:PHM), and KB Homes (NYSE:KBH). And most of all, it began correcting an even bigger error in Toll Brothers (NYSE:TOL) with Toll climbing more than 9%. Toll had been pummeled the hardest of the home builders. It's still underperforming, just not as much, and that needs correcting.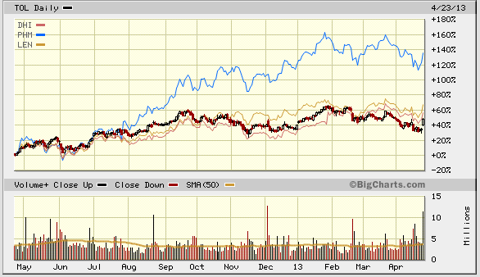 If you have followed my writings, you know I believe that Toll Brothers has been shot down unnecessarily and that this luxury homebuilder is going to slaughter analyst estimates.
Tuesday was a bit of vindication. Toll climbed on really not much news - an in-line new homes sales. In fact, the whole homebuilder group moved up - not as much as Toll - but a strong convincing move as the market realized there really is a housing recovery. Oddly, Whirlpool (NYSE:WHR) and Sherwin-Williams (NYSE:SHW) have been bid up as a housing plays while Toll has done nothing despite being at the very heart of the housing recovery.
And even with yesterday's move, Toll can go much higher: It has that much growth ahead of it. Last quarter, revenues were up 32%; signed contracts increased 38%; backlog rose 66%. And that is off a very low base, selling only 746 homes. To put that number in perspective, Toll sold more than 8700 homes in 2005. Toll has a big runway ahead.
Now the homebuilders are all good - DR Horton and Lennar and PulteGroup - all strong engines of growth coming off very low bases. But they are not as good as Toll at these levels. They have outrun Toll and that is the discount the market is handing investors right now.
Even though Toll does not give its earnings until May 20, this is a huge week for the company. Meritage Homes (NYSE:MTH), Ryland (NYSE:RYL), PulteGroup, M/I Homes (NYSE:MHO), and DR Horton all report this week and that will likely propel Toll higher. Each time one of them beats their estimates, expect Toll to rise further.
It is time for Toll to catch up.
Disclosure: I am long TOL. I wrote this article myself, and it expresses my own opinions. I am not receiving compensation for it (other than from Seeking Alpha). I have no business relationship with any company whose stock is mentioned in this article.