Peabody's (BTU) Q1 earnings results were released last week resulting in a 7.57% share price increase. This increase was quickly followed by a series of declines which have erased those gains. Year-to-date, Peabody is down nearly 30%. There are, however, some indications which point to a brighter future than the share performance would indicate.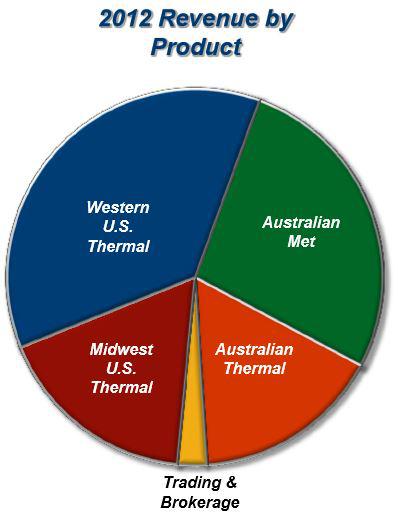 Since Peabody's revenues are split nearly evenly between U.S. and Australian coal production, it makes sense to look at each independently.
Australia
Peabody's Australian production naturally hinges on Chinese, Japanese, and Indian demand. A few points from the earnings report jump out as being positive indicators for the long-term health of this piece of their business:
China's coal imports increased 30 percent through March and full-year imports are expected to rise more than 10 percent in 2013. Continuing urbanization trends drove a 9 percent increase in first quarter steel production, supporting a sharp increase in metallurgical coal imports over last year. China has announced GDP growth targets of 7.5 percent in 2013, driving additional coal demand and imports.
India's coal imports rose 25 percent in the first quarter as growing demand for coal generation and domestic supply constraints fuel higher seaborne needs. India has now surpassed Japan as the second largest thermal coal importer. India's coal generation increased 9 percent in the first quarter, and coal stockpiles remain well below target levels.
Japan's coal consumption is expected to strengthen in the second half of the year as 3.6 gigawatts of coal-fueled generation are expected to come on line.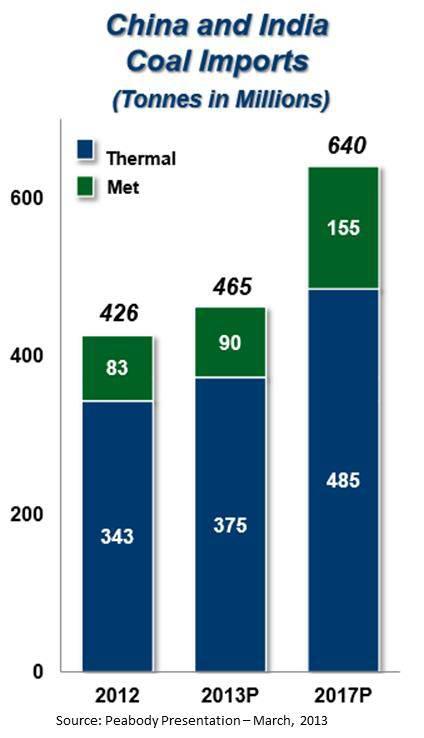 United States
It's no secret that I'm bullish on U.S. coal producers in the PRB and, to a lesser extent, the ILB. Peabody makes some points that reaffirm this conviction:
Peabody now projects 2013 U.S. coal consumption for electricity generation will grow by 60 to 80 million tons over 2012 levels based on strong first quarter demand.
Coal demand increased 8 percent in the first quarter and accounted for approximately 40 percent of total electricity generation. Natural gas prices are more than double prior-year levels, leading to gas-to-coal switching that drove an 11% decline in natural gas generation.
This trend accelerated in March, when U.S. coal generation rose 15% while gas generation fell 16% on higher natural gas prices. Peabody expects sharply favorable year-over-year coal demand increases to continue in the second quarter.
Coal shipments fell 10 percent in the first quarter, leading to an above-average customer stockpile drawdown. Powder River Basin and Illinois Basin customer inventories have now dropped approximately 20 percent below prior-year levels on a days-burn basis, and are on a pace to return to normal later this year.
Conclusion
There's a lot that goes into a share price - the company's balance sheet management, analysts' expectations, etc. However, ultimately the forecasted growth of the company's industry and how that company is positioned within their industry is the most important driver for long-term performance. I believe Peabody, among others, is well positioned for a rebound in U.S. coal demand and continued long-term growth in Asia.
Disclosure: I am long CLD, ACI. I wrote this article myself, and it expresses my own opinions. I am not receiving compensation for it (other than from Seeking Alpha). I have no business relationship with any company whose stock is mentioned in this article.