On first encounter, we were positively impressed by Xoom (NASDAQ:XOOM). Here was a company using technology to provide an improved solution in the arcane world of international funds transfer. We liked the stock so much that we wrote it up here and put it in our IPO Candy Folio. Shortly after the IPO, we found the service frustratingly hard to use and began to dig around and wonder more about the real asset here.
XOOM isn't a fraud. Wanting to stick with alliteration, we would go with filou which is more of a kind of "swindling knave". XOOM reported quarterly results Monday night that were ahead of consensus and management reiterated their strong guidance for the current fiscal year.
From a profit point of view, however, investors will have to be patient. Although gross margins are attractive (60+%), marketing and operating costs are high now as a percentage of revenue. So the company will continue to have operating losses for at least the rest of this FY.
Our note below goes into more detail about our specific (and admittedly anecdotal) experience, but the core of our concern is that the company is 1) relying on heavy marketing and promotion rather than offering a high quality of service and 2) their "risk management" is actually focused on managing customer profitability by encouraging those who do many small transfers (high margin). This is a little like having ATM machines that will only dispense $20-30 at a time which makes the $3 usage fee very high in percentage terms.
There is also some strong evidence that our experience was not isolated and that the company (or someone with a vested interest in the company) has probably paid for false reviews of their service on some consumer review platforms. It's not clear if that is illegal, but it's at least misleading and conditioning the market. We provide examples from this site below and readers can refer to reviewcentre.com to see for themselves.
Generally speaking, investors and analysts like XOOM. The 3 analysts covering it have "buy" ratings and price targets of $27 to $29 as we go to press. History also suggests that as long as XOOM keeps growing and stays legal, they will get acquired by a large financial institution. Many big banks and financial services firms struggle with organic growth, so acquisitions of companies like XOOM are perfect for them.

Click to enlarge
XOOM is currently trading at about 8x sales which is at the very upper end of the valuation range in this industry. Only Visa (NYSE:V) and MasterCard (NYSE:MA) trade that high. For comparison, American Express (NYSE:AXP) trades at 2x, Green Dot (NYSE:GDOT) at 1x, Western Union (NYSE:WU) at 1.4x and MoneyGram International (NYSE:MGI) at 0.7x.
Due to our concerns we are dismissing our prior IV model. Falling back to more conventional levels, we'll point to an arbitrary but still high valuation metric. The company is forecast to be profitable for the year 2015. If we put a 2x multiple on that figure ($167M), we get to a $5 share price. That's not a prediction, just an illustration of risk. You'd have to believe that 8x sales is the right figure at the current price and that seems like a stretch given what we know.
Good looking but dysfunctional service
The CEO of XOOM, John Kunze, is actually a software guy (Plumtree Software, Adobe), so that may explain why the system looked and behaved so much better than anything else we've seen in the space. In fact the XOOM front end software was just as excellent in use as it was in appearance so we were ready to be delighted.
What happened next stood in stark contrast to the impressive look and feel of the software. We'll get to some more market data in a moment, but the first red flag on this story came from our personal experience so here goes:
Strike One: I decided to try the service to send $500 from my US bank to a friend in France with an account at a major bank there (Societe Generale), and it got declined. That's okay, it happens, I'm a new user, so no problem. The email is a bit cryptic however (which stands in stark contrast to their very well put together client software and web interface) and suggests that I can challenge the decision and I do.
Strike Two: Another similar email arrives asking me to call a customer service number to provide more information to get my transaction approved. Now it gets weird… I call the number and after pressing the appropriate menu key, a person answers the phone, but they don't say anything and after a few seconds of background noise hang up the phone.
Strike Three: I'm still holding out some hope that the organization to which I have just given detailed bank information for not one but two accounts is going to answer the phone. So I call a few more times. In these cases the line just cuts off without any background noise. In a few hours I give up.
At this point, I decide to move on to other things and continue to rely on my existing methods for moving money.
We've all had bad customer service experiences so the story could end there. What's different here is that this company has bank information. It's not that easy to delete your account either. You can login and delete a good amount of personal information, but there is no "expunge all data" button.
So is my case unique or is this a pattern?
This is where the online data gets a bit suspicious. If you google "XOOM review" you will fall on a site which has over 5,000 positive reviews of the service. Having seen some "review jobs" in the past, particularly on services like iTunes, these looked like they fit the pattern. Lots of enthusiasm and exclamation points.
Yeah but maybe XOOM is just that amazing?! Over 5,000 people taking the time to rave about this online funds transfer service. And they all managed to find this obscure site (reviewcentre.com) to trumpet their experience. The only negative reviews I could find were for other services which said "use XOOM instead." These are things that make you go "hmm."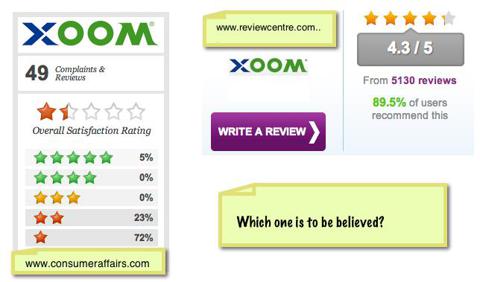 Click to enlarge
Time for a little more digging. Another site that seems more customer focused (consumeraffairs.com) told a very different story. There the overwhelming majority (95%) of the 39 ratings were negative. Many echoed my own bad experience with a bit more frustration. In fact many of the experiences described were quite a bit worse than mine and seemed to suggest that XOOM takes broad liberties with their claims and may not even have a system for monitoring customer satisfaction and service.
How fixable is this?
Looking more closely at the company's management team, it would appear that customer care and operations are simply not deeply seated in the XOOM DNA. XOOM is first and foremost a technology company. The head of "Customer Operations," Frank Walter, has only been with the company for 3 years (versus 6 to 8 years for the core senior team) and hails from AT&T, Good Technology and VCA Entech/Eklin Medical Systems. It wouldn't be fair to lay all the customer service issues at Frank's feet, but he's at least the point person in terms of the phones not being answered and many complaints going unaddressed.
Many rapidly growing companies run into customer service issues. We remember Sybase in the early days when their business was taking off. They just couldn't get to all the incoming calls or hire fast enough to support their customers. Eventually they "caught up" and took care of customers. eBay had similar issues years ago and got them fixed.
XOOM management can rightfully say that so far their results are "just fine" and that these issues are not material. But we'd argue that the high cost of sales and needing to bribe current customers with gift certificates to refer friends are ways that current investors are suffering from lower-than-necessary returns.
Longer-term if these issues are not addressed, it will make it easier for competitors like Western Union to offer a matching service whenever they feel the market is large enough to enter.
Had the service worked as advertised, I would have had dozens of my friends using it with near-zero marketing help from XOOM. That's how great new products spread. But this isn't that, at least not at this point. If the management team gets "customer religion" then investors should be encouraged. Until then this is one to be careful with.
Most institutions we have talked to have noted that the stock "is expensive," so we should expect to see some additional distribution when the lockup agreements expire on or about August 14th.
Disclosures
We know all too well than anytime you publish anything that isn't basically positive, there is an energetic reaction from those that own the stock/disagree with you. There is almost always an element of "vested interest" or "axe to grind" in the replies.
So it may be helpful to know that we have absolutely no investment interest in XOOM (long or short) nor in any of their competitors or related stocks. We haven't done any business with XOOM or any company in the online payment processing space.
The only fairly distant related business transaction we have is some ongoing advisory work in secure authentication which has little or nothing to do with XOOM.
Disclosure: I have no positions in any stocks mentioned, and no plans to initiate any positions within the next 72 hours. I wrote this article myself, and it expresses my own opinions. I am not receiving compensation for it (other than from Seeking Alpha). I have no business relationship with any company whose stock is mentioned in this article.