By Cagdas Ozcan
Most (if not all) gold stocks plummeted along with the slump of gold in the market last week. Not even the giant producers like Goldcorp (NYSE:GG) and Barrick (NYSE:ABX) were spared from the fall down.
While I doubt Barrick might recover, I am positive about Goldcorp. The market outlook for most gold companies is negative, but Goldcorp has strong finances. The recent plunge may be viewed as a great opportunity to secure your position, while the prices are at a bargain level.
Volatility in the Gold Market
The gold (NYSEARCA:GLD) market has been upbeat for more than 10 years. The trend is upward and for the last two years, the slope of gold curve got even steeper. This caused some investors to speculate whether gold is overvalued and a correction may be imminent.
Similar to the stock market and the forex market, there is a high volatility in gold market. But the risk is probably lower, as many consider gold as an insurance policy. However, despite the probable gains, there is also a chance for the prices to tumble. The possibility is even higher now, that the prices have been rising for more than a decade.
The supplies of gold can possibly go down, causing the prices to shoot up. But it is likewise possible for supplies to exceed beyond the demand, causing the prices to fall down. Aside from that, there are political and cultural issues that can disrupt the flow of gold and its demand.
In essence, proper timing is important. Choosing which gold shares to invest in is similarly essential. Gold miners like Goldcorp are among the good potentials for investment. Based on its latest financial report, the all-in sustaining cash costs of gold per ounce was $874 in 2012.
So even with the recent slump of gold towards the year-to-date low at $1380, Goldcorp still profits from every ounce. Its profitability is shown in its income statement and balance sheets. But despite that, the share prices continued to retreat.
Stock performance
Goldcorp did not perform well on the trading floor this year. It continued its downward trend after reaching the peak on September 21 at $46.93. Since then, Goldcorp was headed downward and the losing streak continues to date.
The recent slump in the gold market further accelerated the ride of GG down the road. It hit the lowest point in 4 years and retreated back to the 2009 price level. Year-to-date loss of GG share prices is already at $9.66 per share with a negative growth of 25.75%.
On April 15, when the gold market tumbled, GG lost 6.70% on a single day from $29.69 to $27.69. Goldcorp paid out dividends of 0.05 per share on April 16. But that did not stop the slide further to the 52-week low of $27.11 during the April 17 intraday trading. GG is now trading almost half its price compared to seven months ago. Its share price has already lost 42.02% from the peak.
Financial Background
Many analysts believed that Goldcorp is undervalued at its current trading prices. While the share prices of GG are in a losing streak on the trading floor, its financials remain somewhat stable. In fact, it is one of the biggest gold producers around the globe with retrospect to market capitalization.
Goldcorp has a market cap of $22.615 billion. Its closest rivals are Barrick and Newmont Mining Corporation (NYSE:NEM) has market capitalizations of $18.19 billion and $16.38 billion, respectively.
On the earnings side, Goldcorp has increasing revenue year-over-year. In 2010, the company saw revenue of $3.799 billion. It performed better in 2011 with 41% revenue growth. 2012 also saw another round of increase in revenue at $5.435 billion, but with a more sluggish growth of 1.36%.
While the revenue is increasing, net income is decreasing due to the rising cost of sales. Goldcorp posted a net income of $1.749 billion in 2012. This is lower than the net income it generated the previous year at $1.881 billion. Nonetheless, the company is earning and it is giving out dividends year-over-year since 2004.
At present, its annualized dividend is $0.60 with a payout ratio of 28, while its earnings per share are $1.85. The company has standing liabilities of $8.496 billion at the end of 2012, but its net tangible assets stood at $20.979 billion. Total debt-to-equity ratio is manageable at 0.03 while the current ratio is 2.20.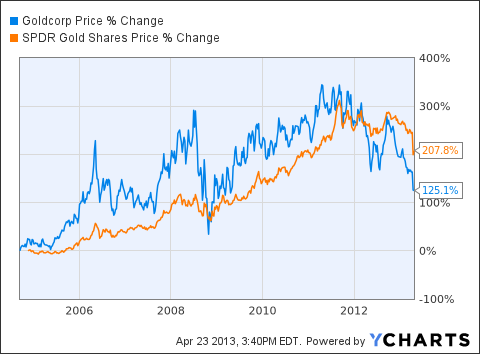 The above data shows the financial strength of Goldcorp, which is unfortunately not reflective of its share performance. This leads to a conclusion that GG share prices are heavily influenced by the current gold market conditions. If you take the chart of GG close to the chart of gold, you will see a mirror trend. Share prices were declining since September 2012.
Summary
The market dictated by speculations is pulling Goldcorp down. Despite releasing a strong financial portfolio and giving out dividends year-over-year, share prices continued to plummet. Having a more solid market capitalization versus its peers, GG might be among the first to rebound if gold recovers.
Many analyst firms in Nasdaq share the same view. Eight of the 17 firms recommended strong buy, while 4 advised a buy. The remaining 5 firms voted for a hold. Neither advised for a sell nor anyone rated the stock as underperform. I think a bounce is likely to happen. The stock is now trading at four-year low, while experiencing close to the peak less than a year ago. Moreover, a rebound in the gold market will probably see a bigger bounce by Goldcorp. But still, the rebound is yet to be observed. It is also possible that the recent fall might be the start of the correction phase.
Disclosure: I have no positions in any stocks mentioned, and no plans to initiate any positions within the next 72 hours.
Business relationship disclosure: Efsinvestment is a team of analysts. This article was written by one of our equity analysts. We did not receive compensation for this article (other than from Seeking Alpha), and we have no business relationship with any company whose stock is mentioned in this article.