On December 31st, I published an article highlighting Yahoo's (NASDAQ:YHOO) Q3 earnings call, the hiring of new CEO Marissa Mayer and key changes in the management team, some highlights of Yahoo's product portfolio, and what to look for from the company going forward. Since then, the stock is up 25.03%, and has outperformed the S&P by 12%.
(click to enlarge) Source: Finviz.com, Weekly Price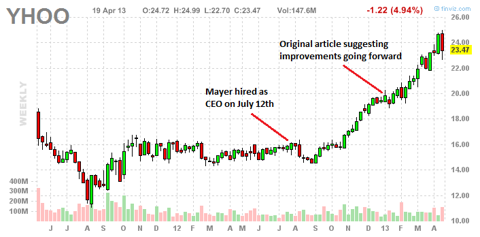 Yahoo has made the headlines many times since then. One of these times was in late February, where Yahoo's Mayer made headlines for no longer allowing employees to work from home, which caused much discussion amongst professional communities. Many people do not know that Mayer made the decision by checking the login records of employees working from home, and discovered that the ones working from home were not actually working. Ex-Yahoo employees admit this was the right decision, as it was a problem that previous CEOs had known existed, but chose to do nothing about. One trend I have noticed with Mayer is that she makes her decisions based on data, and is not afraid to make difficult ones when necessary.
This article will contain my takeaways from Yahoo's Q1 earnings call (Talent, Products, and Partnerships), an in-depth look at Yahoo's 6 acquisitions since Mayer took the job as CEO in July, a look at some of the Wall-Street Analysts buy/sell opinions on Yahoo and trends in those opinions over time, and an analysis of the potential growth and value of Yahoo's Alibaba investment (the Amazon of China).
Q1 Earnings Call Takeaways
Yahoo reported its Q1 Results after the market closed on Tuesday, April 16th, 2013 (The transcript can be found here). EPS came in at $0.38, beating estimates of $0.25 by 52%. Yahoo has beaten earnings estimates the last 8 quarters, and a graphical representation of the last 6 is available below.
(click to enlarge) Source: Bloomberg

Revenue was down 10% year-over-year. Listening to the call, Mayer pinpointed the decrease in revenue to the change in the way ads are being displayed. Yahoo is showing fewer ads, and has noticed less ads has led to more user interaction with the ones that remain. This increase in interaction has allowed Yahoo to increase the price per ad by 7%. Mayer said there is still room for further increases in price, and the company will look to find the perfect pricing mix for the new site layout. As more changes are made, especially related to Yahoo's mobile lineup, I believe it is safe to expect some slight volatility in revenue due to experimentations with price points on the new ads.
Additionally, Yahoo will continue its $775 million buyback program. I personally do not believe buybacks are the best way to increase shareholder wealth. But it does provide support going forward, which is important to keep in mind when investing in a company.
Talent
Mayer has continuously stated that Yahoo's goal going forward is to "put users first, and make their daily routines delightful". Yahoo plans to accomplish this by first becoming a company with great talent. Yahoo is not a commodity company. It does not sell the exact same products as its competitors, and it has the opportunity to differentiate from its peers. Yahoo's goal is to focus on the development of its people, because the capability of its employees will directly correlate to the quality of user experience they are able to build. Great products and user experience lead to more users, and more users leads to opportunities to increase advertising revenue, which drives earnings higher.
Mayer has stated many times that she plans to increase the talent pool at Yahoo through acquisition of small teams that have already created a successful mobile product. Her goal is to make Yahoo the best place to work, and has started 567 employee focused initiatives within the company, including a push for all employees to test Yahoo's new products by providing them with the smart phone of their choice. The number of resumes received has tripled over the course of the quarter, and attrition rates (employees leaving the company) are half of what they were a year ago. In addition to less employees leaving, 1 out of 7 new hires in the 1st quarter were what Yahoo refers to as boomerangs, former employees coming back to the company. As more talent applies to work at Yahoo, management can be more selective, and the quality of employees will increase.
There were two internal promotions to management positions in the last quarter. Scott Burke was promoted to lead Yahoo's Advertising Technology, and he has a deep knowledge of the technology industry and has helped build the infrastructure to monetize Yahoo's products and create revenue generating opportunities. Additionally, Laurie Mann has been promoted to lead Yahoo's Search business. Laurie has been instrumental in Yahoo's search partnership with Microsoft, and will be in a position to ensure Yahoo sees strong operational success going forward.
Additionally, Yahoo has hired Bob Stohrer to lead Yahoo's Brand Creative division. Bob has held key roles for Sprint (NYSE:S), Clear Channel (NYSE:CCO), Virgin Mobile, and the NFL. I believe that experiences at these companies with similar positions in media will translate very well into Stohrer's role at Yahoo.
Yahoo recently re-aligned the organization of its sales team, which it believes is more beneficial to the sales people, and most importantly the customers. The new structure is in its early stages, so it may be difficult to judge the effects so far, however it gives the sales team more knowledge of Yahoo's products, allowing them to be more focused on specific advertisers. This has made it easier for customers to do business with Yahoo, and may contribute to increased sales going forward.
Products
By increasing the talent of the teams at Yahoo, I believe it will lead to a direct correlation of the quality of products coming out of the Yahoo pipeline, which in turn will lead to growth in earnings. Personalization will be a key driver of content and ads, meaning Yahoo's products will offer personalized content as well as a personalized ad experience for users.
Yahoo launched a new modernized Yahoo homepage in Q1 for desktop, mobile, and tablet devices. The pages load faster, and Yahoo has said that due to the personalized newsfeed and endless homepage, it is more relevant to its users. Interactions with the homepage have increased by 25% since the new design launched, and the time spent, frequency of use, and page views of the homepage are up as well.
Although no numbers were given, Mayer said that daily active users on its redesigned Yahoo Mail app are up since the launch of its revamped Android and iPhone apps. Photo uploads on Flickr have increased 50% quarter-over-quarter, and Search traffic is up quarter-over-quarter as well.
Yahoo also has much more planned for mobile in the coming months. It is projected that by 2015 more people will access the internet through mobile devices than by desktop. Tablets will be a source of this growth, as tablet use by consumers has grown faster than smartphones in the last year. Yahoo's goal is to optimize its products for smaller screens, because mobile is the center of users' daily lives and the focus of a huge shift in internet use. Mayer stated that Yahoo had 200 million monthly mobile users at the end of the last year, and 300 million monthly mobile users at the end of this quarter. As Yahoo continues to add new mobile product offerings, the number of mobile users will continue to increase, as it grew by 100 million users, or 50%, over the last quarter alone.
Partnerships
Yahoo is the only company with multi-year contracts with Apple (NASDAQ:AAPL), Facebook (NASDAQ:FB), Google (NASDAQ:GOOG), and Microsoft (NASDAQ:MSFT).
Details have recently emerged about Yahoo enriching its partnership with Apple for more integration in iPhones. The default Finance and Weather apps are currently powered by Yahoo, however it is not specifically a Yahoo app, and instead brings users back to Yahoo's website. These partnership rumors could be potential further integration, and according to All Things D, it appears that Yahoo will be creating a new Weather app for the iPhone.
Acquisitions
Yahoo has acquired a total of six companies under Mayer's tenure, including a speculative seventh deal to acquire the French YouTube, Dailymotion. The purpose of the six acquisitions thus far have been acqui-hires, which is where one company acquires another specifically for the employees and talent working at the other. Not only have these acquisitions brought in new talent, they have also brought in new technology. All of the acquisitions have focused on mobile technology, which Mayer indicated is a key source of growth for Yahoo going forward. Mayer has said that with its acquisitions, it is looking to add both talent and product differentiation, as well as an opportunity to integrate quickly and easily into Yahoo's existing business. This is possible with these small acqui-hires because Yahoo is not merging with an entire company, as an acqui-hire is similar to hiring five or six new employees that it feels will fit in well with its culture.
A key takeaway of these acquisitions is that they have all been small teams who have built a successful app that has been used by thousands to millions of users per day. They carry over to Yahoo their experience of bringing a mobile product to market, which is something that not many current Yahoo employees have. The acquisitions further cement and lay Mayer's foundation for Yahoo's growth and push into mobile.
Acquired on 10/25/12, Net cost of $6 million (acquired $1 million in cash) between OnTheAir and Stamped.
Stamped was a Google Ventures-backed iPhone app launched by a team of (mostly) former Google employees in November 2011. The app let you keep track of and share the things you like, including restaurants, books, movies, music, and more. You could also tap into the recommendations of your contacts and celebrities. Notable early investors in the app included Ryan Seacrest, Ellen Degeneres, The New York Times, Sony Columbia Records, and most notably, Justin Bieber. Stamped had a nine-person team, five who used to work at Google, that were all brought in to work on Yahoo's mobile team. Some of the notable employees brought to work at Yahoo are:
Acquired on 12/4/12, Net cost of $6 million (acquired $1 million in cash) between OnTheAir and Stamped.
Started as a way for people to host chats similar to Google Hangouts with others, and shortly after switched to an enterprise video conference platform using WebRTC, the open source audio and video framework Google built to power Google Hangouts. OnTheAir served as a bridge between flash (on the cheap end) and Cisco/Polycom/Vidyo (on the high end). It worked on all browsers and operating systems, as well as mobile devices. The five-person team that was brought over will focus on Yahoo's mobile offerings.
Founder Erik Goldman - Stanford computer science Masters who interned at Facebook and worked on Apple's iCloud.

Founder Josh Schwarzapel - CEO, worked on product strategy, user experience, recruiting. Cooliris founding team member.

Abel Allison - Worked on OnTheAir's user experience. Was previously an interaction designer at Meebo. Graduate degree in Computer Science from Stanford.

Dan Hopkins - Built and improved systems within the apps infrastructure. Worked at Google on infrastructure that supported Gmail and Google+. Graduate in Computer Science from Johns Hopkins.

Mike Kerzhner - Built real-time push infrastructure. Worked on the OS X Lion team at Apple. Graduate in Computer Science from Stanford.
Acquired on 1/22/2013, Net cost of $10 million
Snip.it was a social platform for creating collections of articles, videos, and images on the web. Users created and maintained theme-based collections around interests such as politics, science, education, and fashion. Users could browse other users' collections, and re-snip from another user's collection into their own, comment on snips, and share on other social media platforms. The functionality was similar to Pinterest. The small-team was acquired to work on Yahoo's "social news" team.
Ramy Adeeb - Founder and CEO

Jouhan Allende

Will Dalton

Jen Pollock

Francesco Carli

Marc Nijdam

Mark Percival

Alaina Percival

Cedric Han

Sarah Caplener
Acquired on 2/12/2013
Alike pulled local recommendations from Facebook, Twitter and Foursquare. It is speculated that Yahoo may incorporate the technology into its existing products to allow users to recommend nearby businesses. Alike's small-team will work on Yahoo's mobile team. The four employees I could find on LinkedIn are:
Acquired 3/20/2013
Jybe connected its users to the physical world around them, allowing them to connect people with recommendations about things to do, stuff to eat, books to read, and movies to watch. The five-person team, who were all previous Yahoo employees, will be working on Yahoo's Mobile team.
"Basically we've learned a lot about how to use search scale techniques, both on the data science side but also large-scale engineering, and apply it to signals to really do personalization well," he said. "We really want to take those technologies and apply that across most of the Yahoo! properties." - Arnab Bhattacharjee, Founder of Jybe
Arnab Bhattacharjee (Former VP of Yahoo Search Technology)

Tim Converse

Christian Kunz

Sameer Paranjype

Karthik Krishnamurthy
Acquired on 3//25/2013, Total cost of $30 million
Summly was an app that summarized news stories, giving the reader more information than a 140 character tweet, and less than a full 10-page article. CEO Marissa Mayer has stated this technology will be implemented in some of Yahoo's mobile offerings going forward. Additionally, Mayer ended the Q1 Earnings Call by running her script through Summly, which offered a brief summary of everything she had discussed during the call:
I'm going to offer a few summarizing thoughts. And luckily, as I mentioned earlier, we recently acquired some amazing summarization technology. So we took my earnings script and we gave it to Summly, we wanted to see ultimately what it would do, and it took my 2000 word script approximately and consolidated down to the following 140.

I'm pleased with the continued execution I see every day. Our teams have been working very hard especially in Q1. As a result of these initiatives and many others, the talent is undeniable. Today, more applicants want to work at Yahoo! and more employees are staying. These teams bring an incredible mix of engineering and technical talent, which will help us accelerate our efforts and mobile development and content personalization. The teams are already moving quickly to amplify the entrepreneurial spirit that's so prevalent at Yahoo right now. Designed to be more intuitive and personal, the new Yahoo experience is all about users' interest and preferences.

Yahoo is a consumer Internet company and the consumer Internet is a growth industry. We are on course to do what we said we would do; stabilize and grow with the market. You can see easily the power of the technology we are acquiring and developing, and it's coming soon to a product near you. Thanks for your time this afternoon. We'll talk to you next quarter. Have a great week. Thanks.
Yahoo bought the technology, closed down the app, and brought the team over, including 17-year old founder Nick D'Aloisio.
Dailymotion
Yahoo is also reported to be in talks to purchase a 75% stake in Dailymotion, the French YouTube, for $200-$225 million. I have not been able to find news of when the deal may be finalized, and I personally do not think the deal will happen. Mayer has stated numerous times that Yahoo is looking for small deals below $10 million, and I believe the price tag on Dailymotion is too high. There are exceptions to every rule, and Yahoo does have a history of large acquisitions. I would not rule an acquisition of Dailymotion completely out of the picture, however I do not think it is likely.
Acquisition Takeaways
The highlight of these acquisitions is that Yahoo is essentially grabbing a small team of engineers that has experience bringing a product to market. This is crucial because each of these teams has experience designing, developing, and maintaining a product, which is difficult to find when you are individually hiring new employees. Three highlights of these acquisitions is the teams' experience with location-based recommendations, the capabilities of Snip.It social news, and the summarization power of Summly.
I am predicting that all three of these technologies will find their way into other Yahoo products, specifically the application of Summly which has the power to summarize articles for users. By saving time for users, it will cause them to spend less time reading and more time interacting with Yahoo's products. I believe this is a potential game-changer, and something that is being overlooked by analysts. During the Q1 Earnings Call, only one question was asked by analysts about Yahoo's acquisitions, and it was regarding Yahoo's ad technology.
Brian J. Pitz - Jefferies LLC

Thank you. Marissa, a few more questions on programmatic in your ad stack, do you effectively think you have the assets to be competitive? And basically how would you stack [RAC] [ph] RMX and other ad tech assets versus the competition? Should we assume that this is going to be the biggest area potentially for acquisitions longer-term or should we assume maybe more content? That would be helpful, thanks.

Marissa A. Mayer

We are very committed to our ad technology and making sure that we have a product that is really competitive and best of breed. So this will be an area of continued focus and investment for us. We do think in terms of the exchanges, we have one of the largest exchanges. So I think that we're clearly in the top two or three globally. Thank you for your question, Ryan.
Something to keep in mind with Yahoo's recent acquisitions is that they have been relatively cheap and on a smaller scale compared to acquisitions generally made in their industry, especially compared to previous acquisitions Yahoo has made under previous management teams (Deliciou.us, Broadcast.com, etc). Yahoo is not borrowing money for these acquisitions, and it is using very small amounts of its free cash flow on these purchases.
Additionally, none of the acquisitions have required extensive integration of systems into Yahoo's infrastructure. Since the acquisitions have consisted of established teams moving into Yahoo, there will be fewer problems associated with integrating existing products into Yahoo's portfolio, only the need to integrate employees. These new employees are entering Yahoo as a team they are familiar with, and with a team that they have already built a successful mobile product with. This experience is invaluable, and I believe Mayer has made smart moves in regards to acquiring new talent and technologies that can be utilized by Yahoo in future products.
I believe going forward, we will see analysts raise their targets based on some of the technologies and experienced engineers Yahoo has seen added due to its small, but effective, acquisitions.
Analyst Opinions
As Yahoo's stock price has increased over the past few months, there has been an favorable change in consensus analyst opinions. Below is a table of analyst recommendations that have been initiated since the end of November of 2012. The consensus rating is a Hold, with a price target of $22.97.
Looking at the analyst recommendations published in just the last month, we see the consensus target price rose by $1.03, an increase of 4.5%. Following the stock on a daily basis, I have noticed the market has tended to react favorably to the price the next few days after an analyst upgrade is issued.
Additionally, the only analyst with a Sell rating on Yahoo has been fairly inconsistent at predicting the price over the last 5 years since initiating coverage. The graph below shows Yahoo's price in white, and his target price in Orange.
James Lee has held Yahoo at an underperform recommendation for the last year, while consistently raising its target price. Below is a graphical representation of the price compared to the target price, as well as a graphical representation in the change of Buy/Hold/Sell recommendations.
Looking at a graphical view of analyst target prices compared with Yahoo's stock price above, the share price (white line) trends closely along with Analyst target prices (orange line). The recent pullback leads me to believe that this is a great entry point on Yahoo, as we will see the price rise to meet the average 12 month target price in the next few weeks.
I believe as analyst sentiment improves and they continue to raise their target prices, the price of the stock will increase as well. Listening to the questions asked during the Q1 Earnings Call, it seemed like they were very concerned with some of the older parts of Yahoo that, in my opinion, will be very different in a few years. I am not sure the analysts grasp the changes that have been occurring at Yahoo, and just like all investment advice, I would take their target prices with a grain of salt and continue to do your own research on the company to determine your own entry and exit points.
Chinese Growth Will Increase Alibaba's Value
Part of the upside of an investment in Yahoo is its 24% ownership stake (disclosed in their most recent earnings call) in Alibaba, the Chinese equivalent of Amazon (NASDAQ:AMZN). There has been concern lately about an economic slowdown in China. GDP is still projected to grow at 7.7%, which is much higher than the 2-3% the U.S. has been in the last decade.
As China has grown over the years, the number of internet users in the country has grown as well. It has more broadband internet subscribers than the United States since 2008.
After looking at the above graph, there is definitely a case that China does not have much room for an increase in internet penetration amongst its population.
According to Google, China actually has the lowest number of broadband subscribers per 100 people out of the 5 countries I have used as a comparison. The graph above shows that less than 15 out of 100 people in China have broadband internet subscriptions, which is over 50% lower than its four peers.
Additionally, the mobile subscriptions in China have grown at a much faster pace than the rest of the world. According to Google, there are almost 1 billion mobile subscriptions in the country. I am assuming this takes into account government and corporate subscriptions, where one employee has multiple subscriptions.
From the graph above, you see that even though China leads in mobile usage, China is still behind the other four countries in the sense that it has the most room for growth. As China's GDP grows, consumer purchasing power will increase, and the number of broadband and mobile users will continue to grow as well.
The above graph shows that China was late to the game when it came to the internet, however the amount of internet users is growing much faster than its 4 peers. There is still much room for growth in the country, a condition that is favorable for growth in Alibaba because as more Chinese consumers get access to the internet, the prospects for growth for Alibaba will continue to increase.
The Chinese consumer also has tremendous upside when it comes to personal consumption. The graph below shows that consumption expenditure per capital in China has been growing at a faster rate than any of the other five nations for the past 10 years. Chinese consumers like spending money, and mobile devices have become a popular choice.
(click to enlarge) Source: Google Public Data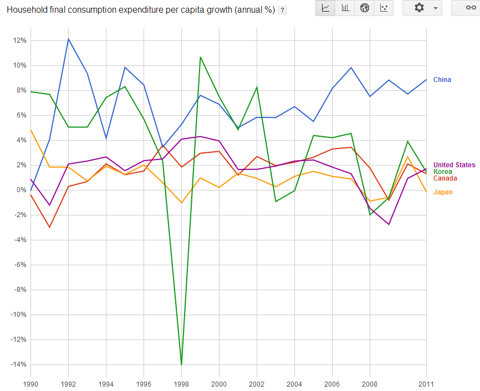 I believe this information leads an investor to conclude that as the Chinese economy continues to expand and Chinese consumers have more disposable income, you will see continued increase in consumer consumption. In the U.S., we have seen Amazon steal market share from traditional brick & mortar retailers, and I believe Alibaba is in a comfortable position to continue to grow as the Chinese economy expands.
Valuation of Yahoo's Alibaba Holding
Analysts are projecting an Alibaba IPO sometime in 2014, which will increase publicity on Yahoo's 24% stake. Currently, projections for valuation of Alibaba range from $30 to $150 billion (A Google for "value of Alibaba" gives you a few pages of estimates), and this number has been steadily increasing. In comparison, at the time this article was written Amazon had a market cap of $118 billion. Once shares of Alibaba are publicly traded, it will be reported on Yahoo's balance sheet as a Level 1 Fair Value asset, which simply means it is valued at the price it is being traded at in an active market, not a price given to it through a valuation done by a third party.
Looking at the value of Yahoo's share price according to Trefis as of 4/19/13, we get a breakdown of how each component of Yahoo translates into its share price.
Source: Trefis.com, as of April 19th, 2013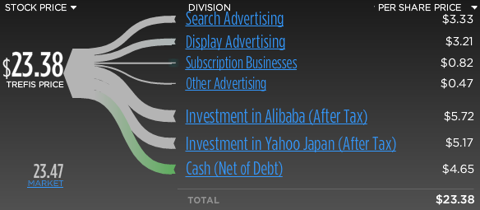 Taking these per share numbers and using a conservative valuation of $50 billion creates an implied upside of 4.32%. An aggressive valuation of $100 billion gives an implied upside of 33.43%. Keep in mind that these estimates are in no way 100% correct, and you should err on the side of caution if possible.
Source: Values from Yahoo's FY12 10K; Per Share Values from Trefis.com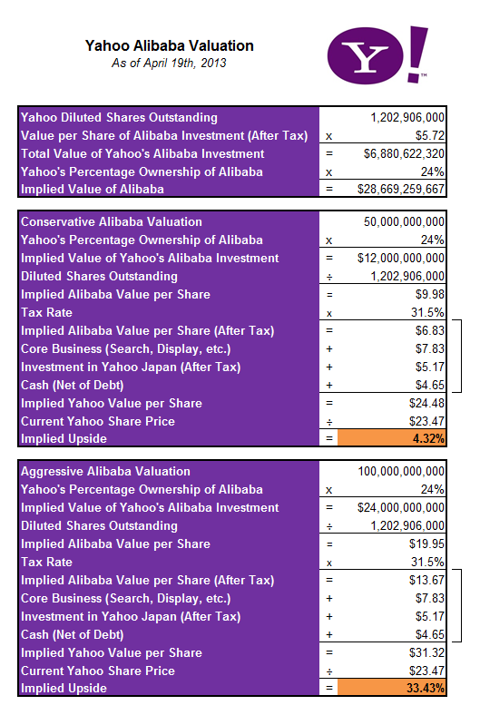 I believe Yahoo's 24% stake in Alibaba gives an investor a reasonable margin of safety when investing in Yahoo because the market will continue to realize its value as it increases over time. The value has risen considerably over the past few years, and I believe it will continue to do so in the next few years.
An additional piece of information to take away is that the market is currently valuing Yahoo's core business around $8. When looking at all of Yahoo's pieces of its core business such as its Search and Display ads, keep in mind that it is not valued at the actual share price, but approximately 1/3 of what it is trading for in the market. The company may be "overpriced" trading near $24 a share, and it may even be overpriced trading at $8 per share, however it is important to keep in mind the different moving parts of the company when determining when to buy or sell a stock.
Investment Thesis
I believe that Yahoo is a safe investment going forward. It is poised for growth and currently undervalued. Two catalysts will create value for shareholders going forward:
Yahoo is committed to improve the talent of its employees. This will increase the quality of Yahoo's products because Yahoo's employees are the driving force behind the company's product development. With improved product offerings, more users will use Yahoo products. As Yahoo's user base expands, advertiser demand will increase, growing revenue and earnings.

The value of Yahoo's investment in Alibaba will continue to appreciate. There is implied upside using both conservative and aggressive valuation estimates, which creates a margin of safety for investors looking to protect their wealth.
Source:Finviz.com, Daily Price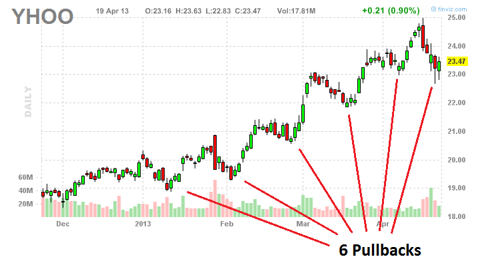 Yahoo has seen significant pullbacks six times in 2013. Each of these pullbacks have created a great entry point. The recent pullback after its Q1 earnings call has created an optimal opportunity for investors to initiate, or add to, a position in Yahoo. Watch for future pullbacks as we head into the summer, as each one presents a chance to buy the stock at a discount.
Disclosure: I am long YHOO. I wrote this article myself, and it expresses my own opinions. I am not receiving compensation for it (other than from Seeking Alpha). I have no business relationship with any company whose stock is mentioned in this article.