The Paris-headquartered Alcatel-Lucent (ALU) is one of the largest telecommunication vendors around the world. Alcatel-Lucent offers wireline, convergence, enterprise communication equipment, and wireless devices. Its broad range of services enabled the company to diversify its target market and risks. However, the size and complexity of operations also led to the decline of the company. Since the merger of Lucent Technologies with Alcatel, the company is having tough times.
At the moment, Alcatel-Lucent has many negatives which include poor cash flow, reduction in the revenue, tough market conditions, increased competition, weak margins, and poor stock performance. The company needs constant innovation and research to succeed. It also needs to find ways to redesign its cost structure to work efficiently. There are high hopes for the new CEO of the company, Michel Combes, as he is quite well known for innovative cost cutting methods. His cost cutting plan is expected in June. Let's see how Combes will play and make some moves which the company has been longing for.
Industry Background:
Since Alcatel-Lucent merged in 2006, it has been struggling with its poor performance. Many researchers and analysts have declared the merger a failure. The company is fighting against many problems which include its internal problems, poor market conditions, and tough competition in the industry. The market for telecommunication equipments is getting tougher day by day. There are already several giants in the field, most of which are struggling to maintain their market share against low-cost equipment providers.
Other major players in the European networking industry include Cisco Systems (NASDAQ:CSCO), Nokia Siemens (NYSE:NOK) and Ericsson (NASDAQ:ERIC). Although, most of the market players in the industry are going through the rough patch, probably Alcatel-Lucent suffered the most.
Apparently, the only way to be competitive in the market and sustain a reasonable performance is through cutting costs. All of above mentioned companies have announced a massive reduction in the workforce as a means of cutting costs. On the other hand, Huawei Technologies plans to hire 5500 workers over the next few years. Huawei's dominance will increase the competition and generate further problems for the high-cost market players.
Stock Performance:
The stock is trading at $1.31, 35% lower than its 52-week high price. Despite a lower share price of the stock, ALU's market to book value is 1.25. Although trailing P/E is not available, the forward P/E of 136 is one the highest among the competitors and the industry. The dividend yield of the company is not available, because the company has not been paying any dividend for last 6 years. A negative profit margin is due to huge costs incurred during the year.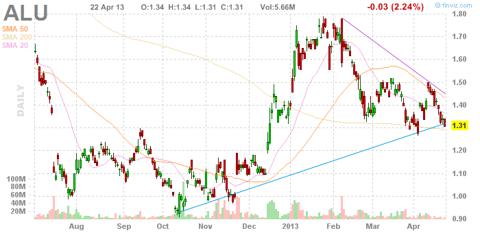 ALU's operating cash flow is very low compared to the industry. ALU is the smallest in terms of market capitalization, but Cisco is performing very well as its profit margin, revenue, and price earning multiple are all quite encouraging. ALU has the lowest gross margin, which resulted in a negative net income and EPS. The poor operating performance of the company is mainly due to high costs of research and development, wearing down of assets, and relatively higher pension costs.
| | | | |
| --- | --- | --- | --- |
| | ALU | CSCO | ERIC |
| Trailing P/E | N/A | 11.96 | 44.31 |
| Forward P/E | 136 | 9.9 | 13.29 |
| Profit Margin | -9.51% | 19.72% | 2.54% |
| Operating Cash Flow | $240.81 Million | $11.87 Billion | $3.31 Billion |
| Dividend Yield | N/A | 3.20% | 2.60% |
| Market Cap: | 3.04B | 109.09B | 37.82B |
| Employees: | 72,344 | 66,639 | 110,255 |
| Qtrly Rev Growth (yoy): | -0.01 | 0.05 | 0.05 |
| Revenue: | 18.70B | 47.25B | 34.20B |
| Gross Margin: | 0.3 | 0.61 | 0.33 |
| Operating Margin: | 0.01 | 0.23 | 0.08 |
| Net Income: | -2.64B | 9.32B | 866.98M |
| EPS: | -0.78 | 1.74 | 0.27 |
| P/E: | N/A | 11.77 | 43.99 |
| PEG (5 yr expected): | 0.39 | 1.25 | 0.53 |
| P/S: | 0.16 | 2.32 | 1.1 |
Source: yahoo.finance.com
Price-to-sales ratio is very low compared to the industry and competitors, which shows that investors are not ready to pay higher for the stock. Expected price-to-earnings growth of ALU is positive for the next five years, which is an encouraging sign for the investors.
Dividend thesis:
Despite belonging to the telecommunication industry, Alcatel-Lucent has a very discouraging dividend payment trend. The company has not paid any dividend since 2007.
| | | | |
| --- | --- | --- | --- |
| Ex/Eff Date | Type | Cash Amount | Declaration Date |
| 5/31/2007 | Cash | 0.2157 | 5/23/2007 |
| 9/6/2006 | Cash | 0.2064 | 8/4/2006 |
| 4/18/2002 | Cash | 0.1382 | -- |
| 5/3/2001 | Cash | 0.432 | -- |
The company's expected price-earning ratio over the next three years suggests that analysts have optimistic opinions about the future of the company. The negative earnings trend is expected to reverse in 2014.
Prices-to-Earning Ratio: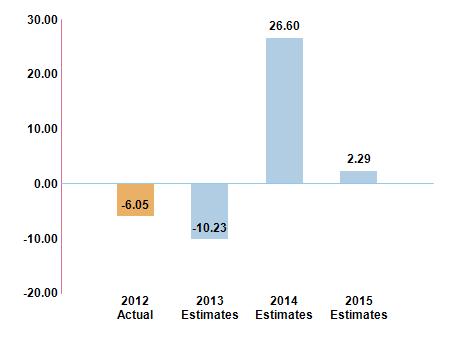 Source: Nasdaq.com
Final Words:
Many analysts doubt that the company will be able to generate economic returns for the investors. It is possible to suggest to break up and sell the company's divisions part by part. The company's assets may be undervalued, and such a plan may generate extra economic value for the company. But, I think the shareholders should wait for new CEO's cost reduction plans. These cost cutting plans may bring some improvement in the company performance. However, it needs time to observe such transformations.
A turnaround is possible for the company with intensive cost cutting, reshaping the workforce, and investing in new technologies. But to say that this turnaround is going to lead to a sustainable success and substantial improvement in the operating performance is really difficult, though I expect a promising trend. One should keep in mind that the competition is much stronger, macroeconomic uncertainty is also high.
I suggest a neutral stand in Alcatel-Lucent in the current economic and market situation as there are better alternatives available. Cisco is an example with 3.2% yield and stable earnings growth over the next five years. Existing investors may hold for a while to see what new CEO has to offer them, but it makes little sense to invest in the company when an investor neither expects a cash dividend nor a capital gain.
Disclosure: I have no positions in any stocks mentioned, and no plans to initiate any positions within the next 72 hours.
Business relationship disclosure: Efsinvestment is a team of analysts. This article was written by one of our equity analysts. We did not receive compensation for this article (other than from Seeking Alpha), and we have no business relationship with any company whose stock is mentioned in this article.