By: Ann Heffron, CFA
Yesterday in its first quarter trading update, Lloyds Banking Group plc (NYSE:LYG) announced that it still expects to post a loss for full-year 2009 (excluding an accounting gain from negative goodwill) on the back of rising loan impairment charges due to continued economic deterioration.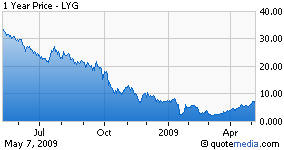 Lloyds now expects a 50%-plus increase in corporate impairments, largely from commercial real estate losses in the UK and Ireland, in addition to significantly higher impairments in the retail secured and unsecured loan portfolios.
More positively, revenue growth has been solid in Wholesale, reflecting lower investment write-downs, improved trading income in interest rate and currency products, and good transaction volumes in capital markets. This has been supplemented by improvements in Retail, through the addition of one-half million current accounts and increased market share of new mortgage lending. However, sales in the insurance and pension businesses were off 22% on weak market conditions.
As previously announced, Lloyds is participating in the Government Asset Protection Scheme, under which the UK government insures the bank against losses on its most toxic assets (e.g., mortgage-backed securities and property loans) in return for a small fee and an obligation by the bank to increase lending to consumers and businesses.
This will significantly strengthen the company's balance sheet and improve its risk profile. Lloyds' risk-weighted assets will be reduced by roughly £194 billion, while the pro forma Tier 1 capital ratio will increase to about 18.7% as of December 31, 2008 from the 8.0% actually reported at year-end.
Our recommendation on Lloyds Banking Group plc is Hold. The current Zacks rank is 3, indicating no clear directional pattern in the share price over the near term. In afternoon trading, LYG shares are down over 18% from yesterday's closing price of $7.11.