Years ago a veteran trader, well into his eighth decade, gave me an order to buy 100 contracts of Kansas City wheat. Though grateful for the order, I wanted to make sure this old boy was still lucid because the wheat market had been going nowhere. So I asked him to confirm the order and tell me his reasoning. He replied, "Ralph, sometimes when a market cannot go down, it goes up." He had to hold the trade several months, but he ended up with a big winning trade.
Watching the recent euro trade has prompted me to recall old Eddie Byers' advise. Tuesday the German Manufacturing PMI was released, a bearish 47.9, well less than the expected 49. The German Services PMI at 49.2 was also well short of expectations at 49.2 instead of the anticipated 51.
Recently the euro had been visiting the 1.30 handle, where it would tease the bears, and then rally. It was the same story yesterday. After reaching a high of 1.3080, the bearish numbers sent the market back down to 1.2984, only to turn and rally back above 1.30
There does appear to be some buying interest around the 1.30 level. Could the Japanese insurance companies and others, searching for yield, need to buy euros to pay for their rumored purchases of Italian and Spanish bonds?
Looking at the economic calendar, however, there may be some perils for friends of the euro. Wednesday we get a German IFO (M/M) Business Climate report expected to be 106.1, a IFO Current Assessment expected to be 109.5 and the IFO Expectations, forecast at 103. With recent reports falling short of expectations from the US, China or Europe, the chances are the trend will continue tomorrow.
But the numbers do not stop coming. On Thursday the Spanish unemployment, expected to be 26.5 is announced, and will be followed next week by the Spanish quarterly GDP anticipated to be -0.8%. On Tuesday we get the German Retail Sales, the French Consumer Spending, and still more reports. I doubt the market has discounted all the negative numbers. Could it be we have a market that cannot go up, so instead, it will work through the pricing at 1.30, and then slide lower.
This is what Pimco's Bill Gross thinks. According to Bloomberg, his advise is simple. Sell euros.
"Expect an ECB cut soon, but will it lead to real growth?" Newport Beach , California-based Gross wrote in a posting on Twitter. "Doubtful. Euroneeds to go down."
The EURUSD (FXE, UUP, UDN) has rallied to the topside of the 130 handle but lacks vigor. Should the buying abate, the pair could work down under the 1.28 area. If you do try the short side of the euro, mind your money.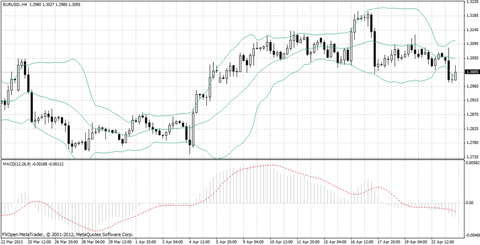 Click to enlarge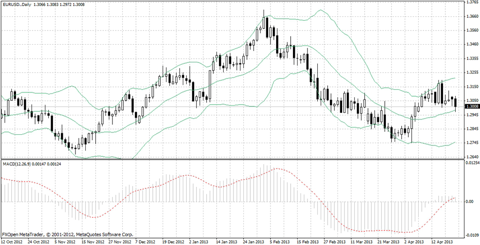 Click to enlarge
Disclosure: I have no positions in any stocks mentioned, and no plans to initiate any positions within the next 72 hours. I wrote this article myself, and it expresses my own opinions. I am not receiving compensation for it. I have no business relationship with any company whose stock is mentioned in this article.