If you're a bargain hunter, a high risk one at that, then perhaps shares of AK Steel (NYSE:AKS) look a bit enticing. Trading at well over nine year lows and mired in current sector wide selling, the stock is setting up to be either a big hit or big miss. However, in this instance, the big miss is still far more probable.
Obviously, the basic fundamentals for the company at this point are quite troubling. For starters, the short interest on shares is nearing 29% even though the stock has already lost 40% from the start of the year. Then, there is the percentage of shares held by institutional investors which stands at a paltry 55% or far below the average of 67% from U.S. Steel (NYSE:X), Nucor (NYSE:NUE) and Steel Dynamics (NASDAQ:STLD) combined.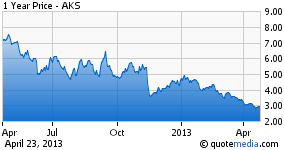 Perhaps most troubling of all is that even the supposed bright spots for shares are masked by a growing cloud of uncertainty. After beating projected first quarter earnings by $0.04, the company still posted a loss of $0.07. That number should be even more unnerving for investors considering top line estimates initially had the company reporting a profit.
Then comes the Achilles heel for the stock which includes a combination of weak forecasts and lower revenues. Both of which show no signs of easing.
Although still scheduled to report small profits for the final three quarters, bottom line estimates call for losses. Considering the company has reported losses on 8 of its past 13 reports, those lower tier forecasts need to at least be considered, if not expected, upon taking up a position. Even if the company matches estimates, the 99% growth rate in earnings from 2012 is far below the 1600% growth that was projected last summer.
The company's revenue forecast, though, remains the biggest and most nagging weakness. First quarter revenue of $1.37 billion included a 9.2% drop in sales along with a 2.7% drop in shipments.
Now in defense of AK Steel, many of the company's problems remain sector wide. For example, U.S. Steel was expected to make money on all four quarters this year as well with even bottom line estimates calling for profits. However, they are also now looking at the possibility of losses throughout 2013. It was also U.S. Steel that began with the unpopular price increases in February as they raised spot prices by $50 per short ton. An increase that was quickly followed by AK Steel, Nucor and several others in the sector.
Of course, the increase at the time was met with immediate skepticism.
"I am sure there are going to be a few people that need to buy and will accept the increase. But those who have some room are not going to accept the full $50 price increase," argued one steel trader at the time.
That trader proved correct as the attempt to keep steel prices from falling ultimately failed. Since the rise in price, both U.S Steel and AK Steel have succumbed to new lows and currently trade without proven support.
Unfortunately, AK Steel seems destined to focus again on price increases. Announced in mid-April, the company has planned an increase in base price for 200, 300 and 400 series flat rolled stainless steel products while increasing base prices for automotive exhaust grades by $0.03 per pound.
Now there could be a variety of reasons for the increase. However, it's safe to say heightened demand was certainly not one of them. It could be another attempt to keep steel prices from falling further or some effort by the company to mask a quickly deteriorating bottom line. Whatever the cause, though, such increases combined with continually weak demand probably won't prove beneficial for shareholders.
Disclosure: I have no positions in any stocks mentioned, and no plans to initiate any positions within the next 72 hours. I wrote this article myself, and it expresses my own opinions. I am not receiving compensation for it (other than from Seeking Alpha). I have no business relationship with any company whose stock is mentioned in this article.