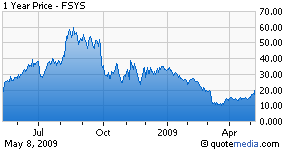 After a brief hiatus,
Fuel Systems Solutions
(NASDAQ:
FSYS
) got back to its "old ways" of exceeding earnings forecasts. Yesterday, they not only beat earnings estimates, they blew them away. The company reported first quarter earnings of 44 cents on revenues of $80 million, after the market close and Wall Street enthusiastically tacked on more than 16% to its share price in after hours trading. Earnings came in 91% higher than its 23 cent estimates, while sales logged in 8% better than forecasts of $74 million.
Costs dropped: Even though the alternative fuel supplier's SG&A costs rose as a percentage of sales from 11.8% to 12.4%, this cost component dropped significantly on a sequential basis from its fourth quarter entry of 17.6%. Further buffering the company's success, was a rise in its gross profit margin from 29% to 30.3%, and a 540 basis point drop in its income tax rate.
Shorts are sitting on a time bomb: Despite the shares already doubling from their lows, this one could go alot higher in a very short time, thanks to a recent 23% buildup of its short position from 3 million to 3.8 million shares. This large short position represents additional buying power and the possibility of a short squeeze to erupt .Being short at this juncture certainly seems like a recipe for disaster.
Future is still bright: FSYS just completed the purchase of FuelMaker Corp's assets. FuelMaker produces home fueling appliances that allow users to convert the natural gas already delivered to their homes directly into their CNG vehicles. FSYS purchased approx $7 million of assets from FuelMaker and agreed to assume certain American Honda purchase orders. This purchase was plain genius as the assets were picked up for pennies on the dollar (FuelMaker is in bankruptcy) and enables FSYS to become fully vertically integrated into the red hot alternative fuel sector sector.
Analysts are jumping on the bandwagon: Both Thinkequity and Northland Equites both issued positive opinions within the past month. The fact that the US dollar has been weakening and crude prices have been stabilizing bodes well for the future. The company is on track to achieve 120,000 OEM conversions in 2009- thanks to the investments the company made in this area in 2008 .
Bottom line: Despite the share price riding a rocket ship lately, there is still room for further upside and jumping on this huge momentum train on the way to the $30 mark makes perfect sense. Add in a couple of imminent broker upgrades and it is just "icing on the cake".
Disclosure: Long