Jeff Immelt's efforts to get General Electric (NYSE:GE) back on track have had many critics over time. Some criticize his lack of flair and ambition, while others bury him six feet under when comparing him to his predecessor. Truth be told, his predecessor's rise to popularity was due to a policy of acquire, acquire and acquire yet some more. Jeff Immelt, on the other hand, after being in the eye of storm for many years, is finally turning the fortunes of this $226.2 billion company around. As the company reports its Q1 2013 earnings, which tops estimates, I am providing an analysis of what's going right for GE and all that investors need to keep an eye out for. Furthermore, Siemens (SI) has been a conglomerate competitor of GE for a long time. Despite being more electrical in nature, the share buying opportunity between the two has never been higher. The German company has been on a cost-cutting and streamlining run for the past two years and is pressing on with this in 2013 as well. It is reported that approximately 4,000 jobs will be slashed in the company's industrial sector. Siemens has also been selling telecommunication assets recently and wishes to end its partnership with Nokia, i.e. Nokia Siemens, this year.
Since conglomerates deal in multiple products, solutions and markets, the benefit of different product sectors being put under the knife to improve results and efficiency outweighs almost all other industry efforts, barring the technology sector. GE and SI's recent cuts on excess costs and expenditures is good news for investors as it provides better margins, more profit, a better ROE and most importantly, satisfied investors. I'll begin with analyzing the stock price movements of the two, citing key indicators for investors to keep an eye on.
Finance Expertise
First off, after an encouraging Q1 2013, investors in GE have further news to be smiling about. After the sale of NBC Universal, GE announced a $10 billion share buyback program, which will increase shareholder value and also provide a 12% increase in its dividend. This should, in principle, make the price spike sharply by the end of 2013, leaving thoughts of selling the stock far behind.
The graphs below illustrate the five-year and one-year price trends of General Electric and Siemens in comparison to the Dow Jones Industrial Average and S&P 500 Index. Siemens looks to have recovered much more rapidly from the decline in its stock price, but remains susceptible to price shocks. General Electric, on the other hand, has a very gentle slope up towards the market averages. The two companies exhibited negative growth in price over the past 5 years.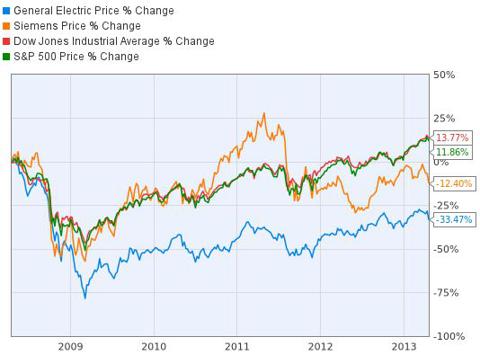 The 1 year graph shows the two companies dovetailing well above the market averages. At this point in time, however, General Electric and Siemens are only 13.64% and 12.95% above the market rate. I say 'only' since it could be much more. The two companies have been energized by acquisitions and numerous positive news items coming out over the last four quarters. GE and SI have betas of 1.61 and 1.57 respectively.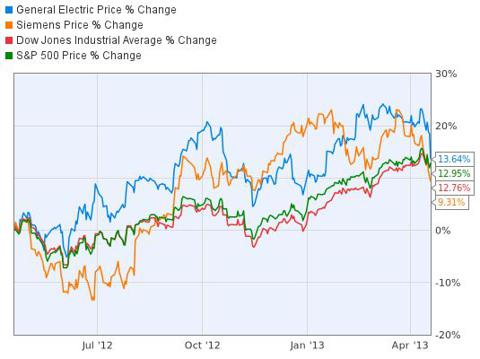 Stock Review
General Electric stock has a 52-week range of $18.02 to $23.90, while it currently trades at $21.94. Siemens, on the other hand, is priced much higher at $100.30 with a 52-week range of $77.88 to $113.16.
There are many ways to estimate the fair stock value of a company. For this purpose, we applied the discounted-earnings-plus-equity model developed by EFS Investment analysts to these competitors.
| | | |
| --- | --- | --- |
| Indicator | General Electric | Siemens |
| Price/Earnings ttm | 14.93 | 13.3 |
| Price/Book | 1.9 | 2.1 |
| Net Income Growth (3 Yr Avg.) | 7.4 | 24.8 |
| Revenue Growth (3 Yr Avg.) | -1.7 | 0.7 |
| Dividend Yield, % | 3.56% | 2.95% |
| Debt/Equity | 1.9 | 0.6 |
| Return on Equity | 11.4 | 13.5 |
| Current Price | $21.35 | $100.26 |
| | $26-$38 | $123-$169 |
| Stock Valuation | Undervalued | Undervalued |
| Upside Potential to Reach Fair Value | 22% | 23% |
Data from Morningstar and Financial Visualizations on April 23, 2013
The calculations based on this model allow us to suggest the following: currently, both stocks are undervalued. In addition, EFS's fair stock price valuation indicates that Siemens is trading at a bit higher discount.
General Electric is a much bigger company compared with Siemens, as suggested by its market capitalization. Compared with GE, Siemens has experienced greater net income growth and revenue growth over the last three years. While GE released its latest earnings a fortnight ago and sported positive growth in terms of profits and shareholder returns, SI has warned analysts not to expect a positive result because of problems in railway technology and power transmission operations. Furthermore, weakened demand in Germany and the United States have also provided unfavorable results and the company expects its annual profit decline to be between $5.8 billion and $6.5 billion, down from $6.7 billion last year. The 12% increase in GE's dividend also has a larger significance on its yield due to a higher capitalization.
GE's ROE has recently improved after selling off periphery operations, which have allowed the company to refocus on aerospace and industrial infrastructure. In comparison with SI, the company still lags behind. In the case of Debt/Equity ratio, the phenomenal ratio for GE is made to look worse than it actually is due to the presence of GE Money, which provides credit to the company in the form of debt. Without this financial arm, this ratio would be much lower, albeit still being substantial. Talks of spinning off the financial arm of GE have been rife with speculation recently, as it is believed that a sale would make investors better off exponentially. The recent sale of NBC Universal has also allowed the company to reduce its outstanding debt.
Make or Break for Investors
Siemens' recent buy of the Invensys rail signals unit has been approved by the European Commission. The company has also made deals in various parts of the world, including Teradata in United States and the Petchem plant in Qatar. While these developments are necessary to keep Siemens where it is, I don't see any fundamental breakthrough, which would attract investors to the company. With less optimistic reports coming out regarding the next quarter's results, the prospects of Siemens being a contender for investors is bleak.
General Electric, however, is providing a massive opportunity for investors. Its share buyback will undoubtedly be translated into its price, which is languishing in low 20s at the moment. Furthermore, a giant like GE provides assured long-term growth due to its diversification. The difficult situation in Europe, with bailouts and stimulus packages, is hurting GE as well, but like SI, it hopes to recover through other geographical operations. Furthermore, unlike Jack Welch's acquisition policy, the GE of today is acquiring smartly, adding to its core competency of energy, which is reflected by the recent acquisition of Lufkin for $3.3 billion.
Morningstar provides the following ratings for these stocks: GE - 3/5 buy, 1/5 outperform, 1/5 hold. SI - 5/5 hold.
Bottom Line
Siemens is undoubtedly out of troubled waters, but so is General Electric. It is high-time for GE to make the most of its opportunities. The share buyback, the dividend increase, the refocus on energy - these things go a long way in shaping an investor's perception. I believe that GE offers tremendous value for long-term shareholders at the moment, and buying into this American giant may reap rewards aplenty.
Disclosure: I have no positions in any stocks mentioned, and no plans to initiate any positions within the next 72 hours. I wrote this article myself, and it expresses my own opinions. I am not receiving compensation for it (other than from Seeking Alpha). I have no business relationship with any company whose stock is mentioned in this article.