Many are discussing how bearish Apple's (NASDAQ:AAPL) earnings were and what a let down the entire exercise was, which we find to be a bit misleading. The numbers were solid, but the company indicated that new products would be due out later than the market expected and has led to some downgrades and revisions in numbers on the analyst side of things. It is a story to watch however, because we are seeing another tech titan transition from growth machine to a type of hybrid where growth is still strong, but they are more of a cash generator and well on their way to being the next Microsoft (NASDAQ:MSFT) should product innovation suddenly dry up. We think that for long-term investors this may actually prove to be an attractive entry point, especially with the planned buybacks and dividends on the horizon.
Chart of the Day:
Usually it is China leading the Asian markets higher, but a sleeping giant has been awoken in Japan and as strange as it may seem, we now have Japan, the land of the rising sun, rising sharply and trying to drag China along for the ride...but China now has problems of its own.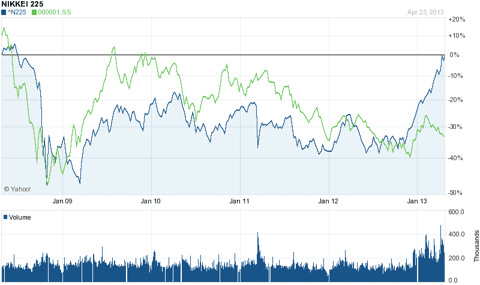 Chart courtesy of Yahoo Finance.
We have economic news due out today, and it is as follows:
MBA Mortgage Index (7:00 a.m. ET): N/A
Durable Orders (8:30 a.m. ET): -3.1%
Durable Goods - ex Transportation (8:30 a.m. ET): 0.0%
Crude Inventories (10:30 a.m. ET): N/A
Asian markets finished higher today:
All Ordinaries -- up 1.63%
Shanghai Composite -- up 1.55%
Nikkei 225 -- up 2.32%
NZSE 50 -- up 0.50%
Seoul Composite -- up 0.87%
In Europe, markets are again higher this morning:
CAC 40 -- up 0.77%
DAX -- up 0.46%
FTSE 100 -- up 0.09%
OSE -- up 0.10%
Technology
Yesterday ARM Holdings (NASDAQ:ARMH), a name we have been bullish on for quite some time now, came roaring back with what can only be described as a very strong quarter. Readers will remember that we like the name due to its dominance across the board in the smartphone/device market and that it is not a supplier which can be thrown into one realm or the other (iDevice, Android, MS or BlackBerry) and instead is a play on the overall adaptation of smartphones worldwide. As it pertains to mobile the company is increasing royalties by adding on new applications/functions/devices to its chip sets while also continuing to sign new contracts. What really had investors excited yesterday, and the main reason (in our opinion) that shares moved higher by $6.08 (15.11%) to close at $46.32/share which is very close to an all-time high, is the fact that they are now working their way into servers and networking gear. This is something which they have been working on and now appear to be gaining some serious traction.
Unlike Intel (NASDAQ:INTC) which has been trying for years to crack the code to mobile. They have spent billions on acquisitions, with the promise that each one would add the missing piece to the mobile puzzle they were trying to assemble and each time it has been a disappointment. One could chalk this up to success leading to failure, for Intel has become far too reliant on acquisitions, its financial strength and name brand to maintain its lead but with the failure to break into the mobile industry and the next generation of devices which consumers use to compute, they have opened the door for their cash cow, bread-and-butter business of microprocessors for the computer and servers to come under fire. The enemy is at the gates, and it is ARM Holdings. The 4% yield is nice, yes, but how long can it last if ARM makes Intel the next AMD?
One thing to watch after Apple's earnings is Cirrus Logic (NASDAQ:CRUS) which had been a Wall Street darling due to its close relationship with Apple and their intertwined fates. So long as Apple outperformed so too did Cirrus Logic but as the game musical chairs goes, when the music stops there is always a loser and in this case it has been the entire Apple supply chain. Apple is at 52-week lows and so too are the suppliers, for fear that Apple's iPhone is becoming bland and not adding the new features as quickly as Samsung (OTC:SSNLF) and others. It takes time to add new features and do the updates which blow people away, but one thing we will point out is that Apple spends years developing ideas and products and usually has the first 2 or 3 versions of that product already planned and then the lag between big seismic shifts in products happens. Look back at the iPod, iPhone and now the iPad. It indicates to us that a new product must be on the horizon, so maybe it is time to look back at the key suppliers used across the Apple family of products.
Retail
Yesterday we had other news to cover and left Coach (NYSE:COH) for today, as that was less of a trade and more of a medium to long-term play. Well the company delivered and shares rose $4.96 (9.80%) to close at $55.55/share on volume of 20.6 million shares during yesterday's session. Based on the earnings numbers and the commentary from the company it sure looks like we were correct in thinking that this was a buy on the dip, and although everything is not perfect here, it is not nearly as bad as investors had feared, which as Martha Stewart was fond of saying, "...and that's a good thing." We still like the name long-term, especially if the economic recovery in the US gets stronger and China turns the corner.
Another run at $60/share could be in order, but investors need to watch this $55/share level and see if support can be built and maintained first.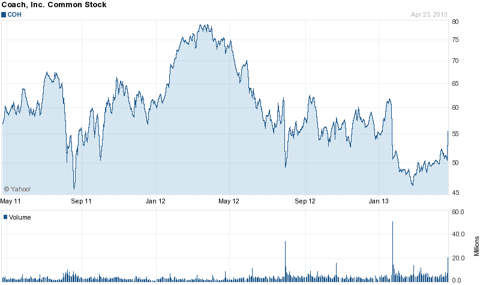 Chart courtesy of Yahoo Finance.
Homebuilders
Toll Brothers (NYSE:TOL) has its issues, but it is in the housing market and directly so with it being a homebuilder. We are bullish on all things related to housing right now, which is contrary to what many of the talking heads are saying these days as they want to be cautious. Forget that, there is but one way to play a bull market and that is to be long. Take profits on the way up, but be long and strong. Toll Brothers' shares rose more than 9% to close at $34.13/share yesterday due to the positive housing data and an upgrade from Barclay's, which raised shares to an 'Overweight' from an 'Underweight' rating. Readers might remember that the bank lowered the stock to an 'Underweight' from a 'Neutralweight' rating on February 5, 2013 so this two notch increase is both positive, but also a corrective action on their part. They went from bears to bulls in one bold move...nice of them to join the party!
If history is any guide, this latest move might propel us off of the support to fresh highs...but we are in an area that looks 'toppy', so shorts and others who are still cautious will need to continue to buy into the bull case here for another prolonged run, which we believe the data will help fuel.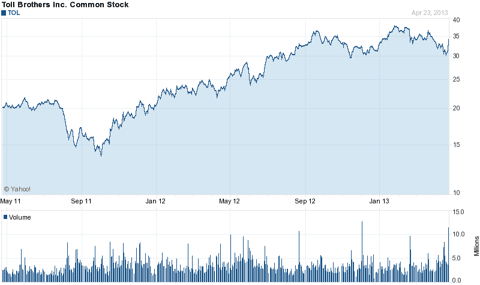 Chart courtesy of Yahoo Finance.
Disclosure: I have no positions in any stocks mentioned, and no plans to initiate any positions within the next 72 hours. I wrote this article myself, and it expresses my own opinions. I am not receiving compensation for it (other than from Seeking Alpha). I have no business relationship with any company whose stock is mentioned in this article.