By: Brendan Gilmartin, VP Research & Content
United Parcel Service (NYSE:UPS) is scheduled to report 1Q 2013 earnings before the opening bell on Thursday, April 25. The earnings are typically reported at 7:45 a.m. eastern and will follow with a conference call at 8:30 a.m. While shares of rival FedEx (NYSE:FDX) have languished in recent months, UPS has held up fairly well, recently hitting an all-time high.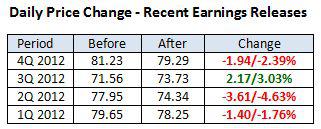 Outliers & Strategy
The current Street estimate for EPS is $1.01 per share (range is $0.98 to $1.08). If the company does not produce a value for this measure, Earnings Per Share (EPS) will render the value that is comparable to consensus estimates.
Revenues for the 1Q 2013 period are seen rising a mere 2.6% to $13.47 billion, the midpoint of forecasts ($13.0 bln - $13.9 bln).
Keep an eye on earnings guidance for the balance of 2013. Last January, UPS said it expected EPS of $4.80 to $5.06. Any adjustment to that range could have a major impact on the shares post-earnings.
Back on March 19, FedEx shares dropped nearly 7% after earnings for the 3Q period fell shy of consensus estimates, due to "continued weakness in international air freight markets, pressure on yields due to industry overcapacity and customers selecting less expensive and slower-transit services."
The options market is currently pricing in a 2% move off earnings, consistent with previous performance. Note that when the EPS and revenue figures are in-line or just slightly below consensus there is a tendency in the market to punish UPS shares. With the stock not far off the 52-week high of $85.95 (4/1/2013), the bar is set pretty high, leaving UPS vulnerable to the slightest misstep.
Recent News
04/18: RBC Capital upgraded UPS from Sector Perform to Outperform and raised the price target to $80.00 from $100.00, according to a report on StreetInsider.com.
02/15: Bank of America raised its price target on UPS from $93.00 to $95.00 and reiterated a Buy rating, according to a post on Benzinga.com, after the company reauthorized the $10 billion share repurchase program.
02/14: UPS declared a regular quarterly dividend of $0.62 per share, an increase of 8.8% and reauthorized the company's share repurchase program for $10 billion. The shares are currently yielding 2.98%.
Technical Review
UPS shares recently broke out to an all-time high near $86.00 before nestling into a narrow range ahead of the 1Q 2013 earnings release. Currently the shares are trading right at the cross-section of the 20-Day & 50-Day SMA near $83.50, setting the state for a potential breakout in either direction. Should earnings surprise to the upside, look for a possible run back toward the aforementioned high near $86.00. Conversely, support is at $82.00 in the event of a disappointing earnings report, with further downside risk to $79.00. (Chart courtesy of StockCharts.com)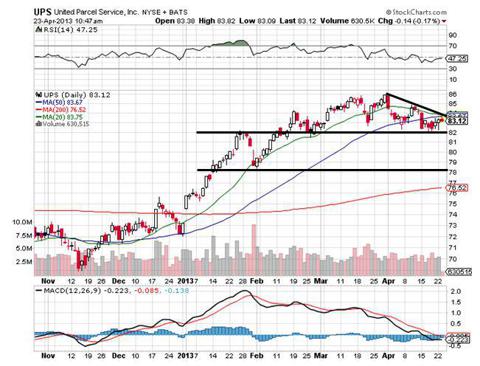 Summary
UPS shares are just off the recent all-time highs, thanks to an improving economic backdrop, a solid share repurchase program, improving fundamentals. Given the recent advance in the share price, however, UPS is vulnerable to even the slightest missteps. Recall rival FedEx told investors just one month earlier that its quarterly results were negatively impacted by weakness in international markets and increased low-cost competition. For its part, UPS boasts better logistical capabilities and less international exposure, helping to lift its shares 13.8% YTD versus a mere 1.0% gain for FedEx over that same-time frame. In order for UPS to maintain the upward momentum, look for earnings and revenues toward the high end of Street estimates as even the slightest miss could drag trigger a sharp pullback.
Disclaimer: By using this report, you acknowledge that Selerity, Inc. is in no way liable for losses or gains arising out of commentary, analysis, and or data in this report. Your investment decisions and recommendations are made entirely at your discretion. Selerity does not own securities in companies that they write about, is not an investment adviser, and the content contained herein is not an endorsement to buy or sell any securities. No content published as part of this report constitutes a recommendation that any particular investment, security, portfolio of securities, transaction or investment strategy is suitable for any specific person.
Disclosure: I have no positions in any stocks mentioned, and no plans to initiate any positions within the next 72 hours. I wrote this article myself, and it expresses my own opinions. I am not receiving compensation for it (other than from Seeking Alpha). I have no business relationship with any company whose stock is mentioned in this article.