We heard some interesting comments on CNBC late yesterday and have been reading much the same in some of the business publications we read geared more towards the casual investor and/or general market followers. It seems that many are not buying the strength in housing or other positive economic news because certain indicators are telling them otherwise, such as gas prices falling along with oil. Well we are not naive enough to say this time is different, but this recovery shall look unlike what we have seen before due to the vast amounts of oil we now produce via shale formations, abundant and cheap natural gas and a shifting of the workforce from labor intensive industries to more automated. It will look slow based off of old measurements, but we think with time it will become apparent that this is the real deal and that shall only lead to further strength in equities and commodities.
Commodity prices this morning are as follows:
Gold: $1421.80/ounce, up by $13.00/ounce
Silver: $22.89/ounce, up by $0.073/ounce
Oil: $89.66/barrel, up by $0.48/barrel
RBOB Gas: $2.7356/gallon, up by $0.0166/gallon
Natural Gas: $4.219/MMbtu, down by $0.019/MMbtu
Chart of the Day:
We are bullish here. It sure looks like a bounce off of a very familiar support level.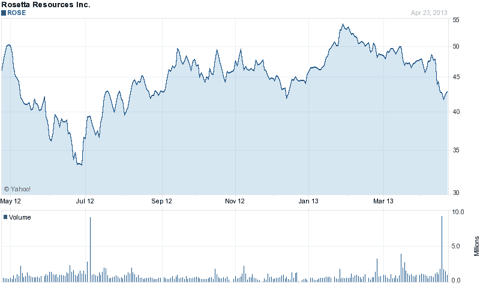 Chart courtesy of Yahoo Finance.
Oil & Natural Gas
As the chart above illustrates, Rosetta Resources (NASDAQ:ROSE) has been one of those channel stocks, trading within a range for some time and allowing investors to buy low and sell high using $42-45/share as an entry point and the $48-50/share area to sell. We ourselves have partaken in this trade and made decent money doing so, as have readers. We think it is primed to once again make the move higher and the latest acquisition to add further oily assets to the mix shall only help, especially during conference calls and future presentations. We could even see our readers who are long-term investors using this latest dip to set up their core positions for a 2-3 year hold. The value is that good here at $42.84/share.
Coal
Arch Coal (ACI) came dangerously close yesterday to hitting a new 52-week low after a weak quarter, but we are left to wonder what exactly the market expected. Most coal producers have been reporting earnings below expectations, save for a few which got lucky and the 800 pound gorilla which has an advantage with assets in Australia and easy access to the Chinese market. We were not surprised by the miss and in the grand scheme of things it was not that big of a miss. There are problems here, but if one is looking for a company without any in the coal industry then that shall be a task which we hope they have the stamina for because it shall last for some time. We are not buyers of anything coal at this moment, but we would rank Arch Coal in the top half of coal names rather than the bottom - a very general comment, yes, but hopefully one which gives those readers which have been asking some direction as to our thinking.
We almost set a new 52-week low yesterday, but avoided it. Even though it is a recent new low, avoiding those on key days (such as those impacted by earnings announcements, etc) is always bullish, even if the general direction is bearish.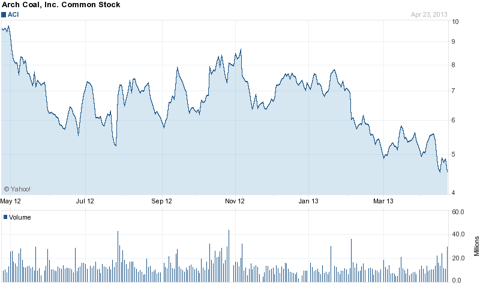 Chart courtesy of Yahoo Finance.
The Trades
Our trades we highlighted for investors regarding SandRidge Energy (NYSE:SD) and Kodiak Oil & Gas (NYSE:KOG) appear to have played out. For those who guessed right on the volatility and wagered against these names, we think it only prudent to cover those positions and use the speculative capital elsewhere. Yes further downside could exist, but we do not want to be betting against the market when the market is rising and further think that it would be silly to continue to bet against Kodiak when any day it could attract a takeover bid or some other form of deal which could send shares rocketing higher. We would replace these positions with a new position on Rosetta Resources, as discussed earlier, if it were us.
The Indicator
Why so bullish when oil is down? Well natural gas is up, and Cheniere Energy (NYSEMKT:LNG), one of the indicators we have used over the past year and change, is still hanging in around its highs. It is not alone, as many of the names which have been strong this year are within striking distance of their 52-week and/or all-time highs. We continue to watch these indicators closely, but right now even with the talking heads on TV telling us it is time to sell all the data is pointing towards the fact that it is time to buy.
Disclosure: I have no positions in any stocks mentioned, but may initiate a long position in ROSE over the next 72 hours. I wrote this article myself, and it expresses my own opinions. I am not receiving compensation for it (other than from Seeking Alpha). I have no business relationship with any company whose stock is mentioned in this article.