By Brett Horn
Investors looking for relatively safe holdings with economic moats would do well to investigate the leading bank technology providers: Fidelity National Information Services (NYSE:FIS), Fiserv (NASDAQ:FISV), and Jack Henry (NASDAQ:JKHY). Sticky customers and recurring revenue provide stability at the top line, and these factors proved their worth during the crisis. But while we believe downside risk is limited for this group, we see no compelling bargains currently, and we think Jack Henry is materially overvalued. Holders attracted to the company's stability are taking a meaningful risk when it comes to valuation, in our view, and might want to consider Fiserv as an alternative.
Wide Moat Surrounds the Core Processing Business
We think a wide moat surrounds the bank technology providers' primary product, core processing, as a result of high switching costs. Core processing is the nuts-and-bolts system that banks need to maintain customer accounts and post daily transactions. Given the mission-critical nature of core processing to their operations, banks rarely switch systems. Besides the potential for operational interruptions, converting to a new system would require the banks to retrain employees.
Customers typically sign multiyear contracts, and annual retention is generally in the high 90s, excluding customers lost because of acquisitions by another bank. The percentage of banks changing their core processing system each year is quite low; recent rates imply that the average bank maintains its core processing system for more than 30 years. While the core processors do lose clients to acquisitions by non client banks, this is typically offset by clients acquiring non client banks. The effect is typically close to a wash, as pricing is typically tied to the number of deposit accounts, so core processing revenue grows with the bank.
The stickiness of the bank technology providers' core processing businesses leads to strong profitability. Jack Henry's and Fiserv's returns on invested capital are fairly stable and comfortably above any reasonable estimate of the cost of capital; ongoing acquisition activity puts something of a ceiling on ROICs despite the asset-light nature of the business. While FIS' ROICs are materially lower than its peers', we believe this is primarily due to the accounting surrounding its 2006 spin-off and the large amount of goodwill put on the balance sheet. Excluding goodwill, its ROICs are much closer to peers'.
Returns on Invested Capital Including Goodwill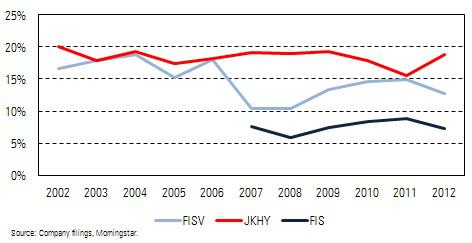 The leading bank technology providers sell a number of services outside core processing, and the ongoing trend toward electronic payments has led to payment business making up a greater portion of revenue. As an example, the payment segment now makes up about half of Fiserv's business, and core processing accounts for only about a third of the business. While the products outside core processing might have no or narrow moats on a stand-alone basis, we believe there are significant synergies involved in cross-selling a full suite of services to their essentially captive core processing customers, and we don't see this evolution as necessarily dilutive to the companies' moats.
While we rate both Fiserv and Jack Henry as wide moat, we rate FIS as narrow moat. We believe FIS' moat is on the wider end of narrow, but that there is a material difference between the competitive position of FIS and its peers. First, FIS' core processing customer base tends to skew toward larger banks, for which in-house solutions are a much more viable alternative. Secondly, FIS generates about 20% of its revenue internationally, and margins outside the United States are much lower.
Leading Bank Technology Providers' Most Notable Feature Might Be Stability
In 2008, the banking industry went through its biggest crisis in decades. The bank technology providers were not completely unaffected, but their performance through the crisis demonstrated the inherent stability of their businesses. With 80%-85% of revenue recurring under contracts tied to fairly stable metrics (number of deposit customers, bill payment transaction volume, and so on), their revenue held about flat in the immediate wake of the crisis, despite their bank customers' difficulties. Growth after the crisis has been harder to come by, however, as technology needs slid down banks' priority lists.
Organic Growth for the Leading Bank Technology Providers
The situation has improved as the stress on the banks has receded, and we believe FIS and Jack Henry are growing at close to a normalized rate. But the improvement has been gradual, and we expect that to continue. While the crisis has receded and the number of bank failures has dropped, banks remain deposit heavy. Outside core processing, many of the ancillary products the bank technology providers sell are, from the banks' point of view, extras to entice deposit customers (electronic bill payments, online banking, and so on). Currently, banks have little incentive to compete heavily for deposits, and we think the banks' demand for new deposit-linked products might still be somewhat subdued as a result.
Full Return to Historical Growth Rates Depends on Adoption of New Products
The bank technology industry is fairly mature, and growth in bank IT spending is stable but relatively modest. Before the crisis, bank technology providers were generally able to grow organically at a mid- to high-single-digit rate, as they shifted toward the payment side of the business and benefited from new products and the trend toward electronic payments. Two of the biggest drivers of growth before the crisis were online banking and electronic bill payment, but these products are maturing.
To replicate pre-crisis growth levels, we believe new products that follow a similar growth trajectory will be necessary. The most obvious candidates are mobile banking and person-to-person payments. The companies have been investing in these areas, with Fiserv being possibly the most aggressive, as evidenced by its acquisition of CashEdge, a P2P provider. These two products are somewhat interrelated, in our view, as both should benefit from increasing use of smartphones and consumers transitioning toward using smartphones as payment devices. We are optimistic that these products will see strong adoption and follow the relatively rapid adoption curve that online banking and EBP followed early in the last decade. But even if that occurs, it will probably provide only a modest boost to current growth rates. As a result, we believe that mid-single-digit growth is the most realistic long-term expectation.
The P2P business could prove to be more attractive from a growth perspective, as it could open up the possibility for new types of transactions that the bank technology providers have not been involved in previously. To some extent, previous payment innovations have grown through cannibalizing other offerings. The EBP business has grown fairly rapidly over the past decade, but to a large extent, for the bank technology providers, this growth was offset by the resulting declines in check processing revenue. We believe mobile banking is somewhat similar in this regard, as it is largely just the next stage in the evolution of online banking.
Moaty Companies Making Acquisitions Can Be a Good Idea
Historically, these companies have been fairly acquisitive. While we would typically frown on wide-moat companies making acquisitions, we think there is a reasonable case to be made here. In our opinion, the small tuck-in acquisitions the bank technology companies have historically made are essentially a substitute for the capital expenditures required to develop new products on their own. The economics of acquisitions can be a win-win, as the acquirer gains access to a proven product that it can sell into its large customer base and can eliminate substantial costs (realizing revenue and cost synergies), while the seller can realize a value higher than it can achieve on its own.
We see a similar capital allocation policy across all three companies, with the companies devoting about 70%-75% to investment in the business (through either capital expenditures or acquisitions) and returning 25%-30% to shareholders. Overall, the three companies have spent a bit more on acquisitions than they have on internal development.
In the post-crisis period, tuck-in acquisition activity was somewhat subdued. Fiserv, which has historically been the most acquisitive (having completed 147 acquisitions since its inception), has been the least active in recent years, at least in terms of deals done, as management has shifted away from smaller deals. Of the sizable transactions, some were driven mainly by factors that are no longer in play. Following its spin-off, FIS was very active on this front, as it strove to build out an operation with a size and breadth comparable to the historical leader, Fiserv. That goal was largely achieved through the merger with Metavante, eliminating the need for further large deals.
Fiserv's large acquisitions have been more opportunistic. We view the recent Open Solutions acquisition positively and appreciate the fact that management was willing to be aggressive when an opportunity arose to expand its share in the moatiest part of its business at an attractive price. Open Solutions was a core processing provider that was taken private in a leveraged transaction. Its high leverage proved to be problematic, as customers hesitated to make long-term commitments to a provider with a questionable future. This issue should be moot under Fiserv's roof. In our opinion, at about 10 times Open Solution's EBITDA run rate, the price Fiserv paid will prove, at worst, to be reasonable and could end up being quite attractive, given the costs it can take out and the opportunity to sell its more complete product set into Open Solutions' core processing customer base. Assuming Fiserv can achieve all of the cost and revenue synergies it expects, the purchase price equates to a 4.5 times EBITDA multiple.
Jack Henry, despite being a much smaller player, seems content with its position and has avoided large deals. Its largest acquisition, iPay, was an attempt to plug a hole in its product offering, and it has shown no interest in the type of transformative deals that FIS pursued.
Given the stability of these businesses, we believe a modest amount of debt on the balance sheet creates value for shareholders. While FIS has been a bit more aggressive in recent years given its strategy of building out an operation comparable to Fiserv, we think both Fiserv and FIS will target a debt/EBITDA range of 2.0-2.5 times, with potentially some temporary swings above that level following acquisitions. We expect Jack Henry to continue to use debt very sparingly, if at all. Before the iPay acquisition, the company had no long-term debt, and it has steadily worked down the debt associated with this acquisition.
Jack Henry Looks Overvalued on Both a Relative and Absolute Basis
Given the differences in leverage across the companies and the need to add back sizable purchase amortization to assess true economic profitability, we believe enterprise value/EBITA is the best metric for comparing valuations. On this basis, Jack Henry is currently being awarded a large premium relative to its peers. While Fiserv and FIS are trading at an EV/EBITA multiple of about 11 times, Jack Henry currently trades at about 14 times.
Our valuations for the group are much more consistent, which we believe is appropriate given the similarities of the businesses. Jack Henry is currently outperforming its larger peers and has historically been able to grow at a rate a couple of percentage points higher. We attribute this mainly to the fact that the firm, with revenue about a fifth the size of its larger peers, is growing off a much smaller base. We accept that Jack Henry deserves a modest premium given its better long-term growth prospects, but we also believe this positive is largely offset by its overly conservative capital structure.
Even on an absolute basis, Jack Henry's valuation is difficult to justify. To reach the current market price, we would have to assume the company consistently grows organically at a low-double-digit rate and operating margins improve to almost 30% over time. While this level of performance is not impossible, it looks much more like a best case to us. None of the three companies was able to sustain double-digit organic growth even before the crisis, and a 30% operating margin would be well above Jack Henry's historical range (over the past 10 years, its operating margins have ranged between 19% and 24%). While margins recently improved, management seems skeptical that this is sustainable.
While we can see the attraction to the safety of Jack Henry's business, we think current holders are taking a meaningful risk when it comes to valuation, a risk that could be substantially reduced by moving to one of its more modestly valued peers.
All Factors Considered, Fiserv Looks Like the Best Bet
For investors looking currently, we think Fiserv is the best bet. The market valuations for Fiserv and FIS are similar and they are both attractive businesses, but we believe Fiserv looks like the winner when considering other factors. We think Fiserv's moat is wider than that of FIS, given its leading market share in core processing and focus on smaller banks. Also, we believe Fiserv is the best-managed company in the group. CEO Jeff Yabuki joined the company in 2005 after the retirement of cofounder Leslie Muma. We think stewardship under his watch has been exemplary. Yabuki charted a new course for the company in two ways. First, as opposed to the company's previous string of small acquisitions, Yabuki has focused on larger targets, and, in our view, his largest deals have either buttressed the company's moat (CheckFree, Open Solutions), or deepened Fiserv's offerings in products that will provide the next leg of growth (CashEdge). Yabuki's focus on cost control and integration of the company's products also makes sense, in our opinion, and was well timed, given the increasing maturity of the business. The results on this front have been impressive, especially considering the decline in high-margin license revenue and termination fees during the crisis.