After the bell on Tuesday, Apple (NASDAQ:AAPL) released its much anticipated fiscal second quarter earnings report. With Apple shares trading roughly $300 off their all-time high, expectations were low and guidance was expected to be terrible. For those that didn't read it, here was my official Apple earnings preview. Apple announced a fairly decent Q2, beating nicely on revenues and reporting earnings roughly in line. Q3 guidance was weak, and that was something I was expecting. Apple decided on a kitchen sink quarter. Perhaps the biggest news was a dividend raise and huge buyback.
Overall Results:
Before I get into the results, Apple provided the following guidance for its fiscal 2013 second quarter:
revenue between $41 billion and $43 billion
gross margin between 37.5 percent and 38.5 percent
operating expenses between $3.8 billion and $3.9 billion
other income/(expense) of $350 million
tax rate of 26%
Apple produced revenues of $43.6 billion, which came in about a billion higher than expectations. On the bottom line, diluted EPS came in at $10.09, which beat by two cents from the estimates I had. A summary table of Apple's numbers compared against the last two fiscal Q2 periods can be found below.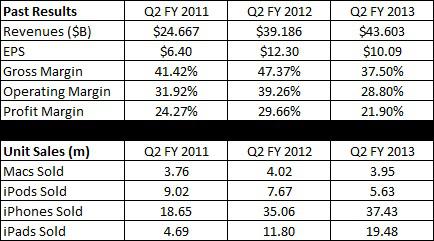 Product breakdown - the iPhone:
On the quarter, the iPhone came in at 37.43 million units, a bit ahead of the 37 million expected, and more than 2.3 million units higher than the year ago period. On the average selling price figure, Apple came in at $613.28, which is a bit lower than prior quarters. Selling prices came down as Apple was selling a fair amount of older models, as mentioned on the conference call, plus the iPhone 5 is already 7 months old. Overall, I'm a bit concerned about selling prices, but Apple was able to beat on the unit side, partially fueling the earnings beat. Given how much the selling price dropped in this quarter, don't be surprised if it comes down even further next quarter as we get closer to the launch of a new phone.
Product breakdown - the iPad:
The iPad is probably the biggest reason for the earnings beat. The number of iPads sold was nearly 19.5 million, and analysts were looking for just 18 million. This accounted for about $675 million in extra revenues over what analysts were looking for. In terms of average selling prices, Apple came in around $449. This is about where I expected them, down a little from last quarter's (fiscal Q1) $467. That probably means that iPad minis represented a larger percentage of sales. Given that the iPad sales did a lot better than expectations, it's not a surprise that margins were a bit soft.
Product breakdown - Mac:
Apple's Mac unit sales number was a bit disappointing, coming in at 3.95 million versus expectations of 4.1 million. Obviously, this is a tough time for the PC industry, and the rise of tablets (such as Apple's iPad) has a lot to do with that. On the positive side, the average selling price rose almost $20 to $1,378 and change. Mac sales were a bit soft overall, but this space is weak, and this segment only represented 1/8 of Apple's total for the quarter.
Product breakdown - iPod / other:
This was perhaps the weakest number of them all. In terms of the iPod, Apple sold 5.63 million units, more than a million below what I was expecting. Obviously, this product line is almost extinct, and this quarter shows that. Average selling prices were up about 1% over fiscal Q1, the only positive here.
In terms of Apple's "other revenues", which include revenues from the iTunes store, App store, certain hardware/software and accessories, Apple came in just under $5.5 billion. That represents about 25.8% growth, which is right in the 25-30% range these "other revenues" have been growing at in recent quarters.
Breaking down the margins:
Apple's gross margins came in at 37.50%, the low end of the range that the company provided. Despite 11.27% growth in quarterly sales, the year over year change in the cost of goods sold was more than 32.1%. Gross margin dollars decreased by 11.93%. This mostly was due to iPhone selling prices being weak, along with increased sales of the lower margin iPad.
On the operating side, Apple's R&D expenses were up by 33.06%, while selling and general expenses were up 14.24%. Overall, operating expenses rose 19.21% to $3.79 billion, was a bit better than Apple's guidance for a midpoint of $3.85 billion. Apple's operating margins came in at 28.8%, a little weaker than you would have liked to seen, based on the gross margins.
Other income for Apple came in at $347 million, roughly in-line with the $350 million that was expected. Apple's tax rate came in at 26.02%, slightly above the 26% guidance, and higher than the 25.17% we saw in the year ago period. On the bottom line, Apple produced earnings per share of $10.09.
A balance sheet update:
The following table shows some key balance sheet numbers for Apple, compared to the end of fiscal Q1. As you can see, Apple's cash pile increased to nearly $145 billion, but remember that about 2/3 of that is held outside the United States. Apple did say that they would look to borrow funds to pay for the increased dividend and buyback, so expect to see some balance sheet changes next time around.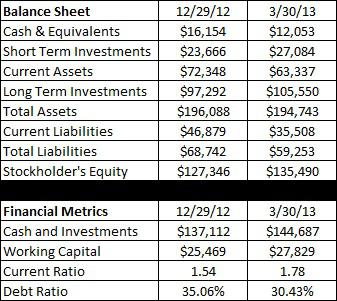 Fiscal Q3 Guidance:
I recently warned investors that I thought a kitchen sink quarter would be coming for fiscal Q3, and it surely did. My opinion was that Apple would just let its products coast, setting up a huge second half of calendar 2013, and that's exactly the case. Here is Apple's guidance for fiscal Q3:
revenue between $33.5 billion and $35.5 billion
gross margin between 36% and 37%
operating expenses between $3.85 billion and $3.95 billion
Other income of $300 million
tax rate of 26%
Apple gave even weaker guidance than I figured they would, but my $36 to $38 billion figure wasn't a solid prediction. It was a number I used to show what a kitchen sink quarter could look like, because when I gave that number, Apple analysts were expecting $39.62 billion. Also, the fact that Apple came in $1 billion higher than expected in Q2 takes away some of the revenues I thought we could see in Q3.
Going into this report, analysts were expecting $39.34 billion in revenues and $9.08 in earnings per share. Obviously, this revenue guidance is well below that, and the midpoint represents a decline from last year's Q3 which showed $35.02 billion. By my estimate, Apple's guidance gives an earnings per share midpoint just above $7.00, which is well below what the street is expecting.
There are a few reasons why this guidance is so low, which I've covered many times in the past. They include:
A shift to less overall iPhone sales, which hurts gross margins.
Revenues were $1 billion higher than expected in fiscal Q2.
No iPad refresh in March, which we saw last year.
iPad mini is lower margin than regular iPad.
Overall, Apple gave the kitchen sink to Q3, which is what I was expecting, and I've been saying this for a number of weeks. If you were surprised by Apple's very weak guidance, you probably shouldn't have been. Most saw it coming from a long distance off.
Dividend and buyback raise:
Perhaps the biggest news of the report was Apple's dividend and buyback raise. Apple decided to raise its quarterly dividend to $3.05 per quarter, or $12.20 on an annual basis. This puts the dividend yield at 3% on an annual basis as of Tuesday's closing price. This was not the dividend raise that many were looking for, but remember, most of my thoughts were that Apple would raise it to somewhere between $3.00 and $3.50 (my original prediction was $3.00 to $3.25). This might be seen as disappointing to some. Additionally, Apple has sped up the raise, and they will pay the new higher dividend in May, instead of a raise for the August payment.
However, to offset the "disappointing" 15% dividend raise, Apple announced it would expand its $10 billion buyback plan to $60 billion, a raise of $50 billion. Apple's market cap was $381 billion as of Tuesday's close, so this is a massive buyback program, and very good news to Apple shareholders. Apple is sending a clear sign that it thinks shares are undervalued, and this program will definitely help earnings per share over time. Apple's buyback program is expected to be completed by the end of calendar 2015.
Apple stated that it would borrow funds for this large capital plan. Given how great Apple's balance sheet is and how much financial flexibility they have, interest rates will be low and they can retire shares yielding 3% annually at a much lower interest rate. I don't see the debt raise being a problem at the moment.
An update on my Apple "price target":
Everyone always asks me what my price target is on Apple. Well, I'm not a professional Wall Street analyst. I don't publish Apple revenue or earnings estimates, put a real buy/neutral/sell recommendation on the stock, or publish a price target. What I like to do is issue a "fair value multiple" to where I think the stock should be at the end of the fiscal year based on a given level of earnings. For that level of earnings, I use the currently expected analyst average.
The table below shows where I think Apple's fair value would be at the end of this fiscal year (estimated to be the day after they report the fiscal year results - in October).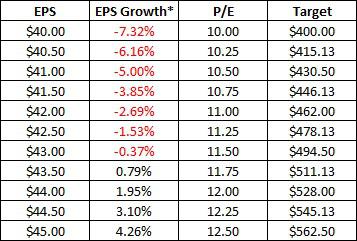 *Adjusted earnings growth number to take out extra week in prior fiscal year. This growth assumes normal 52-week period.
Coming into the earnings report, analysts were expecting $43.66 in earnings per share this fiscal year from Apple. Q3 guidance implies that Apple will be about $2.00 below where analysts were expecting, so I think you have to take some of that off the current figure. However, I think that also means Q4 will be fairly decent on new product launches, so I think expectations should be around $42.00 for the fiscal year. At that earnings level, I would expect to see Apple at about $462 by October, which implies decent upside from where the stock was in the pre-market. That upside does not include any dividend payments, and also doesn't take into account any stock buybacks that could impact earnings. Add some of that in, and I think 20% upside for Apple in the next few months is reasonable.
Important Conference Call Quotes:
I know that some people seem disappointed with these results, so I just want to emphasize a couple of items mentioned on the call.
The quarter's iTunes billings translated to record quarterly iTunes revenue of $2.4 billion, up 28% from the year ago March quarter with new quarterly revenue records for music, movies, and apps.
From iTunes alone, Apple generated more than 2.3 times the revenue that Netflix (NASDAQ:NFLX) did in its latest quarter. Apple ended up with more than $4 billion in revenues from iTunes, software, and services, also a quarterly record.
With an average of 401 stores open in the March quarter, average revenue per store was $13.1 million, compared to $12.2 million in the year ago quarter.
In this ever difficult retail environment, Apple was able to increase the revenue per store. Considering how many different retail outlets sell Apple products, Apple remains among the best retailers out there. How many retailers today are seeing year over year revenues decline? Apple showed a nice mid-single digits gain.
This is the largest share buyback authorization of any company in history. We are very confident in Apple's future and believe so strongly that repurchasing our shares represents an attractive use of our capital that we have dedicated a vast majority increase in our capital return program to share repurchases. We will buy shares under this authorization beginning this month.
Apple is investing in Apple. They expect to buyback $60 billion by the end of calendar 2015. With approximately 32 months left, that means Apple will be buying back about $1.75 billion in stock per month, on average. At Tuesday's closing price, that equates to about 4.3 million shares per month. Again, this is only the largest buyback in corporate history. If Apple is buying back their stock, it's probably a good idea that you should too. Apple shareholders wanted cash returned, and Apple is surely listening.
We actually had our best quarter ever in Greater China. So it was a record for us. The revenue came in at $8.8 billion that includes our retail stores that are in that region, which is the same as the Apple's growing.

The highlights for the quarter in China were that iPads grew 138% year-on-year, and we set new records for sell-through both for iPhone and iPad during the quarter.
So Apple had their best quarter ever in greater China, and they don't even have the iPhone on the largest carrier yet. Once Apple gets that deal done, which I expect in the next year or so, China will take off for Apple, and that's a big deal.
Final Thoughts:
Apple reported a solid fiscal Q2, selling more iPhones and iPads than expected. That's a good sign since those two products make up the largest share of revenues. Fiscal Q3 guidance will be seen as very weak by many, but I've warned that a kitchen sink quarter was coming for some time now.
The biggest takeaway from this report though is the dividend and buyback raise. Apple shareholders have been asking for the company to return more cash, and it is going to do so. I had been saying for some time now that Apple is changing to more of a value name, and this news makes that a bit more clear. I wouldn't necessarily be buying Apple now for any potential growth, but a 3% dividend yield and large buyback do make this a solid value name. I'll be looking at how Apple trades over the next few days, and I might even decide to buy some shares on this news.
If you are in the "Apple's world is coming to an end" camp, I'll leave you with some final numbers that are rather interesting.
On average during the quarter, Apple did as much in revenues every 51 hours as Netflix did in its entire first quarter. Apple's profit in the quarter was about 511 times the amount that Netflix earned in Q1. Apple generated 23% more revenues from the iPod than Netflix did from its 36 million streaming subscribers.
Apple's average month produced more revenues than Google (NASDAQ:GOOG) did in its entire quarter, and that includes those traffic acquisition costs "TAC"s. Apple's market cap is about 1.43 times that of Google. Google doesn't offer a dividend or a buyback, and Google shareholders are being further diluted every single quarter.
Apple's dividend yield is now equal to that of Microsoft (NASDAQ:MSFT), a company that's been paying a dividend since 2003. It's taken 8 raises from Microsoft to get to this level. Apple has raised its dividend just once.
Apple will probably spend twice as much on its buyback per quarter as Microsoft, Intel (NASDAQ:INTC), and Cisco Systems (NASDAQ:CSCO) will combined. Oh, those three names have a combined market cap of $100 billion more than Apple at this point.
Apple's "other revenues", those not from straight product sales, did 20% more in this quarter than Yahoo! (NASDAQ:YHOO) is expected to do in the entire 2013 year.
Apple did more revenues in a week than BlackBerry (NASDAQ:BBRY) did in an entire quarter.
Apple is not dead.
Disclosure: I have no positions in any stocks mentioned, but may initiate a long position in AAPL over the next 72 hours. I wrote this article myself, and it expresses my own opinions. I am not receiving compensation for it (other than from Seeking Alpha). I have no business relationship with any company whose stock is mentioned in this article.
Additional disclosure: Investors are always reminded that before making any investment, you should do your own proper due diligence on any name directly or indirectly mentioned in this article. Investors should also consider seeking advice from a broker or financial adviser before making any investment decisions. Any material in this article should be considered general information, and not relied on as a formal investment recommendation.