In spite of the tweet scare, most indices ended higher yesterday after a series of positive earnings and probably because of rising new home sales. Twenty four of the thirty DOW stocks were up, and the gainers-losers ratio in both NYSE and NASDAQ was close to 3:1. Most of growth stocks that have good analyst ratings have outperformed their corresponding indices in the past four weeks.
In this article we discuss four stocks that have not been part of this rally in spite of having Buy or better analyst ratings and EPS growth projections in the coming years. These stocks have lost at least 15% value in the last four weeks as the markets got closer to record highs.
(1) TEREX CORP. (NYSE:TEX)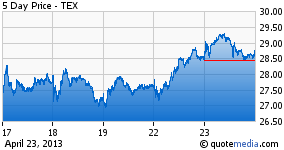 Terex Corp. manufactures construction and industrial equipments such as aerial work platform equipment, different types of cranes, light towers, rail equipments and other equipments that are used for mining and other industrial applications.
Terex's business has been recovering along with other equipment related companies such as United Rentals (NYSE:URI) - which we have discussed multiple times ever since the construction activity has been in a trough.
Construction activity depends on business cycles. Just like United Rentals (which is an equipment rental and not a manufacturing company), Terex has seen growth in its operations globally since past three years, and considering that we are still in the recovery mode in terms of business cycle, the uptrend should continue in the next couple of years as well.
(2) TESCO CORP. (NASDAQ:TESO)
Tesco is a leading global manufacturer of oilfield equipment.
Demand for energy equipment is bound to increase because most of the North American rig-fleets require retooling. We discussed earlier how rig makeovers and energy demand could benefit energy equipment companies like National Oilwell Varco (NYSE:NOV) - Tesco is its major competitor in its Top Drive segment - and both companies will benefit from these industry developments. Another catalyst for oilfield equipment companies focused in the North American region (60% of Tesco's 2012 sales came from N.A. region) is the increased drilling activity in the Gulf of Mexico region.
Tesco appears to be a value play as well, with a discounted PE of 9.26 which is among the lowest in the energy equipment industry (the industry average PE is 18.15).
(3) F5 NETWORKS INC. (NASDAQ:FFIV)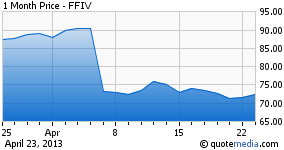 F5 Networks is a technology company focused on networking appliances. Its flagship product includes a family of appliances named "BIG-IP", and deployed in front of customers' servers to manage traffic load, security and overall server performance.
Like many other technology companies, F5 Networks' financial strength is sound. It has more than $1 billion in cash reserves and there is no financial risk as the company has no debt. It is also inexpensive with a PEG of 1.26.
(4) STEELCASE INC. (NYSE:SCS)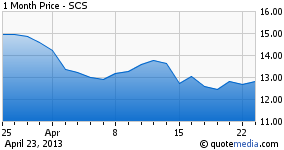 Steelcase is the world's largest maker of office furniture and office-related products, with operations in North America, Europe and Asia. It designs, manufactures and sells office seating products, office furniture systems and even interior architectural structures (like floors and walls) meant for offices. Demand for business equipments and furniture is cyclical and aligned according to business cycles - economic growth will fuel increase in office leases which in turn increases demand for office furniture. If you expect increased economic activity in the coming years, you should expect Steelcase to benefit.
Conclusion
Most would think that buying a stock that has seen a recent fifteen percent price drop is like catching a falling knife. These companies have promising industry and business level catalysts that could drive growth in the coming years, and I don't believe these are falling knives. That said, none of these recommendations are hands-over-fist buys either, mainly because the market is still close to all-time highs. Add these stocks to your summer shopping list and accumulate slowly. Remember that May is close and we are also close to record high markets: summer will be a time to nibble, not bite. Happy investing, folks!
Disclosure: I have no positions in any stocks mentioned, and no plans to initiate any positions within the next 72 hours. I wrote this article myself, and it expresses my own opinions. I am not receiving compensation for it (other than from Seeking Alpha). I have no business relationship with any company whose stock is mentioned in this article.