Halliburton Company (NYSE:HAL), with a market cap of $36.87B, is an oilfield services company, providing services and products to the energy industry. Despite a Q1 loss, HAL is expanding significantly in the international market while improving the margins in North America.
Better Than Expected Results Despite Q1 Loss
Due to $1 billion pretax charge to help settle a lawsuit related to the Deepwater Horizon oil spill, the company lost $18M (or 2 cents per share) in Q1. Excluding the money set aside, Q1 earnings declined 25% to 67 cents per share, which still beat analyst expectations by 10 cents.
Revenue and Margin
Total company revenue of $7B was a record for a Halliburton first quarter, and operating income was $902M. Revenues and operating income for international operations expanded significantly (revenues grew by 21%) compared with the prior year as HAL outgrew its primary competitors. Sequentially, North America margins improved substantially with nearly a 400 basis point sequential improvement. The activity levels also rebounded from the dramatic drop-off seen at the end of the Q4, 2012. Management continues to expect North America margins to expand over the balance of 2013, subject to the usual year-end seasonality.
Natural Gas
Despite the recent uptick in natural gas prices, management's outlook for gas activity this year remains the same. Sustained pricing improvement needs to be seen before gas activities will increase meaningfully.
Large Orders and Growth Strategy Remains
HAL received a final award approval from Petrobras (NYSE:PBR) for both the high tech directional drilling and testing contracts. HAL had won the leading market position in Brazil. HAL won the largest package despite not being the lowest bidder. These contracts are estimated to be over $2B, which will increase HAL's position in the largest deep water market in the world. With the continuing success, management will continue to focus on strengthening its global position in deep water, unconventional, and mature fields.
Share Repurchase and CapEx
Due to Macondo settlement discussions in Q1, HAL was unable to repurchase a significant amount of shares. However, repurchase activity will be picked up in Q2, following anticipated completion of SEC filing. CapEx guidance remains to be about $3B for the full 2013.
Gulf Spill Settlement Talks
Halliburton is in "advanced" talks to settle private claims against it in a trial to determine blame for the 2010 Gulf of Mexico spill. While Halliburton is not the subject of direct federal government actions, BP Plc (NYSE:BP) has tried to hold Halliburton and rig owner Transocean Ltd (NYSE:RIG) partly responsible for damages in the case. As quoted from CFO Mark McCollum, "Over the past month or so, we have participated in court facilitated settlement discussions with some of the parties included in the multi-district litigation, with a goal of resolving a substantial portion of the private claims against us in this matter." A Macondo settlement will be a significant positive for the stock as said by UBS analyst, Angie Sedita.
Analysts' Calls and Estimates
Jefferies boosted estimates and its price target on Buy-rated HAL to $49 (from $47), citing company-specific catalysts after Q1 results. Analyst Brad Handler said,
Stronger-than-expected margin recovery shows the strength of HAL's NAM position, in our view, and we are optimistic about completions activity and efficiencies and we raise our 2013/14 estimates. We think efficiency, Macondo settlement and deepwater/production-oriented growth and accelerating dividends and share buybacks are company-specific catalysts for shares and we maintain it as our top large-cap pick.
Analysts currently have a mean target price of $49.44, suggesting 24.57% upside potential based on the closing price of $39.69 on April 23, 2013. Analysts, on average, are projecting an EPS of $3.00 with revenue of $29.55B for 2013, which is 3.70% higher than 2012.
Fundamentally, HAL's key stats will be compared to its major competitors in the industry of oil & gas equipment and services, including Schlumberger Limited (NYSE:SLB) and Baker Hughes Incorporated (NYSE:BHI), to see where it stands.
| | | | | |
| --- | --- | --- | --- | --- |
| | Halliburton | Schlumberger | Baker Hughes | Industry Average |
| Cap Size | $36.87B | $95.55B | $19.09B | N/A |
| Closing Price (April 23, 2013) | $39.69 | $71.94 | $43.21 | N/A |
| Revenue Growth (3 Year Average) | 24.8 | 22.6 | 30.3 | 6.5 |
| Operating Margin, %, ttm | 14.6% | 17.0% | 10.3% | 14.7% |
| Net Margin, %, ttm | 9.2% | 13.0% | 6.1% | 8.7% |
| ROE | 18.2 | 16.6 | 8.0 | 12.0 |
| Debt/Equity | 0.3 | 0.3 | 0.2 | 0.4 |
| P/E | 13.4 | 17.7 | 14.7 | 17.9 |
| Forward P/E | 10.0 | 12.1 | 10.1 | 14.3 (S&P 500's average) |
| Projected Dividend Yield | 1.26% | 1.74% | 1.39% | N/A |
Source: Morningstar and Google Finance
SLB has the highest margins while BHI has the fastest revenue growth (three-year average). HAL generates highest ROE while offers a good mix of growth and income. From the valuation perspective, HAL is currently undervalued (P/E of 13.4) as compared with the industry average (P/E average of 17.9).
Technically, the MACD (12, 26, 9) indicator is showing a bearish trend, but the MACD difference continues to converge. The momentum indicator, RSI (14), is picking up and approaching the neutral line at 51.15. HAL is trading up and approaching its 50-day MA of $40.34. HAL is above its 200-day MA of $35.55, as seen from the chart below.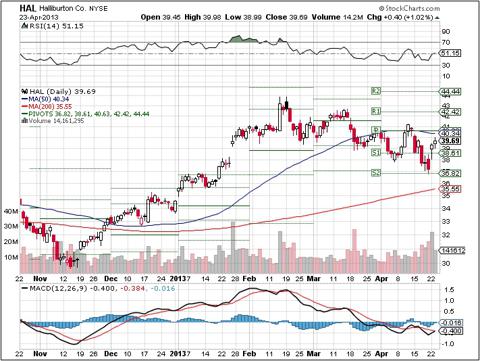 Source: StockCharts.com
How to Invest
HAL's solid fundamental remains and has several short-term catalysts, including the Macondo settlement and accelerating share buybacks. Management's growth strategy is also showing solid progress by winning large orders from Petrobras. In the near term, it is important to see if HAL can break through its 50-day MA to determine its short-term direction. Investors can also review the following ETFs to gain exposure to HAL:
Dow Jones U.S. Oil Equipment & Services Index Fund (NYSEARCA:IEZ), 8.91% weighting
Energy Select Sector SPDR (NYSEARCA:XLE), 2.90% weighting
SPDR S&P Oil & Gas Equip & Service (NYSEARCA:XES), 2.71% weighting
Note: Investors and traders are recommended to do their own due diligence and research before making any trading/investing decisions.
Disclosure: I have no positions in any stocks mentioned, but may initiate a long position in HAL over the next 72 hours. I wrote this article myself, and it expresses my own opinions. I am not receiving compensation for it (other than from Seeking Alpha). I have no business relationship with any company whose stock is mentioned in this article.