In simple terms, global aggregate demand continues to wane and deleveraging in the corporate and private sectors continues and government debt soars. QE is simply creating an illusion of growth and prosperity - the reality is very different. Corporates and private households are using low rates to pay down debt. It is not creating a "real" growth or jobs. It is like blowing hot air into a balloon that has a big hole in the back of it. It gives an illusion of reflating, but as soon as you stop blowing it deflates again. Markets are excited about the prospects of the next big puff of hot air (Japanese wealth) flooding world markets. However, the "real" issue is not the supply side, it is aggregate demand. The BRICs have cushioned some of the blowout from 2007/8, as have EM, but these areas are themselves facing saturation and imbalances that require major consolidation in parts. Big hopes have been (like the beginning of last year) centred on the US of late. However, even here, despite the encouraging start to the year, there is plenty of data that would anecdotally suggest that this isn't "in the bag" yet and the Fed may well need to start a new asset purchase programme sometime later this year if economic activity peters out - like it has the last three times.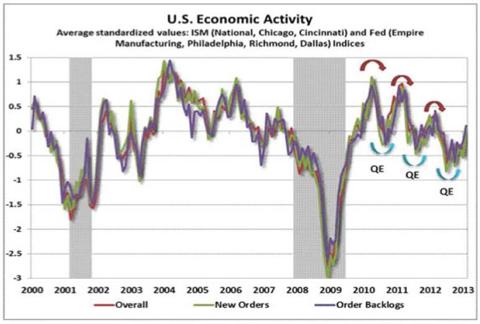 Click to enlarge
Source: John Hussman, Ph.D
Note the successively lower levels of US economic activity, as each round of quantitative easing has an ever smaller impact on real economic life. The current recovery is probably coming to an end. This view is consistent with the series of weaknesses being seen in the regional PMIs, the unexpected weakness in both the payroll and household employment surveys and in the national Institute of Supply Management (ISM) manufacturing index.
ISM Manufacturing Current Levels: March 2013
Change

Index

Current

One Month ago

One Year

ago

One Month

One Year

Overall

51.3

54.2

53.3

⇩

⇩

Production

52.2

57.6

55.9

⇩

⇩

New Orders

51.4

57.8

56.8

⇩

⇩

Backlog Orders

51.0

55.0

52.5

⇩

⇩

Supplier Deliveries

49.4

51.4

48.0

⇩

⇧

Business Inventories

49.5

51.5

50.0

⇩

⇩

Customer Inventories

47.5

46.5

44.5

⇧

⇧

Employment

54.2

52.6

55.6

⇧

⇩

Prices Paid

54.5

61.5

61.0

⇩

⇩

Export Orders

56.0

53.5

54.0

⇧

⇧

Imports

54.0

54.0

53.5

⇧
Source: Bespokeinvest.com
Weakness was across the board especially the new orders index. In addition, real disposable incomes fell in January. Housing is slowing; residential purchases are dominated by institutions buying for rental income and by foreign buyers. Moreover, there are millions of homeowners with underwater mortgages who have no ability to sell unless they can come up with the difference. Thus, the housing recovery is distorted by these developments; it is not a sign of economic recovery but a signal of a misallocation of capital.
The New York Conference Board's online help-wanted advertising index contracted in the first quarter, the first quarterly fall since the economy hit bottom in mid-2009. The decline in the unemployment rate from 7.7% to 7.6% in March is a false reflection of improvement because the labour force fell by 496,000.
The National Federation of Independent Business (NFIB) reported a fall in their optimism index. Small businesses produce half the country's private GDP and employs half the private sector's workforce. What their members experience epitomises what the real level of business activity is in the country. Their optimism index fell in March, the first fall since November 2012. Their members have been depressed since 2007 and remain so. 77% of NFIB members expect the economy to be no better or even worse in six months from now. Only 4% think the current is a good time to expand substantially compared with an average of 17% for the period 1973 to 2007. More owners plan to reduce employment in coming months than plan to create new jobs.
Business cycle groups like ECRI - and others - believe that the US economy is entering a renewed recession. There have been temporary distortions due to special events such as the reconstruction following super-storm Sandy and because there are skewed adjustment factors such as many companies and households pulling income forward from 2013 into late 2012 for tax reasons.
What is really worrying is that the number of Americans receiving money directly from the Federal government reached 128 million in January and is still rising. This is equivalent to 41% of the entire population or 51% of those older than 20 years. This development smacks of income redistribution at its worst and is fast making the country one of takers and not makers.
From a currency perspective, I am bullish of the USD but this is not necessarily about the absolute prospects for the US economy - it is more down to its economic performance relative to other economic areas and capital flows going forward.
Disclosure: I have no positions in any stocks mentioned, and no plans to initiate any positions within the next 72 hours. I wrote this article myself, and it expresses my own opinions. I am not receiving compensation for it. I have no business relationship with any company whose stock is mentioned in this article.