Ternium S.A. (TX) engages in manufacturing steel products used primarily in the construction and automotive industries. The company was founded in 1961 and is based in Luxembourg, and it sells its products in South and Central America as well as to a smaller extent North America, and Europe.
TX pays a 3.8% dividend in one payment per year, and the ex-dividend for this year's payment is expected to be in either May or June. The precise date should be announced during the upcoming earnings announcement, April 30th. In any event if you are interested in small steel, getting into this stock now is a good idea. In two of the three last years, the company rebounded from its ex-dividend day drop within a month of the payout.
The steel industry in general has been in a downturn over the last three months. For instance, US Steel (X) is down 35% in this time frame. On the other hand, TX is protected from some of this downside risk due to its small niche marketplace and relationships with construction and auto companies. See chart below.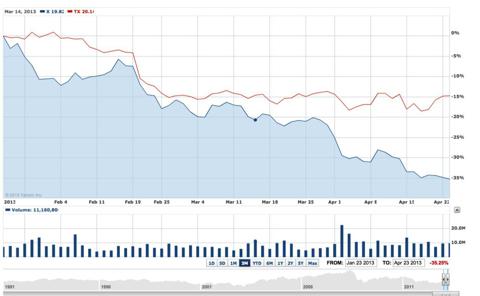 Click to enlarge
Earnings
The whisper number for TX upcoming earnings is $0.47. On the other hand, the average estimate of earning by analysts is $0.53, so the lower whisper number means that the bar has already been lowered for TX, paving the way for them to have an easier time appeasing investors at the upcoming earning announcement next week.
Valuation
The current P/E ratio is 28, which is certainly high by industry standards (compare this with TS and PBR which have P/E ratios of 14, 11 respectively.) Nonetheless, the forward P/E ratio is 6.9. So if TX can meet its earning expectations, investors should be rewarded by stock appreciation in addition to receiving dividend income of almost 4%.
TX is down roughly 20% year to date, so much so that it currently sits with a price/book ratio of .73. In other words TX is available at a nice discount right now. Compare this with TS's price/ratio of 2.14. To be sure, PBR has a price/book ratio of .66, so it's available at an even better discount than TX. TX's debt/capital ratio is 27% which compares well with the debt/capital ratios of PBR which is 36.% On the other hand, TS has a debt/capital ratio of 13%.
Bottom line
TX represents a small steel company with a niche marketplace. It pays a respectable dividend, and is a available at a sizeable discount.
Disclosure: I am long TX. I wrote this article myself, and it expresses my own opinions. I am not receiving compensation for it (other than from Seeking Alpha). I have no business relationship with any company whose stock is mentioned in this article.