By Todd McDonald, Analyst
Starbucks (NASDAQ:SBUX) is scheduled to report Q2 2013 earnings after the close of trading on Thursday, April 25. Results are typically available several minutes after the closing bell, and will be followed by a conference call at 5:00 p.m. ET.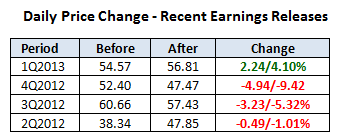 Outliers and Strategy
Earnings Per Share: The value for this measure typically compares with consensus estimates. The exception is if a non-GAAP figure is present. The estimate is $0.48, the midpoint of analysts' range of $0.47 to $0.52 (source: Yahoo Finance).
Revenues: Revenues are seen growing 12.10% year over year to $3.58 billion.
Earnings Per Share Guidance (FY 2013): In the Q1 2013 release, Starbucks guided FY 2013 EPS in the range of $2.06 to $2.15. The current Street estimate is for FY 2013 EPS of $2.16, with a high estimate of $2.25.
Comparable-Store Sales: Zack's Investment Research estimates that the company will report 6% growth in global comparable-store sales.
Sympathy Plays: Green Mountain Coffee Roasters (NASDAQ:GMCR), Dunkin' Brands (NASDAQ:DNKN), and Coffee Holding Co. (NASDAQ:JVA).
Implied Volatility: The average move after earnings over the past eight quarters has been 4.59%, in line with what options premiums are pricing in.
Recent News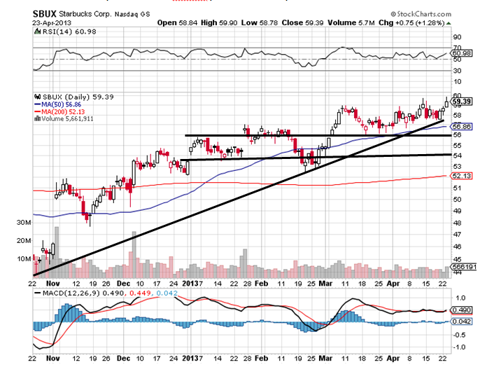 Technical Review
Starbucks has maintained pace with the broader market, rising approximately 11% year to date. The company's shares are breaking out of consolidation and bouncing off a trendline from the Oct. 23 low. The moving averages show increasing momentum, as shares approach an all-time high of $62, set in April 2012. If results surprise to the upside, look for some resistance at the $62 level. Should earnings disappoint, support can be found near $56, followed by $54.
Summary
Starbucks has bounced back this quarter, thanks in part to an improving economic backdrop, decreasing commodity prices, international expansion, and new product offerings. With shares near an all-time high, this release could

prove to be an inflection point, either breaking to all time-highs or settling into a longer-term range. Look to guidance and comparable-store sales for a reliable signal.
Disclosure: I have no positions in any stocks mentioned, and no plans to initiate any positions within the next 72 hours. I wrote this article myself, and it expresses my own opinions. I am not receiving compensation for it (other than from Seeking Alpha). I have no business relationship with any company whose stock is mentioned in this article.
Disclaimer: By using this report, you acknowledge that Selerity, Inc. is in no way liable for losses or gains arising out of commentary, analysis, and or data in this report. Your investment decisions and recommendations are made entirely at your discretion. Selerity does not own securities in companies that they write about, is not an investment adviser, and the content contained herein is not an endorsement to buy or sell any securities. No content published as part of this report constitutes a recommendation that any particular investment, security, portfolio of securities, transaction or investment strategy is suitable for any specific person.