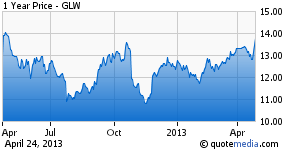 Corning (NYSE:GLW) delivered nicely this quarter with net income of 33c, well above our expectation in the low 20s. In particular, revenue was $1.8 bn, down 5.5% yoy, but when the impact of the yen is factored in, revenue was up slightly by 1.3%. We were looking for not only a soft quarter in sales but also a $130mn hit due to the big move in the Japanese currency. Smartly, GLW put a hedging program in place - probably others did too, exacerbating the yen move - and this added $65 mn in "other income." It is now hedged at 93 Y/$ mitigating any further damage. In addition, probably due to write downs, the tax rate of 6.3% was quite low this quarter. But even netting out these effects, the quarter's earnings would have roughed out to 30 cents/share.
In addition, GLW upped its dividend slightly to 40c/annum so it is now yielding 2.9% assuming today's PPS move sticks. More importantly, it appears that GLW has flourished in what was supposed to be an ugly first quarter. It also announced continued buybacks upping the ante with $2bn worth of securities to be potentially purchased over the next 20 months. As we discussed in our previous article, there are many reasons to be bullish on Corning. What is most important is the significant cash flow that the company delivers. In the first quarter alone, it delivered $318 mm or 21c/share in free cash flow after cap-ex (We call it free-free cash flow). That is 2.4 times its dividend, giving more than adequate coverage and the reason for the buyback announcement.
In our view, GLW will conservatively earn $1.25/share this year with cash available for dividends/buybacks of $1.5bn. Hence, we see it likely to repurchase $1bn worth (70mn shares) of common stock, particularly given its excellent cash/liquidity position. With a conservative multiple of 12-13 times, we have a target share price of $16 for the near term. The difference between today and when we first wrote about GLW is that we expect to get there a lot sooner. By 2015, when all its business segments are improving, net income should be $1.5/share and growing, leaving plenty of room for further capital gains. Given tangible book value, after netting out this quarter's write down, is pretty much on top of the share price, the stock is far from expensive and continues to be a buy in our eyes.
Disclosure: I am long GLW. I wrote this article myself, and it expresses my own opinions. I am not receiving compensation for it (other than from Seeking Alpha). I have no business relationship with any company whose stock is mentioned in this article.