Weather is a key currently in such markets as sugar, corn, orange juice, wheat and natural gas. We have seen sugar prices and the ETF (NYSEARCA:CANE) fall to new lows, due in part to the big Brazilian sugar crop and the fact I continue to see ideal harvest weather in Brazil. To get the sugar market out of the doldrums, we would have to see sharply higher corn prices, which would spur greater alternatives for ethanol (sugar) or see major summer crop issues in India, Brazil, Russia and/or Europe. Currently, the odds of a repeat below normal Indian Monsoon is low and the warmer weather coming to Europe after a severe cold winter, will probably be beneficial for sugar beet planting in coming weeks.
While U.S. corn planting is behind the 5 year average, the "psychology" of what I have been preaching for 6 months -- the U.S. drought slowly easing, has helped to put corn prices in a tail spin. This comes after some surprise bearish USDA reports, the big South American harvest and our comments that world demand would stay relatively feeble. It is going to take a major spring or summer disaster to keep the grain market out of the doldrums. I still think that in the longer term picture the ETFs (NYSEARCA:CORN), and (NYSEARCA:SOYB) have little major upside potential given my summer weather outlook. Soybean prices are being hurt by the huge South American harvest, worries about the Chinese economy and also my expectation that mostly ideal weather this spring and summer will occur in the U.S.
The one grain that is a bit of surprise to me, is the Kansas City wheat market. The ETF (NYSEARCA:WEAT) is correlated with the Chicago wheat contract. Improving crop prospects in Illinois, Indiana, parts of Europe and in Nebraska and other parts of the world, is keeping the wheat market at bay. While world ending stocks are tight, there is no global panic, especially with corn prices going lower. Many folks are talking about the SW Plains drought being as bad as 1996, when wheat prices went on a 50% tear during March through early May. Why not a price spike in wheat this spring? After all, the western Kansas to Texas Panhandle wheat crop has been decimated, not only by drought, but 4 historical freezes? Crop development in these areas is some of the slowest on record. However, if timely rains fall in May, the crop could still be somewhat decent. Much of central Kansas, Nebraska and central Oklahoma are seeing stabilizing conditions from recent moisture, but the SW 35% of the belt is in trouble. Hence, we may begin to see the KC-Chicago wheat spread widen, as I think damage is worse than the market realizes, from the recent freezes. What would snub this scenario? If improved moisture falls in the southern Plains the next 4 weeks. This is something I am presently studying for clients.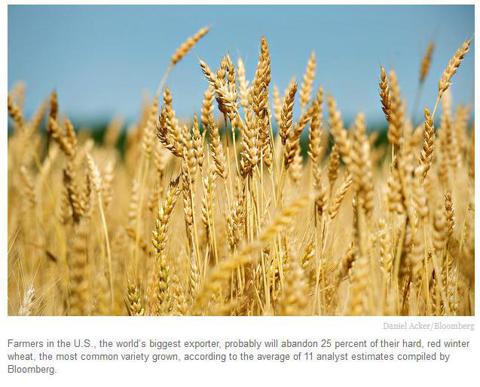 Click to enlarge
(Click to enlarge)
In the natural gas market, the beautiful bull 35% in natural gas and (NYSEARCA:UNG) has come to an end, at least for now. The return of more normal temperatures after a very cold late winter and early spring has pressured prices this week. However, it is possible we may have a bit of a bullish surprise in the EIA report again tomorrow, but without major cold or hot weather coming after this week, any major move up right now is probably unlikely for the moment.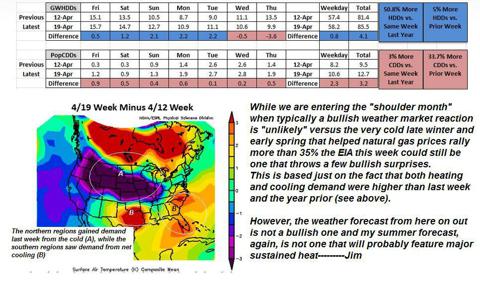 Click to enlarge
(Click to enlarge)
SOURCE OF GRAPHIC---CWG
Disclosure: I have no positions in any stocks mentioned, and no plans to initiate any positions within the next 72 hours. I wrote this article myself, and it expresses my own opinions. I am not receiving compensation for it (other than from Seeking Alpha). I have no business relationship with any company whose stock is mentioned in this article.