The sell-off in precious metals has offered and excellent buying opportunity for Silver Wheaton (NYSE:SLW). The combination of the harsh sell-off in silver and the recent unwarranted shift towards bearishness in the sector has created an excellent entry point for investors in one of the market's most fundamentally sound companies.
Silver Wheaton has a very unique business model. Instead of operating its own mines, the company finances other smaller mining companies in exchange for an advance sale of silver to Silver Wheaton directly. Through these deals, Silver Wheaton is able to acquire silver reserves at well below market prices and sell it to market for sizable profits. Its current contracts with miners are at an average price of $4 per ounce, which is far below even the post crash silver price of $22 per ounce. Another benefit of Silver Wheaton's business model is that they have no need for direct capital investments to mine any silver independently. As a result, margins are far higher than any mining company with gross margins at 74% and net profit margins at 68%. These levels are nearly unheard of in the natural resources industry outside of a commodity bubble.
While the crash in silver is currently hurting Silver Wheaton's prospective profits, it may be beneficial in the long run as the company will need to renegotiate many its mining contracts next quarter. With depressed silver prices, Silver Wheaton will have the upper hand in keeping its silver acquisition costs cheap. The last deals were negotiated in 2009 (look up) when silver was trading less than $20 per share, so acquiring new deals at another market low will ensure high profitability for years to come.
In addition to strong margins, Silver Wheaton's financial profile is incredibly strong. The company has minuscule levels of debt (2% debt/equity ratio), and a current ratio of 15. Valuations are reasonable with a forward P/E ratio of 11.5, but adjusted for earnings growth of 35% annually, its PEG ratio sits at a very cheap 0.40. The company is also efficiently operated with a return on assets of 19% and a return on investment capital of 20%.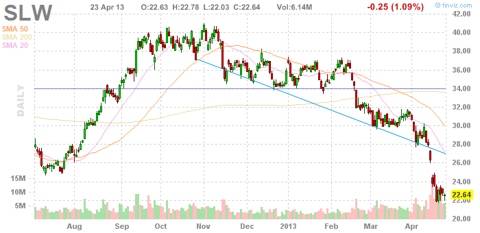 Technical analysis measures are flashing oversold at current prices. The 14 day RSI indicator is measuring at a low level of 26.6. Its current support level of $22 per share matches three-year lows dating back to 2010 and has held tests dating back to last August and the 2011 stock market sell-off. Moving average indicators have not yet triggered bullish, but they are up trending again and may close bullish within the next few days.
Overall, the combination of the panic precious sell off in silver and the incredibly profitable business model of Silver Wheaton makes this stock one of the few strong buying opportunities in a largely overvalued global equity market. Bears would argue that the run in precious metals is over, and that continuously falling silver prices will erode Silver Wheaton's profitability. I disagree with this notion because the fundamental driving factors for precious metals of economic uncertainty, negative real interest rates, growing distrust of fiat currency, and central bank money printing are all intact.
Disclosure: I am long SLW. I wrote this article myself, and it expresses my own opinions. I am not receiving compensation for it (other than from Seeking Alpha). I have no business relationship with any company whose stock is mentioned in this article.