A few weeks ago I wrote a rather controversial article about Bank of America (NYSE:BAC). It was (and still is) my belief that BAC missed an opportunity to reward shareholders with a significant dividend increase, rather than only go for a large share repurchase plan of about $5 billion. In addition, BAC will call preferred shares to the tune of $5.5 billion as well.
In and of itself, it is widely accepted that a share buyback plan is a very wise decision when the shares are selling at a discount to book value. BAC shares have been selling at roughly a 40% discount to BV. Given that this massive buyback plan has been announced, I would think, even in the face of share price pullbacks in all the financial stocks, that shares of Bank of America would begin to take off rather quickly, at the very least, to close the gap between the share price and BV.
The fact of the matter is that the gap has not even shrunk as of yet, and while it is my opinion that Bank of America missed an opportunity to reward shareholders with actual cash, Wells Fargo (NYSE:WFC) seized the moment, and significantly increased the dividends it pays, and have put the final stamp of approval on the deal as noted in this press release.
Unlike share buybacks, the BOD can place a firm date on the increase, and investors will see a positive impact in their wallets rather quickly.
Wells Fargo & Company today announced a quarterly common stock dividend of $.30 per share, an increase of five cents, or 20 percent, per share from the prior quarter. The dividend is payable June 1, 2013, to stockholders of record on May 10, 2013, as approved today by the Wells Fargo (WFC) board of directors.........."The dividend increase approved by our board today is up 36 percent from a year ago and reflects the confidence we have in our company's performance, Chairman and CEO John Stumpf said. We remain committed to returning more capital to our shareholders."
On April 3rd, I wrote this article explaining my decision to buy shares of WFC, for both its dividend as well as the potential for capital appreciation. I believe that this decision is the correct one within this business sector.
Events Favor Wells Fargo, Not Bank of America
As the housing market continues to recover, both in sales as well as prices, there will be more homes sold, and as a result, more mortgage loans written. While WFC dipped in this area last quarter, the future is looking brighter.
For the first time since 2007, Americans are more optimistic about their homes' values and prices. More confidence should lead to more homeowners feeling positive about both selling their homes, as well as buying new ones. Here are a few surveys taken by the Gallup Poll, and the charts to display:
Positive responses have increased quite markedly while the neutral and negative responses have fallen sharply.
The increase in the perception of home values is also rising once again.
Finally, 73% of those who responded state that now is a good time to buy a home. This can also be interpreted inversely to reflect selling of homes as well. All in all, it appears as though the housing market is definitely headed in the right direction.
If the housing market is headed in the right direction, so is the mortgage business, of which Wells Fargo is the largest. As noted in my previous article:
WFC, in particular, is perhaps the largest beneficiary of the increased demand in mortgages, since they happen to be the largest in that business segment already. Take a look at the latest Seeking Alpha "market current" on this fact:
3:39 AM Wells Fargo (WFC) is enjoying the benefits of charging forward in the mortgage market while its rivals have retreated, with the bank accounting for 28.8% of all home loans issued last year as "production" hit a record $524B. The strategy has brought massive profits, although questions are being asked about what Wells will do once the refinancing boom, which has driven its growth, drops off.
To support these facts, and my opinion, another Gallup report noted that the "American Dream" is alive and well, even with more youthful responders:
Americans' dream of owning a home is alive and well, evidenced by the fact that most Americans own a home and plan to continue to do so (56%), or don't own a home but plan on buying one in the next 10 years (25%).

Nearly 7 in 10 Americans aged 18 to 29 currently do not own a home, but plan on buying one within the next 10 years. Coupling this with the 21% of younger Americans who say they already are homeowners leaves few adults under 30 who say they don't own a home and have no plans on buying one.
I believe it is fair to say that Bank of America has had (and still has) its hands full in repairing the damage done by their Countrywide division, and is still facing major hurdles as noted in this article:
Bank of America Corp., which handles customer service on about 15% of U.S. home loans, has accounted for 30% of the mortgage complaints logged by the Consumer Financial Protection Bureau, according to a new database made public by the federal watchdog.

The level of customer discontent - far greater than at home-lending rivals Wells Fargo & Co. and JPMorgan Chase & Co. - reflects BofA's struggles since its 2008 acquisition of Countrywide Financial Corp. in Calabasas. Countrywide had become the No. 1 mortgage firm by specializing in subprime and other high-risk loans.
These issues could impact Bank of America's road back into the mortgage lending business in a significant way. The same issues could send more mortgage applications in the hands of Wells Fargo. Since the mortgage lending business is an integral part of what a huge bank actually does, I believe this reason alone has helped the share price of WFC to recover to a bit over book value, and the ongoing issues at BAC has held the stock back.
It Is Not Just About Mortgages
Perhaps I am just picking on Bank of America unfairly when it comes to the housing sector and mortgages, as well as their skimpy dividend. In that respect, let's look at a few charts that will show actual numbers.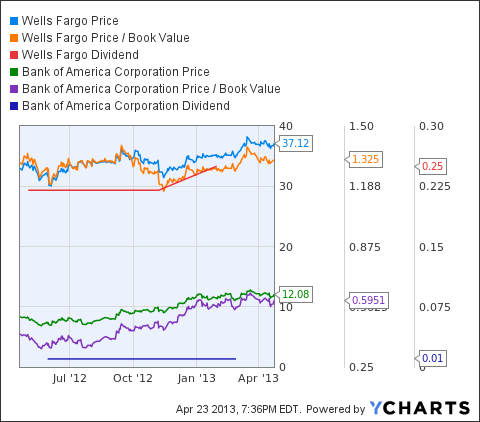 Both WFC and BAC have shown increases in share prices. The dividend for WFC has been increased from around $.22/share to $.25/share and now $.30/share, all within about a year. BAC has kept their dividend at $.01/share.
Please note that the share price of WFC has now risen above book value, while BAC has languished well below book value over the same timeframe.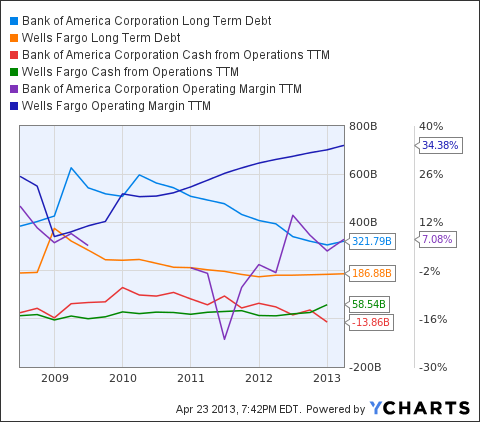 Here we can see the long term debt of BAC is about $322 billion vs $187 billion at WFC. Operating margins at BAC have risen up to about 7%, while WFC operating margins have climbed from 12% to about 34%. Cash from operations are interesting as well - BAC has -$13.86 billion, while WFC has +$58.54 billion.
I guess I am not smart enough to know where the heck BAC will get $5 billion to buy shares back. Obviously BAC has proven to the Fed that it can. To me, with a lower long-term debt load and greater cash from operations, WFC has shown me, at least, that it can pay shareholders.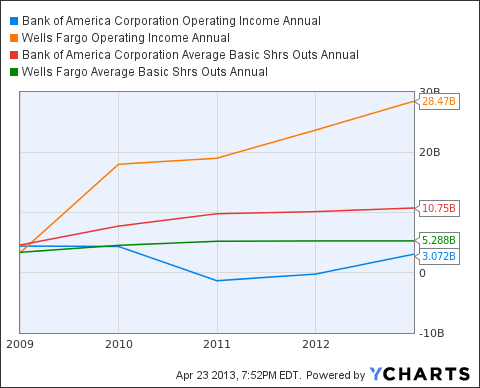 Finally, one last chart showing about $28 billion in operating income from WFC with 5.3 billion shares outstanding. BAC has about $3 billion in operating income with 10.75 billion shares outstanding.
It appears that there is more that troubles me about BAC than the dividend issue, and more that impresses me about WFC than just the dividend issue. These charts do tell a story to a fair extent, and now WFC has a forward dividend yield of 3.23% as noted in Seeking Alpha's "Market Currents:
6:34 PM Wells Fargo & Company declares $0.30/share quarterly dividend, 20% increase from prior dividend of $0.25. Forward yield 3.23%. For shareholders of record May 10. Payable June 01. Ex-div date May 08.
The tale of these two bank stocks is evident to me at least.
Disclaimer: These are the opinions of the author of this article and is not a recommendation to either buy or sell any security. Please do your own research prior to making any investment decisions.
Disclosure: I am long WFC. I wrote this article myself, and it expresses my own opinions. I am not receiving compensation for it (other than from Seeking Alpha). I have no business relationship with any company whose stock is mentioned in this article.