Kodiak Oil & Gas (NYSE:KOG) is a public independent energy company that engages in the exploration, development and production of crude oil and natural gas in the U.S. The company owns an interest in approximately 228,200 gross (154,000 net) acres in the Williston Basin, and has oil and natural gas reserves and operations in the Green River Basin of Wyoming and Colorado. At the end of 2012 the company had estimated proved reserves of 80.9 MMbbls of oil and 83.1 bcf of natural gas (~13.8 MMboe).
Ken figures ($ in million, except per share)
Market and Multiples

Market cap

$2,010

Enterprise value

$3,077

Shares out.

265

TTM EBITDAX

$333

Price per share

$7.63

EV/EBITDAX - 2013E

5.5x

PEG ratio

0.22

Peer group (2013 EV/EBITDAX

6.6x

Share sold short / Days to cover

28.5 / 5

EV/EBITDAX - 2014E

4.9x

ROE

14%

Peer group (2014 EV/EBITDAX)

5.9x

Reserves

PDP PV-10 / share

$5.14

EV / Proved BOE

$3.52

Total Proved PV-10 / share

$7.23

Total Proved PV-10 net debt / share

$3.17
Latest news
KOG announced first quarter 2013 production results
· ~21,700 boepd (88% oil)
· That is a 19% increase quarter over quarter and a 105% increase year over year
· Realized prices: $83.27/Bbl to $90.90/Bbl for crude and $5.83/Mcf to $6.48/Mcf for natural gas
These are strong results especially since it was done during the winter months which are especially brutal in Montana and North Dakota and can cause significant delays. The pricing is also positive, especially for natural gas, despite it only representing 10 to 12% of production.
Outlook
· Oil pricing: It's critical that oil remains above $80/bbl to assure the high returns and quick payouts these Bakken wells are known for. If we see continued declines in crude pricing (keep in mind that Clearbrook Bakken oil garners a $5 to $10 less per bbl than WTI), I doubt we will see a slowdown in drilling and completion, but we would certainly see a hit on returns and cash flow. The decreased crude imports in China that were released this week could be bad news for the global energy market and pricing if that trend continues. However, even based on the company's low oil estimate of $75/bbl the IRR on its projects is still impressive.
· Pad drilling: Pad drilling and continued development of their expertise within the Bakken/Three Forks formations will help them reduce drilling days and keep reducing costs like they have over the last couple years. This is not going to send their stock sky-high, but it's important because they are getting better at the things they can control and avoiding costly mistakes. Oil prices will dictate how big of an impact lowering their drilling days and overall CapEx per well will have.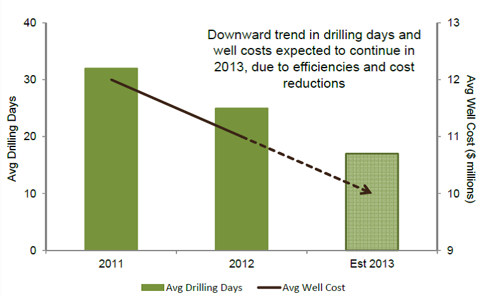 · Hitting production forecasts: Management stated that they intend to have an additional full time completion crew in the field starting in 2Q which will most likely put them towards the upper range of their forecasted daily production for the year (~30,000 boepd). Again, not a game changer, but will keep them on schedule and keep the oil flowing.
· Down-spacing: KOG is testing down-spacing to 12 wellbores per 1,280 acres (2 sections). By utilizing 3 drilling pads and completing 6 wells in the middle Bakken, 3 in the Upper Three Forks, and 3 in the Middle Three Forks, this will give increase drilling efficiencies (pad drilling) and unlock significant reserve potential moving forward. This could be a significant boost for KOG going forward. If they can make these work and down-space throughout their acreage positions, we could see a solid increase in P-1 reserves and even better cash flow (assuming oil stays up).
Recommendation
KOG is delivering production increases like clockwork. These guys are dependable and know what they are doing in the Bakken/Three Forks. Along with increased drilling activity, they will also be improving their drilling efficiency and lowering LOE by continuing to build out their basin-wide midstream infrastructure. I am looking forward to see them complete their down-spacing tests and get 100% of their acreage HBP by the end of 2013. They also received an increase in their debt facility, another good indirect nod from the debt market in terms of their capability to continue growth. If there is a continued decline in crude pricing, it would be a good opportunity to accumulate shares of KOG. Once crude rebounds, KOG's cash flow and rates of return will be through the roof (88% production is crude).
Disclosure: I have no positions in any stocks mentioned, and no plans to initiate any positions within the next 72 hours. I wrote this article myself, and it expresses my own opinions. I am not receiving compensation for it (other than from Seeking Alpha). I have no business relationship with any company whose stock is mentioned in this article.