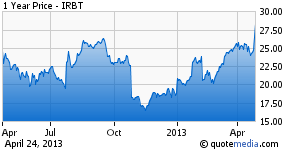 On Tuesday night, iRobot (NASDAQ:IRBT) reported first quarter earnings. The company beat revenue and earnings per share targets. The company raised guidance and continues to be a good long term bet.
In the first quarter, revenue increased to $106.2 million from $97.8 million. Net income increased dramatically to $9.4 million from $0.7 million last year. Earnings per share were reported as $0.29. This is an increase from a profit of $0.02 last year. Analysts on Yahoo Finance were expecting revenue of $103.9 million and earnings per share of $0.18.
In the first quarter, iRobot shipped its first RP-VITA telemedicine robots. This is a topic I wrote about back in February and believe will be the growth of the company going forward. At the end of the first quarter there were 12 of these robots in operation.
In the last article I highlighted quotes about the telemedicine market being "virtually limitless". The devices were expected to cost hospitals $4,000 to $6,000. The company did not discuss the machines and market in great detail today, but I am hoping for some clarity by the time the company reports second quarter revenue. Read my last article and you can see the growth potential going forward.
In the first quarter, home robot sales increased 14% to $92.7 million, made up of $31.4 million domestic and $61.3 million in international markets. Defense and security revenue was $11.1 million, a decrease from last years $14.2 million. In fact, both domestic and international defense segments saw decreases. The largest increases came from domestic home robot sales, which increased 44%.
iRobot was helped by higher gross margins and a higher average selling price for products in the first quarter. The company also secured a $14.4 million government order for First Look robots, which helped the company's backlog and declining security revenue.
On the strength of the first quarter, iRobot has raised its full year guidance. In the second quarter, iRobot expects revenue of $128 to $133 million and earnings per share of $0.15 to $0.20. Full year revenue is expected to be in a range of $485 to $495 million. Analysts were expecting revenue to come in at $485.3 million. iRobot raised its full year earnings per share target to a range of $0.80 to $1.00. The company's previous range was $0.57 to $0.72 per share. Analysts are expecting earnings per share of $0.79.
One of the other reasons I recommended buying shares of iRobot was their high cash position. In February, the company had $190 million in cash. iRobot also had zero long term debt, representing a cash position of $7 per share. I expect iRobot to enter new fields or pursue acquisitions to put this cash to work.
Shares of iRobot were up only 1% on Tuesday prior to the quarterly earnings report. Shares ended the day at $24.66, down slightly from fifty two week highs of $27.16. Shares traded down 34.5% in calendar year 2012. Despite trading at a high price to earnings rate, I remain bullish on the long term growth of iRobot due to its high cash position, increased guidance, and significant growth potential in telemedicine.
Disclosure: I have no positions in any stocks mentioned, but may initiate a long position in IRBT over the next 72 hours. I wrote this article myself, and it expresses my own opinions. I am not receiving compensation for it (other than from Seeking Alpha). I have no business relationship with any company whose stock is mentioned in this article.