"Lies, damned lies, and statistics" is attributed to lots of famous people, but it was probably first spoken by the brilliant British statesman Benjamin Disraeli and later popularized in this country by Mark Twain.
I say we give the just-made-up Stanford Wealth Management Lies, Damned Lies, and Statistics Award this month to the U.S. Bureau of Labor Statistics (BLS). Them boys shore can twist a number into the shape of any number they like.
The BLS says we "only" lost 539,000 jobs in April. That was about 120,000 more than the ADP estimate on Wednesday, which created a market rally of more than 100 points. Now we're off to the races again because this is "less than expected." Less than expected by who? Pollyanna?
These are lousy, dreadful, abysmal, horrendous, rotten, atrocious, and awful numbers. And I only wish they were true. In fact, the BLS gets to add or subtract a "delimiter" based on some computation known only to them (though well-placed sources say they call it something like "flipping a coin") that determines how much of that loss is "merely seasonal." That is to say, these were workers who were only hired temporarily to help man the stores at Christmas or tar roofs in the summer or whatever. They added back some 60,000 jobs based on this "seasonal factor" or it would have been 599,000 jobs lost. Now I'm not sure who among us hired 60,000 workers earlier than April and then let them go last month. Maybe 60,000 extra bouncers at the bars at favorite spring break locations? 60,000 extra snowplow drivers for unexpected late storms? 60,000 people to wear Easter Bunny costumes at retail establishments? I vote for the latter, since the BLS wants us to believe in the Easter Bunny and the Tooth Fairy.
You might also want to add to that 599,000 figure the 60,000 workers the National government just hired to make sure no potential welfare recipient or illegally-resident al Quaeda member goes undiscovered and unrewarded in the next census. These are temporary workers who must be trained sometime before 2010. But why now? Aren't we trying to save money? Without these fortuitous (?) April hires, the number would have been 659,000.

Finally, we have to add in the fact that every month in recent memory has seen "revisions" after the fact. These are usually buried on page 6 because most investors have short memories and have already moved on to some other news that they believe can or will move the markets. Now, I expect revisions as more complete data rolls in but, c'mon, guys, how come they are always adjusted in one direction only? The Law of Flipping Coins dictates that honest adjustments would see an upward revision every now and again, right? If we add the average of just the last two "revisions," we'd have to add 30,000 to the current announcement, for a grand total of 689,000 jobs lost in April – worse than February, better than March's "revised" figure of 699,000.
I wrote on Thursday (in Is This Rally in Its Final Innings?) that, even if you accept the BLS numbers, "if I am in a car that has lost both brakes and steering, and is careening down a 30% grade toward a cliff, even if the grade becomes a downgrade of 'only' 20%, this car is still going over a cliff... fewer-than-predicted citizens thrown out of work is not cause to bring in the punch bowl. We have not regained steering, nor brakes. When it comes to careening off cliffs, a 20% grade just means it takes a little longer to be able to see the chasm below."
For a better look at what the chasm looks like, here are the actual numbers, including, except for April, all revisions, for job growth or decline since October 2007. (Don't be fooled by the misplaced "2008" on the x-axis. Just count the months…)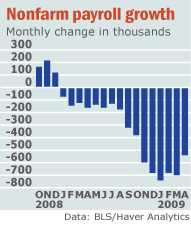 More ominous are these statistics from a whole different government statistical agency. (Near as I can make out, there are well over a hundred of these. In the real – not government – world, that is what we refer to as a "crowded market," unworthy of investment.)
The National Center for Education Statistics tells us in "academic year 2008-2009, the U.S. is projected to experience a peak of approximately 3.2 million students graduating from public and private high schools." But I'm sure the BLS Flipping a Coin Rule will predict that only 16 of them will be looking for work; the rest will take a year off traveling around Europe before deciding to get a job. You can see state-by-state projections here, if you are interested.

Anybody can look at already-released numbers that may or may not be accurate. The discerning investor looks over the hill to what will influence the numbers in the future. You can't sell investments you buy today in the past. You might sell them in the immediate future, by day-trading. More likely, you plan to sell at some point in the later-than-today future. That's why the discerning investor looks to what is most likely to happen sometime after today.
DISCLOSURE: Long quality bond funds SHY, BND and AGG, cash, and inverse ETFs SH, SBB, SRS, SEF, REW.