As natural gas prices soar this year, Chesapeake Energy (NYSE:CHK) is likely the biggest beneficiary. The heavily indebted, asset rich firm will make out like a bandit if natural gas prices triple as Jeremy Grantham suggested earlier this month. As Chesapeake was its own worst enemy with an aggressive land acquisition and drilling plan over the last decade, the company might become its own best friend with a scaled back capital spending plan.
After a decade of rapid growth, Chesapeake turned into the largest independent producer of natural gas and a leading landholder in the vast majority of the important shale areas. The company has a leasehold on 15M net acres and has a reserve base of nearly 20 Tcfe.
The scaled back drilling for natural gas led by Chesapeake is leading to lower inventories of the commodity and rigs drilling for the resource at decade lows. As the April investor presentation articulates, the company had a peak in natural gas production towards the end of 2012 with production now declining on a daily basis until years end of this year. Unintentionally the company led to over production and lower prices, while now it's helping resolve the high inventory issue by shifting the capital budget to 86% focused on liquids.
Industry Leadership Without Question
The company accumulated an incredible array of assets under former CEO Aubrey McClendon including the following claims:
2nd largest U.S. natural gas producer (net), ~ 4% of total
Largest U.S. natural gas producer (gross), ~9% of total
11th largest U.S. liquids (oil and NGL) producer
#1 driller of horizontal shale wells in the world
Largest U.S. leasehold and 3D seismic owner
#1 inventory of shale core data and industry's only proprietary Reservoir Technology Center
Investors should not overlook the second item on the list. As the largest gross domestic producer, Chesapeake has access to more data from shale cores and wells drilled. While all of the joint ventures have reduced the financial impact of the wells, it still allows the company access to the invaluable drilling data.
Debt Load
The massive debt load quickly becomes a minor problem if natural gas continues to surge to $5/mcf or even higher. Chesapeake will become a lot more profitable and the asset sales will go off at more attractive prices.
The total debt load amounts to over $12B with an estimated working capital deficit of over $4B. The company is targeting $4-7B in asset sales for this year in order to fill that gap and reduce the debt load.
Historically, the company forecasted that EBITDA makes a dramatic jump with every $0.10 increase in natural gas prices. The April projection forecasts a $50M EBITDA and $30M net income increase with each $0.10 increase. At least that is the scenario for going from $4/mcf to $5/mcf in 2013. In 2014, the gains could be larger with fewer hedges at the lower prices.
Massive Assets
The company has an enviable list of assets that some major oil firm might look to acquire now that the founding CEO is gone. It is now focusing on the top 10 shale plays including the following asset list:
Eagle Ford Shale - 485,000 net acres (2nd largest leasehold owner)
Utica Shale - ~1.0M net acres (largest leasehold owner)
Marcellus Shale - ~1.8M net acres (largest leasehold owner)
Mississippi Lime - ~2M net acres (largest leasehold owner)
These totals don't even include nearly 10M net acres in the Barnett, Haynesville, Niobrara, and other portions of the Anadarko Basin that the company rarely discusses now with the focus on larger liquids areas. In total, the company has 15M net acres of leasehold with 3.9Bcfe/d of production and proved reserves approaching 20 Tcfe.
One Chart That Explains It All
The following chart likely highlights the reason that Aubrey McClendon finally exited stage left. The company faced numerous financial strains over the last couple of years yet the CEO never was able to reduce capex spending. The constant increase in drilling and completion capex constantly placed Chesapeake in a precarious financial position regardless of the impressive asset list.
Though the budget is now dropping on a quarterly basis, the spending didn't peak until the Q1/Q2 quarters of 2012 per Slide 8 of the presentation.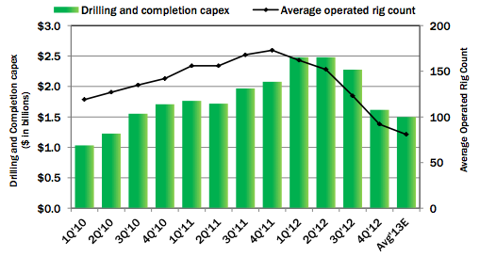 Comparative Valuations
The impacts of the above slide has ironically left the company with a market cap similar to Southwestern Energy (NYSE:SWN) and Range Resources (NYSE:RRC) that are vastly smaller producers and leasehold owners. Both companies have limited debt levels, but trade at substantial multiples. Even smaller Ultra Petroleum (UPL) trades at a vastly higher enterprise multiple of revenue. As an example, Chesapeake trades at roughly an enterprise value of 2.5x revenue. Where as, Southwestern trades at 5x and Range Resources surpasses 10x trailing revenue. Also, notable is that SandRidge Energy (NYSE:SD) trades at a similar multiple to Chesapeake.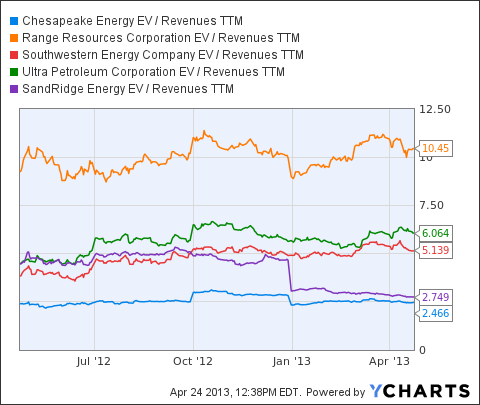 CHK EV / Revenues TTM data by YCharts
The vast difference in multiples should provide the new management team at Chesapeake with a clear game plan. The low debt, focused firms trade at richer multiples. Combined, Southwestern, Range Resources and Ultra produce less natural gas than Chesapeake yet claim a market cap vastly larger than it. Not to mention, none of those companies have the assets or the desire to be a major player in the currently more attractive liquids sector.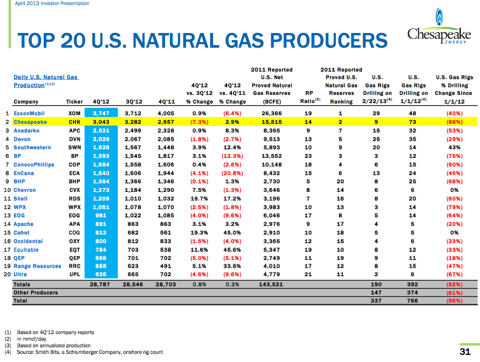 Conclusion
With the vast resources in both natural gas and liquids and depressed valuations, the company offers possibly the best opportunity for benefiting from higher natural gas prices. As the 2nd largest domestic producer (nearly double the 5th producer - Southwestern), the capital spending has a major impact on the inventory and price level of the commodity. The drastic reduction in the capex budget is very supportive of higher prices and hence a more attractive stock. Almost as if investors should hold the stock opposite of what the company does with the drilling plan.
Buy the stock until the new management team returns to an aggressive drilling plan, as investors will benefit from the leading leaseholder sitting on the assets even though consumers of natural gas won't be as happy.
Disclosure: I have no positions in any stocks mentioned, and no plans to initiate any positions within the next 72 hours. I wrote this article myself, and it expresses my own opinions. I am not receiving compensation for it (other than from Seeking Alpha). I have no business relationship with any company whose stock is mentioned in this article.
Additional disclosure: The information contained herein is for informational purposes only. Nothing in this article should be taken as a solicitation to purchase or sell securities. Before buying or selling any stock you should do your own research and reach your own conclusion or consult a financial advisor. Investing includes risks, including loss of principal.