For the week ending of May 8th, average share price performance for CEF fund types was up 4.0% (the aggregate, unweighted average of 643 CEFs was up 3.8%) trailing a 5.8% advance for the S&P 500, as measured by SPDRs S&P 500 ETF (SPY). (YTD, 643 CEFs on an aggregate, unweighted basis had a Distribution Yield of 8.8%, a Discount to NAV of 7.0% and an 18.0% share price appreciation)
The sigh of relief, as measured by the 36.1% jump in
KBW Bank Index
(^BKX), over the banks' stress test not being as bad as feared, propelled the Preferred Funds 7.8%, as the preponderance of prefers issues are bank related. Other equity-oriented CEF fund types also advanced as investors' fear gauge, The
CBOE Volatility Index
(^VIX), dropped 39.7% since March 2nd. The
Eqcome CEF Fear Index
registered a 44.4% decline YTD. Debt fund types tend to underperform in this environment.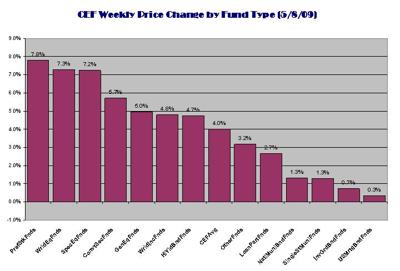 For sake of weekly comparison,
SPDR S&P 500
(SPY) was up 5.8%. In the debt category,
Vanguard Total Bond
(BND) and
iShares Muni Fund
(MUB) put in a flattish performance: up 0.4% and down 0.3%, respectively; the
iShare MBS Bond ETF
(MBB) was unchanged. With regards to commodities,
Gold
ETF
(GLD) stepped up 3.5%, while oil, as measure by the
US Oil ETF
(USO), surged 9.7%. Real Estate as measured by the
Vanguard REIT ETF
(VNQ) continued it strong advance with an 8.8% increase. Taken as a whole, the performance of the aforementioned ETFs suggests investors are anticipating a recovery in the next 6 months.
The theme of an impending economic recovery with a concomitant surge in commodity prices may have been the cause for the 36.5% jump
Templeton Russia and East European Fund Inc.
(TRF) last week. One of the worst performers of the week was
BlackRock New Jersey Municipal Bond Trust
(BLJ) was down 6.4% as investor shunned safety.
The investable idea for the week is
Boulder Growth & Income Fund Inc.
(BIF) up 3.7%. Insiders have increased their holdings by a third to 4.3 million shares to 16.7% of shares outstanding. The shares were accumulated at an average discount of approximately 20%. Its historical time weighted discount is -2.4%. (See: "Insider Buying at BIF: A Case of Manipulation or Hallucination?")
Disclosures: Long: SPY,GLD, USO, BIF