Meritage Homes Corporation (NYSE:MTH) reported Q1 revenue and earnings that set the bar high for competitors Pulte Homes (NYSE:PHM), expected to report on April 25, and D. R. Horton (NYSE:DHI), slated to report on April 26th.
Returns across the broader homebuilder basket (NYSEARCA:XHB) have been volatile so far this year.
The XHB posted robust excess returns in January and again in March. However, it trailed in February and is trailing again in April.
Those who have held on through the good and bad this year have been rewarded with a 12.3% return, ahead of the S&P 500's (NYSEARCA:SPY) 11.4% return. Meritage shareholders have enjoyed a 28% return.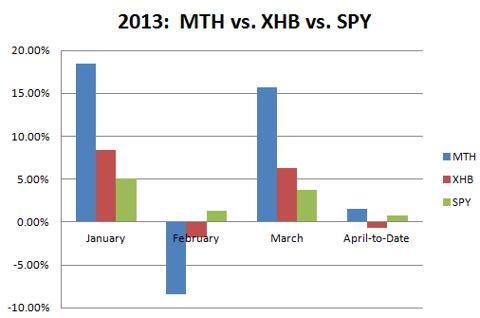 Meritage's bullish run and positive earnings report reinforces the housing data strength I outlined last week in Housing Stocks Can Still Go Higher.
In particular, Meritage's 39% growth in home units closed reflects the strong housing completions numbers for March.
Industry wide completions increased 36.3% year-over-year in the final month of the quarter, suggesting Meritage competitors such as Lennar (NYSE:LEN) and K B Home (NYSE:KBH) are in store to post similarly strong results.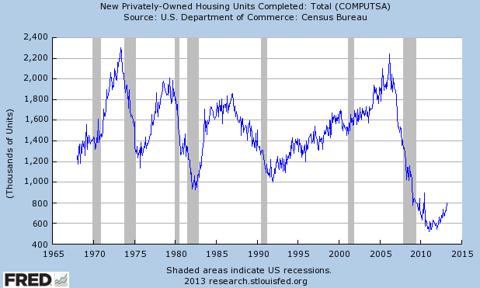 At Meritage, the jump in units closed helped revenue climb 65% from a year ago. The higher demand for homes drove average selling prices 17% higher.
The pricing power translated into additional margin strength as unit growth was leveraged against recession-era cost cutting.
Gross margins improved to 19.5% from 17.2% a year ago and general and administrative costs dropped to 5.9% of sales, down from 7.2%.
Meritage's order and backlog growth also reflect improving housing data. The company saw orders climb 35% in units and 69% in value. This expanded the company's backlog 51% to 1967 homes.
Importantly, the average selling prices for new orders increased 25% to $336k.
Driving the pricing strength were some of the recession's most troubled states.
Demand for the company's homes in California, Colorado, the Carolinas and Florida accounted for 45% of Meritage's Q1 orders and 55% of the company's total order value.
California saw the biggest jump in closing revenue in Q1 too. Revenue from homes closed in California jumped 172% in Q1. And, total order value in California climbed 113% as the state generated the company's highest average sales prices.
California's improving unemployment trend, coupled with low interest rates, will likely support California demand in Q2 too.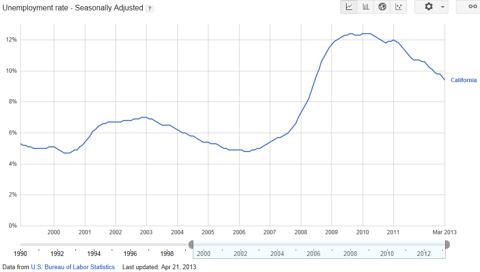 Industry wide, housing tailwinds are also evidenced through March's permit and housing starts.
During March, building permits for privately owned dwellings increased 17.3% from March, 2012. The more volatile housing starts were 46.7% higher than last year.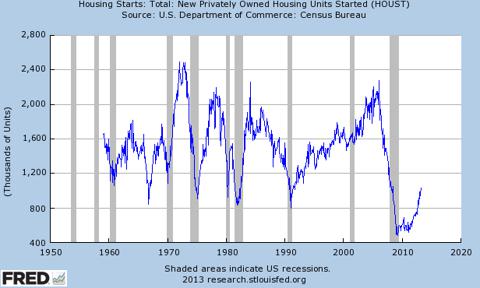 Overall, the strength sets Meritage up for robust sales growth for the remainder of the year. The company is guiding for 40-45% year-over-year home closing revenue for each of the remaining quarters of this year. Those sales are expected to produce a 350-400% lift in pretax earnings to $2.20-2.45 per share.
Those growth projections should be similarly echoed across competitor's earnings releases, suggesting April's early sell-off may provide investors with a good opportunity to buy.
Disclosure: I am long KBH, DHI, LEN, PHM. I wrote this article myself, and it expresses my own opinions. I am not receiving compensation for it (other than from Seeking Alpha). I have no business relationship with any company whose stock is mentioned in this article.