Is all the negative press on Gamestop (NYSE:GME) losing out on the digital age of XBOX 360 and Sony Playstation 3 downloads going to kill the prominent video retailer that has made countless millions from new and used game sales? Investors aren't willing to pay a high P/E for Gamestop no matter good the guidance may be, but will Gamestop show Wall Street it isn't just another washed up business model like Ponch and Jon?

Just like every other stock under the sun, Gamestop shares rallied in March from $22 to $32, but since April 9th Gamestop shares have dropped 19% and are now near the bottom of its price channel, but does that mean anything these days?

However, Gamestop gets its chance to prove the Street wrong come May 21st, when the company reports Q1 2009 Earnings and tells all on its Conference Call later that day. GameStop reaffirmed its first quarter comparable store sales guidance last month of flat to +2% and earnings per share guidance of $0.40 to $0.42. Full year comparable store sales guidance remains +4% to +6% and full year earnings guidance is still expected to increase between +18% and +22%. Note that guidance does not include debt retirement costs or merger related expenses. It's tough to tell right now if Gamestop is holding the bar too high. Should the company disappoint the Street on May 21st, GME shares could hit a new 52-week low, but if they meet or exceed, its game on.
Gamestop may be going the way of Blockbuster (BBI), being gradually eliminated by companies like Netflix (NFLX) but the Masters believe its premature expect Gamestop to go the way of the dinosaur to Amazon (AMZN) and anyone who challenges its business model.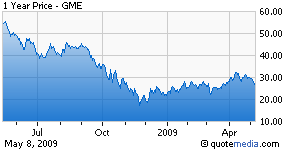 What really hurt Gamestop shares was when the NPD Group reported last month that U.S. video game sales in March dropped more than expected. Sales of hardware, software and accessories fell 17% year-on-year to $1.43 billion. For the first quarter, sales were flat at $4.25 billion. The double-digit decline was larger than expected. Most forecasts expected software sales to be flat to down slightly. So if video games sales are slowing you can't expect Gamestop to keep raking in the cash, thus the decline amongst other negative press on GME.

Gamestop is now trading with a P/E of 10 and shares fell below $26 on Friday before making back to $26.20. Truth be told, its a risk to buy GME before May 21st, but its a risk that this StockMaster is willing to take at $26 a share.

Disclaimer: Long GME