[Editor's note: We have corrected an error related to the author's characterization of the terms of MCP's debt covenants.]
In early January, Molycorp (MCP) announced an expected revenue and cash flow shortfall for 2013. Two weeks later it raised $414.2 million in capital - $248.6 million in equity and $165.6 of convertible debt - to stave off potential bankruptcy. Since Molycorp's business was impaired, I questioned whether its $1 billion in intangibles related to its June 2012 Neo Materials Technology (since renamed "Molycorp Canada") acquisition were also impaired. According to the article "Are Molycorp's $1B Intangible Assets Impaired":
However, the Neo acquisition was made when rare-earth prices were more buoyant than they are today, it created a higher expense burden at Molycorp, and it created nearly $1 billion in intangible assets, including over $500 million in goodwill. That said, given that the company's operating losses may not abate any time soon, a portion of those intangible assets may be impaired... Through nine months ended September 30, 2012, Magnetic Material and Alloys, the division where Molycorp Canada's financial results are reported, recorded a pretax loss (prior to intercompany eliminations and corporate overhead) of $2.4 million.
Management took the subtle hint when it delayed its fourth quarter earnings call and Form 10-K release to estimate its "substantial" goodwill impairment charge. After a two-week delay, the company announced fourth quarter net revenues of $134.3 million (35% decline from third quarter), a gross loss of $20.5 million and a loss attributable to shareholders of $362.4 million. Embedded in the loss was a goodwill impairment charge of $258.3 million. In "Molycorp 4Q Earnings: Digging Into The Details" I questioned the write-off as too paltry:
The market had braced itself for a potential $1 billion impairment and saw the lower amount as favorable. However, since the amortizable intangibles were not written down, the company's run-rate amortization expense of $36 million per year would still impact earnings going forward. The actual write-off implies that Neo Materials is worth approximately $700 million; I will have to get further details on the math Molycorp used to justify that valuation before commenting further. On the surface, those assumptions look aggressive.
After further research on Molycorp's financial statements, I believe I have found the "smoking gun." The company wrote down goodwill just enough so as not to breach debt covenants pursuant to its $650 million 10% senior secured notes (the "Notes"). The Notes are due 2020 and Wells Fargo (NYSE:WFC) is the trustee. Net proceeds from the Notes were $635.4 million after deducting the initial purchasers' discounts. At December 31, 2012, the outstanding amount was approximately $636 million. Proceeds from the Notes were used to finance the acquisition of Neo. The Notes contain customary covenants, including but not limited to, limits on the company's ability to incur more debt or issue preferred stock, pay dividends, merge or sell assets. The original covenants stated that incurred debt on or after the issue date of the Notes (May 2012) shall not exceed the greater of (x) $150 million and (y) 5.5% of the company's consolidated total assets.
The following table illustrates a roll forward of Molycorp's consolidated total assets from June 30, 2012 to December 31, 2012.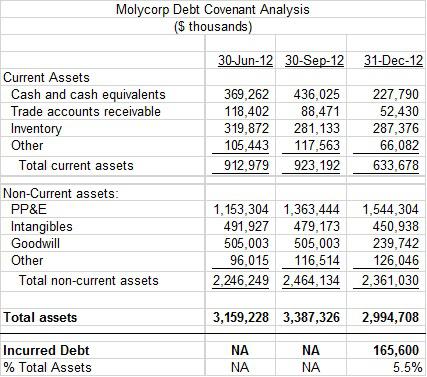 The provision for new debt not to exceed the greater of $150 million or 5.5% of total assets was waived from prior registration statements for past debt issuance by Molycorp in the current capital raise. Not only does Molycorp have the capacity to issue more than $150 million in new debt, it can also establish a credit line for up to $300 million without triggering any default provisions. That said, the new incurred debt would not be a breach of the revised debt covenants.
Goodwill Write-Off Consistent With GAAP?
Determining whether Molycorp's goodwill has been impaired involves three steps:
Determine Molycorp Canada's "recoverable amount" or the higher of its (i) net selling price (sale price minus the cost to sell) and (ii) the present value of its future cash flows.
If the "recoverable amount" is greater than Molycorp Canada's current carrying value, then there is no goodwill impairment.
Otherwise, the recoverable amount is allocated to the unit's assets (including intangibles) and liabilities. If the estimated goodwill from this calculation is less than the carrying amount of goodwill, then the difference is "impaired goodwill" and must be charged to expense.
The accounting statutes do not say "the expense charge should not be high enough to cause a breach of debt covenants," which on the face of it appears to be how the goodwill impairment was calculated.
Conclusion
My investment thesis is that certain assets of the company - inventory and intangibles - are overvalued. They are key drivers of GAAP equity and the company's valuation.
Secondly, if it is deemed that the goodwill write-off was not consistent with GAAP accounting rules, management may have run afoul of the Sarbanes-Oxley Act. Sarbanes requires management to attest to the accuracy of its financial statements. Such a breach could involve fines or even the removal of management. That said, I rate the company a sell and advise potential investors to wait until these issues are resolved before investing in the stock.
Disclosure: I am short MCP. I wrote this article myself, and it expresses my own opinions. I am not receiving compensation for it (other than from Seeking Alpha). I have no business relationship with any company whose stock is mentioned in this article. I currently own June puts on Molycorp