This is the fourth in a series of articles dealing with gold and silver royalty and streaming companies. In part 1 I introduced the reader to the business model employed by gold and silver royalty and streaming companies. These companies make deals with mining companies whereby they give mining companies an up-front payment in cash or stock in exchange for a royalty or a stream on an agreed upon mine. A royalty agreement entitles the royalty company to a predetermined portion of the resources produced by the mine in question, while the mining company operates the mine. A stream entitles the streaming company to the right to purchase a predetermined portion of the resources produced by the mining company at an agreed upon price. In general royalty and streaming companies offer investors exposure to the mining industry with lower risk than if they were to purchase mining shares.
In subsequent parts I discuss Franco-Nevada Corporation (NYSE:FNV) and Silver Wheaton Corp. (NYSE:SLW). Both companies offer investors leveraged exposure to precious metals in a way that mitigates (but does not eliminate) mining risks.
In this article I will focus on Royal Gold, Inc. (NASDAQ:RGLD), which is a royalty and streaming company that is primarily focused on gold, although it receives 25% of its revenues from other metals. Seeing that Royal Gold shares this quality with Franco-Nevada (which I discuss in part two), I will make several comparisons between the two companies so that investors can make an informed decision in choosing between the two should they wish to own a gold royalty/streaming company.
Royal Gold shares many similarities with Franco-Nevada Corporation, although it is slightly more expensive and it is not run by a world-renowned mining executive such as Pierre Lassonde. Nevertheless, despite the fact that the shares have undergone a nearly 50% correction since October, 2012, Royal Gold has been one of the best performing stocks in the world over the past 20 years. As I said in part 1, in the early 1990's Royal Gold traded at just $0.03 per share, and it now trades at just over $51. Furthermore, during the secular bull market in gold the company's shares have increased in value 17 times, and they have consequently outperformed the HUI Gold Bugs Index, although this relative outperformance has been subdued during more recent years, as the following chart illustrates: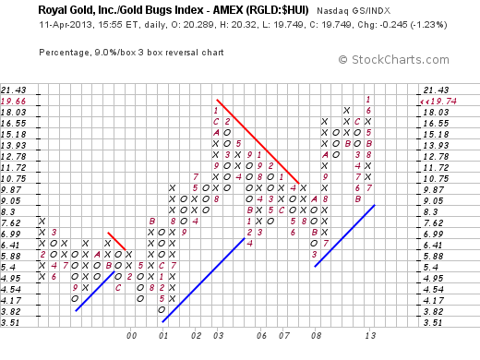 Despite this stellar performance Royal Gold is the smallest of the major royalty companies with a market capitalization of just $3.3 billion, although it is not the smallest publicly traded company that predominantly operates using the royalty/streaming business model (that would be Sandstorm Gold Ltd. (NYSEMKT:SAND), which is too small for me to consider it to be a "major" royalty/streaming company). It is also the most expensive of the major royalty and streaming companies on a price to earnings comparison, as it trades at 31.6X trailing earnings and it has the smallest dividend yield at 1.6%. However on a price to sales basis it is less expensive than its peer Franco-Nevada, trading at just 12X revenues.
This richer valuation can be justified given Royal Gold's stellar financial performance over the past several years. The following chart illustrates this:
Going back further, over the past decade the company has increased its revenues from $15.8 million to a whopping $263 million, which equates to a CAGR of over 32%
The company currently has 39 producing mines with which it has royalty or streaming agreements. Like with Franco-Nevada, Royal Gold also has several properties that are currently in development and in exploration: according to its most recent April 17th presentation, the company has:
31 Development Assets
41 Evaluation-stage Assets
98 Exploration-stage Assets
(p. 4)
This is very similar to Franco-Nevada which has 46 producing assets, 28 development-stage assets, and 137 evaluation/exploration-stage assets. This heightened diversification protects investors in case individual mines cease operating, although as I discuss below I wish the company had a more diverse exposure to individual mining companies.
Royal Gold has its gold in similar geographies as Franco-Nevada, with over 60% in North America.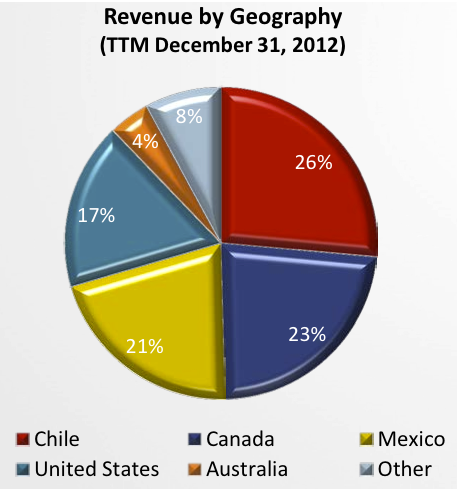 One notable distinction is that Royal Gold has heavy exposure to Chile, and this will become more pronounced assuming that Barrick Gold (NYSE:ABX) is able to mine the Pascua Lama project in 2014 as anticipated. As I indicate in my article The Case For Shorting Barrick Gold there is substantial evidence that Barrick will fail to get the project into production, and this article, which focuses on the Pascua Lama project and which was published the day after my general piece on Barrick, provides more specific support of my suspicion. With a 50,000 ounce per year royalty (Royal Gold's estimate, p. 21 of the aforementioned presentation) at a $1,400 per ounce gold price the success or failure of this project will have a $70 million impact in sales. At current levels this would be one fifth of the company's revenues, and consequently this project is very significant to Royal Gold.
As I suggest above, despite its large number of properties, Royal Gold is not as diversified with respect to individual mining companies as I would like. The following two charts illustrate the company's exposure to other individual companies: the first graphs revenues by mining company, or present diversification; the second graphs reserves by mining company, or future diversification: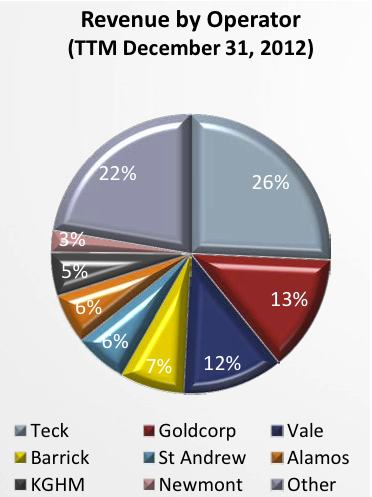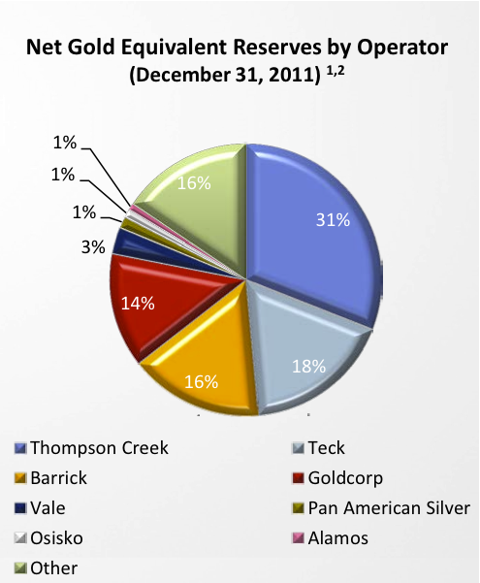 One will note that the company has fairly heavy exposure to Teck Resources Ltd. (TCK), Thompson Creek Metals Company (TC), and Goldcorp (NYSE:GG).
Despite these concerns I have expressed over Royal Gold's diversification, one thing I really like about this company is the fact that management is willing to issue shares into the market when it believes that they are trading at a high valuation. Many people do not like secondary offerings, and few management teams are willing to admit that their stock price is too high, and so this is a fresh breath of honesty and a commitment to creating long-term shareholder value. Management did this recently when the stock was trading at roughly $100 towards the end of 2012: it decided to issue 5 million shares into the market. This move had two effects which were positive in my opinion. First, it raised capital that the company could use prudently as the languishing gold price has made it difficult for smaller mining companies to get financing. Second it was a factor in lowering the share price, and it consequently provided investors an opportunity to purchase the shares at a more reasonable valuation.
Conclusion
The following points sum up my opinion regarding Royal Gold:
Royal Gold is a gold royalty/streaming company, although it receives a quarter of its revenues from other assets: predominantly base metals.
The company is very strong with rapid growth and leverage to the gold price.
Management has been a prudent steward of shareholder capital while creating enormous value.
The company is more expensive than its primary peer Franco-Nevada, although it has a higher growth rate which justifies the valuation for more aggressive investors.
The company is highly diversified with dozens of producing and late state development projects, as well as over 100 earlier stage projects. However it has too much exposure to some individual companies.
Management is seemingly set on creating long term shareholder value, as evidenced by the fact that it issued stock when it was nearly twice as high as the current price. Elementary supply-demand fundamental analysis must have dictated to them that this would temporarily suppress the share price, but they disregarded this short term blip in lieu of the long term.
With these points in mind investors who are bullish on gold and commodities in general should consider adding Royal Gold to their portfolios.
Disclosure: I have no positions in any stocks mentioned, but may initiate a long position in RGLD over the next 72 hours. I wrote this article myself, and it expresses my own opinions. I am not receiving compensation for it (other than from Seeking Alpha). I have no business relationship with any company whose stock is mentioned in this article.