The eastern hemisphere is growing at a rate much faster than the western hemisphere, with China recently announcing GDP growth at 7.7% (compared to U.S estimates of 2-3%), but just who exactly will be the powerhouse in the east over the next 20 years?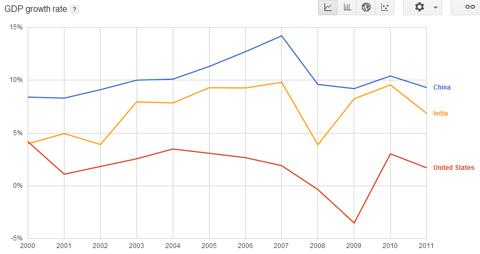 China's reining position as the world's most populous country is projected to come to an end by 2025, when rapidly growing India's population is expected to surpass that of China's. While demographic professionals have long been aware of this looming shift, projections have moved the date for the expected shift earlier.
In 2009, The U.S. Census Bureau released population estimations for 21 countries, in which it determined that China's population is projected to peak at slightly less than 1.4 billion people in 2026, and that India's population will surpass that of China's in 2025. As of 2012, the World Population Data sheet [pdf] estimates China's population at 1.35 billion and India's at 1.26 billion.
China's population growth rate has been declining for many years due to declining fertility. The country's total fertility rate-the number of births a women is expected to have in her lifetime-was estimated at 2.2 in 1990, 1.8 in 1995, and less than 1.6 since 2000. The country's population growth rate stands at 0.5 percent annually.
India's population growth rate is estimated at about 1.4 percent, nearly three times that of China. India's total fertility rate is estimated at a current 2.7, but is projected to decline slowly.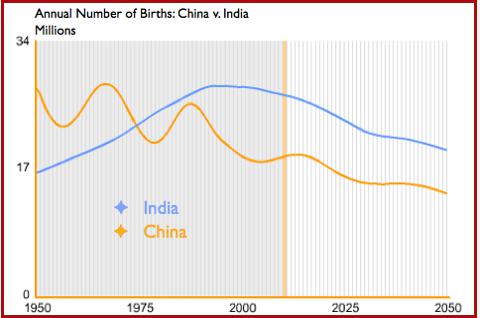 The Census Bureau data also estimates that new entrants into China's labor force may be near its peak, as the population of Chinese 20- to 24-year-olds is projected to peak at 124 million this year. India's population of 20- to 24-year-olds is not expected to peak until 2024, when it hits 116 million.
Despite China's shrinking younger population, its labor force may continue to grow for a few more years, as the population that includes ages 20 to 59 is not expected to peak until 2016, when it is projected to reach 831 million, an increase of 24 million over the current level.
"Given that China and India together account for 37 percent of the world's population, their demographic trends have major implications for worldwide population change," noted the Census Bureau in releasing its revised figures. Population changes also hold inherent major economic implications. "These changes in China's age structure may affect its economic growth and competitiveness in the world market," said Census Bureau demographer Daniel Goodkind.
The aforementioned statistics provide support for my contrarian belief that democratic India will emerge as the economic powerhouse of Asia, as opposed to autocratic China. Ultimately, I personally believe that India will take over as the most powerful economy is the east within the next two decades. I also believe that India holds far more promise than China as a long-term investment, especially given how rapid and high up China's economy has climbed in the past decade.
Some potential options for investors looking to capitalize on this demographic shift are WisdomTree India Earnings Fund ETF (NYSEARCA:EPI), which is a fundamentally weighted index that is comprised of companies incorporated and traded in India that are profitable and that are eligible to be purchased by foreign investors. Another admirable option would be the iShares S&P India Nifty 50 Index Fund (NASDAQ:INDY), which follows the CNX Nifty index - the headline index on the National Stock Exchange of India. It has 50 constituents: Banks at 21% and IT at 16% are the largest sector exposures. The fund has relatively high exposure to consumer goods/tobacco company ITC, which represents almost 9% of the total portfolio.
Conclusion
With birthday rates already tripling that of the Chinese, and a labor force that is much younger, I whole-heartedly believe that in the coming decades India will become the new economic powerhouse in the east. Investors looking to capitalize on this growing economy should consider the ETFs mentioned above, as well as many other traded funds that mimic the Indian markets. It's not a matter of "if" it will happen, just a matter of "when."
Disclosure: I have no positions in any stocks mentioned, and no plans to initiate any positions within the next 72 hours. I wrote this article myself, and it expresses my own opinions. I am not receiving compensation for it (other than from Seeking Alpha). I have no business relationship with any company whose stock is mentioned in this article.