Manufacturing is in intensive care in America. New data shows manufacturing productivity still falling and unit labor costs are still rising. In my experience, the opposite always happens in a recession – you get lean and mean. The productivity trend since 2000 has not been good anyway, but since the recession began things have gotten worse.
The rules of the game are manufacturers must compete internationally. All domestic manufacturers – even those who do not export – must compete with international manufacturers as they are given access to the American market. To survive, manufacturers must reduce costs.
click to enlarge images


Click to enlarge
So, bye, bye American manufacturing. The handwriting is on the wall while this trend continues. And the only way to reverse this cost trend involves deflationary measures – force real labor rates down. The efficiency issues are far more alarming. In my experience, this has always been caused by management either through lack of automation / investment, poor work procedures, and/or lack of control.
The giant sucking sound you heard during this recession was manufacturing jobs flying eastward. I personally do not think many manufacturing jobs will return during recovery. There is less and less of an advantage to manufacturing in America.
Labor in Asia has more and more English language skills and education.
The Asian governments are willing to provide incentives to companies which relocate including access to government loans.
Repatriation of profits to America is becoming easier and easier.
Less paperwork and less taxes.
Shipping from the Far East is now so quick it now is rivaling domestic shipping lead times.
Asian work ethic is at least as good as domestic labor force.
My concern about the departure of manufacturing jobs to Asia has to do with the employment multipliers. All jobs are not created equal. According to one study, every 100 jobs in durable manufacturing support 372 jobs in other industries, while every 100 jobs in business services supports 164 jobs elsewhere in the economy. We are losing good jobs which will stimulate the economy (and we are left with the shit jobs).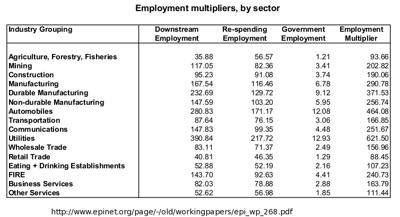 Click to enlarge
The Institute for Supply Management (ISM) released the April 2009 report on business. You select the headline you like:
Economic activity in the

manufacturing sector

failed to grow in April for the 15th consecutive month, and the

overall economy

contracted for the seventh consecutive month.

The decline in the manufacturing

sector continues to moderate. After six consecutive months below the 40-percent mark, the PMI, driven by the New Orders Index at 47.2 percent, shows a significant improvement.
The release was accompanied with the following statement:
The past relationship between the PMI and the overall economy indicates that the average PMI for January through April (37 percent) corresponds to a 1.3 percent decrease in real gross domestic product (GDP). In addition, if the PMI for April (40.1 percent) is annualized, it corresponds to a 0.3 percent decrease in real GDP annually.
Based on the 1Q 2009 GDP numbers released last week, manufacturing's drag on the economy exceeded -7.5% (see my comments last week week on GDP) - and not the -1.3% ISM says is indicative of past relationships. This is probably another indicator of a new normal. However, this survey does not meet the test for representative sampling techniques, and its results should not be relied upon as a free standing litmus test of manufacturing trends in America.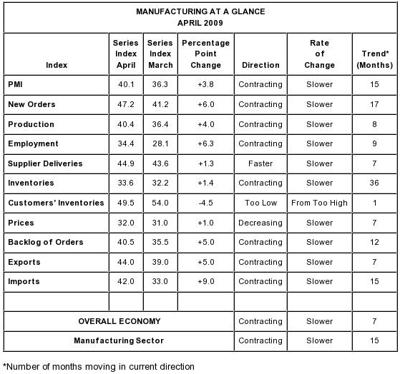 Click to enlarge
For those who are waiting for Goldilocks to appear – good luck. I do not buy that America's shift from a manufacturing based economy to a service based one will achieve full employment (since 2000 it has not). Data is not supporting the economists' position that employment is self healing.
We need to reinvent our manufacturing base.
Additional Economic Events from this Past Week
Probably the biggest event of the week was the release of the Stress Test results of the the largest banks in the banking system. As the largest banks are too big to fail (which translates to me that the bond and stockholders are exempt from loss), I considered the test to be a measuring stick on the relative strength and weaknesses of the major banks. So from the report itself, here is the "relative" bank health chart with Amex the strongest and GMAC the weakest.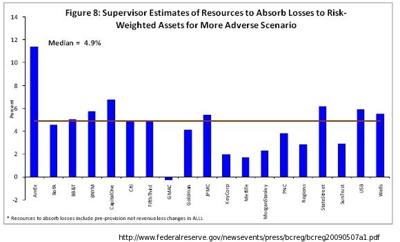 Click to enlarge
But the most interesting chart in this stress test report was a historical perspective of bank losses. The stress test boys claim the estimated loan loss rates under the more adverse scenario are very high by historical standards. The two‐year cumulative loss rate on total loans equals 9.1% in the more adverse scenario. I tried to think of a hole in this assertion but I could not.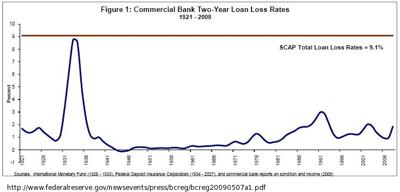 Click to enlarge
As the economy is the consumers, we all look to retail sales as a litmus test of consumer sentiment. Same-store sales rose +0.7% in April 2009 but this increase was attributed to Easter – and not any change in consumers' current downtrodden spending habits. March's consumer credit outstanding decreased by -$11.1 billion, following a downward revised decrease in the prior month (-$8.1B). On a year-over-year basis, total consumer credit outstanding grew just +0.1 percent in March, the slowest pace since September 1992 (-0.1%). Consumer credit growth has slowed dramatically with consumers using credit cards at the slowest pace on record (dating back to 1968).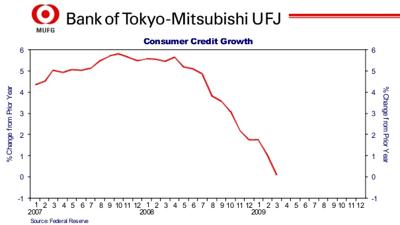 Click to enlarge
The four week moving average of mortgage loan application volume decreased 6% and increased 63% compared with the same week one year earlier. The refinance share of mortgage activity decreased slightly to 74.4% of applications. The average interest rate for 30-year fixed-rate mortgages decreased slightly to 4.79%.
Initial unemployment claims had a slight decrease for the week ending 02 May with the four week weekly moving average of 623,500 claims. It is good news that the 4 week average is holding steady, and has been ever so slightly trending down over the last month.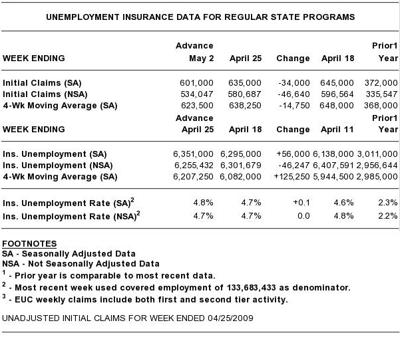 Click to enlarge
Nonfarm payroll employment continued to decline in April (-539,000), and the unemployment rate rose from 8.5 to 8.9%. Since the recession began in December 2007, 5.7 million jobs have been lost. Overall, private sector employment fell by 611,000 which is the real indicator (not the 539,000 headline number). The U-6 unemployment rate (includes all unemployed including those who have given up looking for a job and those underemployed) now stands at 15.8%. The marketeers are reacting positively to this "less bad" data. Yes, things are getting less worse – but I want to see several more months of data before any euphoria sets in.

Click to enlarge
My show and tell out of the BLS employment report is the following table which breaks down the (un)employment by industry. Management, business, professional, and financial occupations have unemployment rate of 4%. This is why most professionals do not see the effects of unemployment as it is not prevalent in their peer group. This is a blue collar recession.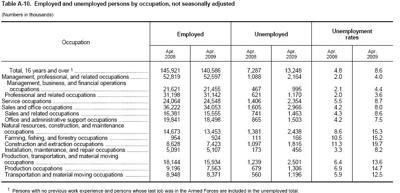 Click to enlarge
Filing for Bankruptcy: none. Bank failures this week: Westsound Bank (Bremerton, WA)
Economic Indicators Published this Past Week
The WLI from ECRI is continuing to show improvement in economic conditions six months from now. In their statement last Friday, they said:
The level of the WLI is fast approaching a six-month high, making it increasingly likely that the U.S. recession will end this summer.
Lakshman Achuthan (the head of ECRI) believes the recoil of our economic drop is similar to throwing a ball to the floor – with the recoil being 80% of the downward energy. His opinion is that GDP will not be positive until 4Q 2009. This is also my opinion.
As you can tell from the tone of this article, I have reservations on the speed and magnitude of a recovery. My problem is mostly about where the new jobs (green shoots) will sprout. I doubt the manufacturing sector will recover to its past levels. And then we have the issue of debt. I do see a bounce up (as we will have overrun the bottom and there will be a release of pent-up demand), but I envision a plateau with a sluggish economy until the debit and bad assets are unwound.
However, it is obvious that the Fed has built deep trenches to contain the damage to the banking sector. We need to examine and prosecute those who got us here, as well as rethinking our systems so that history will not repeat a third time. The bad news is that to cure the system, the Fed has swallowed poisons which will be a restraint to a real recovery.
If you would like a summary of all government financial indicators, click here.
Disclosures: long MMFs, PYEMX, EWZ, TIP