Recent aggressive acquisitions and strong Q1 2009 results have industry analysts hot on rising Illinois software developer SXC Health Solutions (SXCI).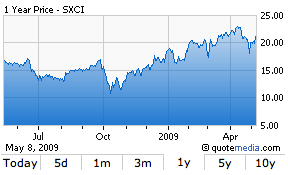 "SXC is performing better than we expected, in part due to significant acquisition synergies being realized quickly," Macquarie analyst Glenn Jamieson wrote in a note to clients Thursday.

SXC produces pharmacy benefits management and IT solutions for the healthcare industry and expanded substantially in 2008, buying healthcare software producers National Medical Health Card Systems and Zynchros.

The company reported revenue of $291-million and an earnings before interest, taxes, depreciation and amortization (EBITDA) of $16.3-million, well ahead of Mr. Jamieson's $12.6-million estimate.

Mr. Jamieson expects big things from SXC in the next two years, increasing his 2009 and 2010 EBITDA estimates to C$59.6-million and C$66-million from C$53.2-million and C$58.7-million. He also upped his '09-'10 earnings-per-share forecast to C$1.01 and C$1.15, from C$0.82 and C$0.94.

Versant Partners analyst Tom Liston was just as enthusiastic, noting SXC's adjusted earnings-per-share of $0.38 exceeded his estimate of $0.28.

"We upgraded SXC on anticipation of a strong quarter and (Thursday) the company delivered," he wrote.

Blackmont Capital analyst Lawrence Rhee is also impressed with the company, noting its recent contract wins leave it "well positioned to generate strong growth" in the U.S. healthcare market for the next several years.

Mr. Jamieson still remains neutral on the stock, because of its strong performance. He recommends waiting for a dip in price before purchasing shares.

Meanwhile, Mr. Liston has increased his 12-month price target to C$25.50 from C$22 and maintains a buy rating for SXC.

Mr. Rhee also maintains his buy rating, bumping up his target price to $27 from $24.