On Monday, April 29th pre-market, AudioCodes (NASDAQ:AUDC) will report its 1st quarter (Q1) 2013 earnings followed by a conference call to discuss these results. I am looking for AudioCodes to report an increase in revenue over Q1 2012 and to be cash flow positive for the second quarter in a row.
Last quarter, AudioCodes rebounded with its first profitable quarter following a companywide restructuring earlier in 2012. The company's business is susceptible to telecom seasonality in Q1 and the company has guided accordingly. I look for the company's update on progress made in the underlying business to be more important than the actual physical number for the quarter. I also look for management to clearly state its case that AudioCodes is a strong innovative company in an industry that should no longer be stigmatized with a legacy label. Especially as I believe that the sector is set for a secular run and as the company gains traction in Microsoft (NASDAQ:MSFT) Lync, Genesys contact centers and E-SBC sales.
Consensus:
Wall Street sees the company reporting revenues of $32.6 million and earnings of $0.01 per share. The outlook for Q2 2013 is $33.1 million and $0.03 per share.
Conference Call Covered Topics:
Professional services: Are they developing? How is One Voice affecting this business unit in the 2nd half of 2013 and beyond?
Large enterprises: Are large enterprises being attracted by its One Voice partnership with Microsoft?
Partners: How many partners can One Voice attract and how does it compare to other products?
Contact Centers: How are contact centers progressing.
E-SBC: How are E-SBC sales tracking?
New products/business: How many lines are entering the markets in Q2 and the remainder of the year?
Mobile VoIP: I want to know more details about its business and the outlook for mobility.
Over-the-Top (OTT): How does its business model support OTT?
Partnership deals: Are there any potential partnerships in the works?
Gross margins: Will we see gross margins start to inch higher in the 2nd half of 2013.
Cash bal / debt reduction: How do cash balances and debt reduction fair as the company could be cash positive during the quarter?
Price Target: $5.75
I have derived my price target on a multiple of sales less its legacy sales. Sales are estimated at $135 million with $20 million being legacy give or take. I used $110 million and placed a 2x multiple on it or 1/3 the valuation APKT was acquired for. $220 million ÷ 38 million shares = $5.75 per share. The company has $1 per share in cash.
Oppenheimer Price Target: $5.00
I see Oppenheimer's target being cautious and believe that it is waiting to see the company execute before placing a 2 multiple on total revenues of $135 million which would be $7 per share.
Positioning Pre-Earnings:
I would buy shares here pre-earnings, but leave room to buy above $4.00 per share or below $3.40 per share.
The company has made numerous trips to Needham's conferences over the past 8 months, but it has so far failed to attract institutional investors to the shares in large volumes. The shares are priced advantageously to value investors which lead me to believe that any down tick will attract big value investors to the shares. The company is largely owned by insiders (38%) with a good amount of retail holders too. I think that post Acme Packet acquisition, AudioCodes should not be sold on head-fake sell offs because at the end of the day there's only a few companies that have the patents, people and experience AudioCodes has.
Chart: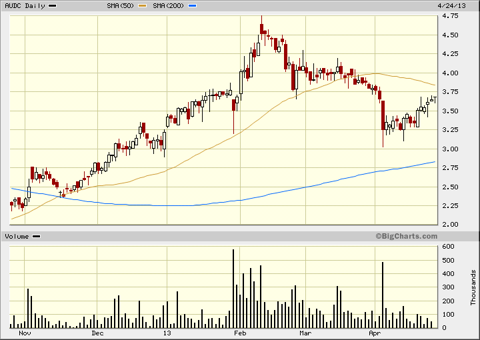 AudioCodes has recently seen some strong support at the $3.25 level and I believe that this will prove to have been the bottom. The move back up is underway and while I expect to see some resistance at $4.00, I expect AudioCodes to break through this on its way my price of $5.75
Conclusion:
With its earnings release on Monday, April 29th, I expect to hear a management upbeat in its forecast and outlook. Just like Oracle (NASDAQ:ORCL) surprised all of us on acquiring Acme Packet (NASDAQ:APKT), I believe that in the next 3 to 12 months rumors could surface that AudioCodes is being acquired as it trades at sub 1 times revenues or 1/6th of the value of APKT's multiple when it was taken out.
Disclosure: I am long AUDC. I wrote this article myself, and it expresses my own opinions. I am not receiving compensation for it. I have no business relationship with any company whose stock is mentioned in this article.