In March, Jim Jubak of MSN Money released a list of stocks that he believed should be stocks that you should pay attention to in the upcoming months/quarters as potentially attractive investment opportunities. ValueExpectations.com set out to answer the question, which stocks on Jim's watch list look attractive according to AFG's valuation model and should be on your watch list?
Provided in the table below are Jubak's watch list companies and how they fare from a valuation perspective using The Applied Finance Group's Value Score variable which ranks the valuation attractiveness of each company based on the discrepancy between the company's current trading price and AFG's target price.
click to enlarge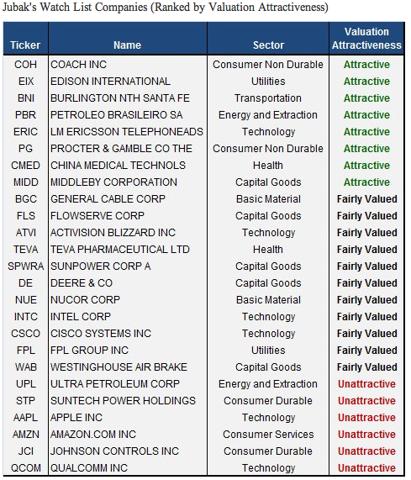 Click to enlarge
Valuation Model – Using AFG's modified discounted cash flow model to measure the intrinsic value of a firm compared to its peers.
AFG's Value Score - A score which represents the ranked percent to target (deviation between stock's current trading price and AFG's current default target price) or attractiveness (upside) relative to the universe. A Value Score of 100 is the most undervalued and 0 is the most overvalued company in the universe.