By: Brian Marckx, CFA
Nanosphere, Inc. (NASDAQ:NSPH) reported financial results for the period ending March 31, 2009 following the market close on May 7, 2009. Revenue came in at $255,225, all of which was from product sales, which consisted largely of cartridge sales. There was no contribution from government grants and contracts revenue during the quarter.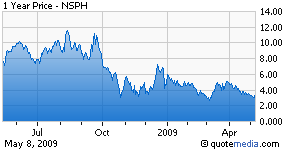 Product sales fell 16% from the $303,404 posted in the first quarter 2008. Sales were significantly below our forecast of $520,000 ($510,000 product sales plus $10,000 in government grants and contracts revenue) due to delays in getting the cystic fibrosis (CF) and first-generation infectious disease (RVP) assays to market. Management noted that cartridge sales remained robust with customer utilization rates increasing in the quarter, both on a year-over-year and sequential basis.
EPS came in at ($0.37) in the first quarter compared to our estimate of ($0.42). EPS was negatively impacted by significantly lower-than-forecast revenue and interest income which was partially offset by lower than expected operating expenses. SG&A expenses benefited from lower costs related to the Sarbanes-Oxley compliance program as the company brought oversight of the program in-house, whereas a third-party had been handling this previously.
SG&A was also lower than anticipated due to delays in launching the CF and RVP assays, thereby deferring costs to later periods. R&D expenses benefited from the completion of cartridge development and scale-up programs. We expect Nanosphere to continue to gain some R&D leverage as a result of this going forward.
With the Verigene System and two currently approved assays not receiving approval until late-2007, the company currently generates little in the way of revenue relative to their cost base. We expect the company to generate negative operating income for the foreseeable future as SG&A and R&D expenses remain elevated to support newly approved products and the company's pipeline.
Manufacturing efficiency programs and economies of scale through higher production volumes should benefit gross margins and help offset increased operating expenses. Grants and government contracts, which had provided 25% of revenue in 2008, will likely be immaterial relative to product sales in 2009 and beyond.
We expect the cystic fibrosis, HFE, cardiac troponin and next-generation RVP assays along with the Verigene SP system to receive FDA approval and launch in the second half of 2009. This should help drive significant revenue growth in 2009.
Longer-term growth expectations could significantly increase depending on the success of the cardiac troponin assay. We note that Nanosphere should be very vigilant in getting its SP system to market as soon as possible in order to continue to grow its customer base, ramp sales of its assays and avoid customer attrition.
We believe growing the customer base will be slow-going until the SP system is launched, as customers will be hesitant to start with the legacy system, only to switch to the next-generation system shortly afterwards.
Cash position is healthy. At the current annualized cash-burn run-rate the company has enough cash reserves to operate for about 25 months which could lengthen as additional product approvals come to market and sales growth outpaces that of operating expenses.
The company is relatively conservatively capitalized. Amortization of the credit facility and capex requirements should be easily manageable for at least the next two years.
For 2009, we model sales of $4.25 million, up significantly from the $1.37 million posted in 2008. Revenue growth will be supported by increased utilization rates and the launch of several new assays and the next-generation Verigene system. A favorable decision by CMS relative to reimbursement of the warfarin test would provide some upside to our current financial forecast. Risks to our forecast are delays in getting the new assays to market or a delay in commercializing the SP system, which could result in customer attrition and overall difficulty in growing the customer base.
We currently forecast revenue to grow at a CAGR of 71% from 2008 through 2012 but for net income to remain negative through that period. Positive net income should materialize in the next decade as the company is able to ramp sales and leverage its marketing/administrative and manufacturing bases. Research and development spending should moderate relative to sales and further improve operating margins.
Nanosphere shares currently trade at $3.38. We recommend that investors hold at the current price and forecast EPS loss of $1.64 in 2009. Our price target is $4.50.