Below is an updated look at the earnings and revenue beat rates for stocks that have reported so far this earnings season. Last Friday we noted that the earnings beat rate stood at 58%, while the revenue beat rate was much lower at 43.9%. Another 250 companies have already reported this week, which is more than double the amount that had reported all season from April 8th through April 19th. As shown below, the earnings beat rate has taken a hit with this week's reports added into the mix. As it stands now, 56.9% of the 458 US companies that have reported have beaten earnings estimates. This would be the lowest reading seen since the bull market began, so the remaining companies that still have to report have some work to do!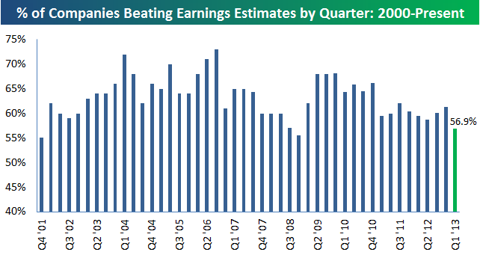 While the earnings beat rate has dropped this week, the revenue beat rate has ticked up, albeit by a very small amount. As shown below, the current revenue beat rate this season stands at 44.1%, up from the 43.9% reading we posted last Friday.
While the overall numbers have been nothing to write home about this season, the companies that have reported have not been selling off like you might think. Overall, the average stock that has reported this season has actually gained 0.07% on its report day.