Kona Grill (NASDAQ:KONA) is a stock that I've been recommending (and eating at) for a couple of months now. Yes, it's generally always about food with me one way or another, and the only thing more delicious than great food is making great money off of great food.
Kona Grill is a hip, casual, American style restaurant that features, interestingly enough, fresh made sushi and outstanding happy hour specials.
From Kona's website, "Kona Grill offers guests freshly prepared food, personalized service, and a warm contemporary ambiance that creates an exceptional, yet affordable dining experience. The menu features a diverse selection of appetizers, salads, sandwiches, chicken, seafood, steaks, pasta, and pizzas that incorporate over 40 signature sauces and dressings that are made from scratch using high-quality, fresh ingredients. Kona Grill also offers guests a wide selection of award-winning sushi, including sashimi, traditional favorites, and several proprietary dishes created by our talented sushi chefs. Our restaurants feature a contemporary design with dramatic interiors which contribute to a superior value for moderate prices. Kona Grill restaurants offer guests distinct dining areas, including a main dining room, full service bar, patio and sushi bar. Our restaurants seat approximately 275 guests and are open daily for lunch and dinner."
I recently recommended Kona as a stock I'd "marry" in my "date, marry, kill" restaurant series. The company had a great 2012 and looks to be continuing in the right direction. Kona improved its income from continuing operations by 127% to $5.3M. The balance sheet is the strongest its been in the company's history. Same store sales and operating margins rose considerably in 2012, and the stock was up 42% in 2012.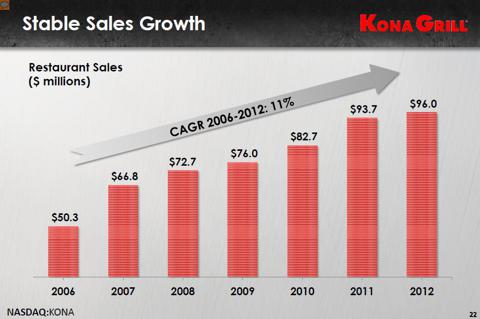 What I like about Kona is that all of its locations are making money hand over fist and it has barely any debt. Kona has margins around 18% and everywhere they seem to open a new location they are finding success. The reason behind this is believed to be how slow they are rolling out nationwide. As noted in their investor presentation they have :
23 restaurants across 16 states
Average unit volume: $4.2 million
Nationwide opportunity of 100+ locations
This is a company that is not offering franchise opportunities because it wants to grow slowly and organically, focusing on its service and what makes it unique. Kona is not rushing, and this is going to yield consistent results. Kona is the most promising restaurant stock for growth I've seen in years.
So, Kona is finding success; what does it need to keep doing? Expanding slowly and carefully:
(all slides used herein from Kona Investor Presentation 3/13)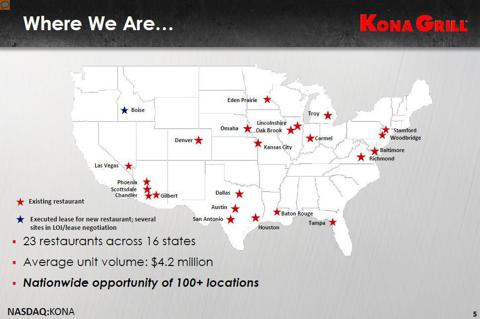 As you can see, the company is doing anything but blanketing the country with restaurants; so far. Kona is moving in a very predetermined fashion as it looks to head towards the goal of 100+ locations nationwide.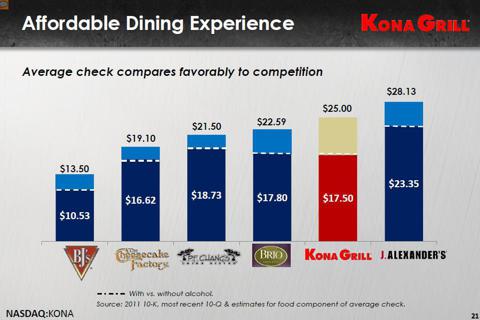 Check averages versus competitors continue to be impressive, also. Notably, I am looking at Cheesecake Factory (NASDAQ:CAKE) and P.F. Changs, as those are the two "upscale" casual places I can compare Kona to in my mind the easiest. The trick to maintaining these check averages is in the slow, calculated way they continue to grow; it allows them to not take the focus off the quality of the food that's being served.
Kona's loyalty program, which almost all new restaurants and casual chains are implementing already, has over 200,000 members. This means it is averaging 8,695 loyalty club members per restaurant Kona is opening. This is an extremely impressive number, and one that should continue to rise as sales and popularity increase.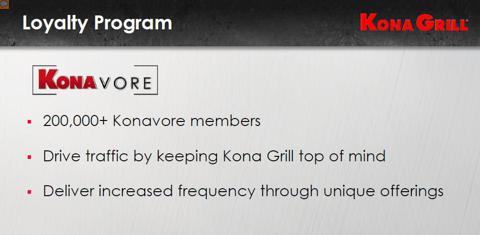 What is Kona going to need for more expansion? More capital. Just last weekend KONA announced in a PR that they had secured $20 million of new capital:
We are excited to complete this new facility which will provide us with capital to execute our growth strategy," said Berke Bakay, president and CEO of Kona Grill. "We were able to more than triple the size of our existing facility, while lowering the interest rate and increasing flexibility with this facility. With our existing cash on hand, available borrowings under the new facility, and cash flow from operations, we believe we are well positioned to achieve our growth plans in the next several years. Our team would like to thank KeyBank and Stearns Bank for their partnership in this facility.
The closing of this financing is another step in the right direction for Kona. The company is not racing to scoop up hundreds of millions at a time. Kona is looking for chunks on money on good terms that are going to continue to allow it to roll out in the calculated and simple way they have thus far.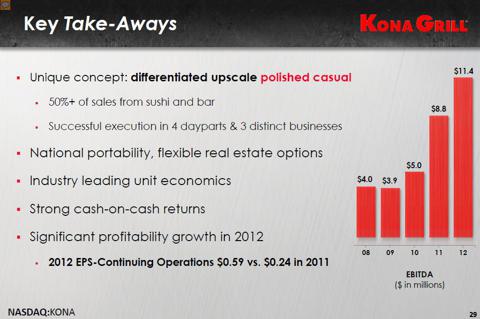 While this financing is hardly a massive binary event for the company, it's a surefire sign that the company continues to move in the right direction. Kona has potential to be one of the best restaurant growth stocks I've seen if it can continue to roll out in this fashion. Kona has the recipe for big returns on a smaller scale, it's now all about effectively taking that recipe and scaling it up. As Kona continue to do that, the smell wafting over from their kitchen is starting to smell more and more like monster long-term returns.
However, should the customers thin out, you better be sure I'm ready to feed my massive face as many times as necessary a day to personally keep this company afloat. I love Kona Grill as an investment, would be long if it was optionable, and wish best of luck to all investors holding and buying Kona.
Disclosure: I have no positions in any stocks mentioned, and no plans to initiate any positions within the next 72 hours. I wrote this article myself, and it expresses my own opinions. I am not receiving compensation for it (other than from Seeking Alpha). I have no business relationship with any company whose stock is mentioned in this article.