Shares of Qualcomm (NASDAQ:QCOM) are trading lower this afternoon after the company released its Q2 2013 results after market close. The stock closed the trading day at $66 and sharply dropped to its current trading level of $62.40 (-5.5%) after delivering what can be viewed as a very strong earnings report. There's a significant divergence with regard to the stock performance and the quarterly earnings - a divergence which I have taken advantage of by doubling my position in the stock.
Q2 Revenue Beat, Earnings in Line
The street forecast earnings of $1.17 per share on revenues of $6.09 billion; the company delivered handily as it typically does, with results of $1.17 on $6.12 billion. Additionally, its shipments were at the high end of forecasts, having shipped 173 million MSM chips.

The performance during Q2 was especially encouraging given the fears over European economic turbulence and potential slowdowns in the huge emerging market space of China and India. Geographically, QCOM continues to see growth in five of its six markets - the only region experiencing retraction this year is Japan/Korea, the smallest of all six markets. North America and Europe continue to be pillars of strength, despite any economic concerns, and the Chinese numbers are perhaps the most encouraging - shipments of 3G/4G devices are expected to grow an additional 14% this year.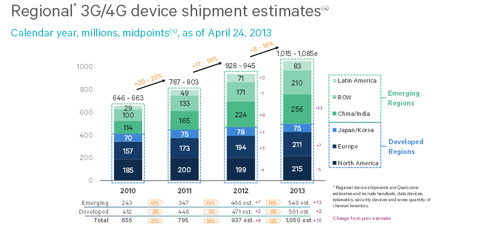 Forward Guidance Strength
In addition to coming in line with street estimates for earnings and the slight beat on revenues and shipments, QCOM revised its guidance for FY2013 in the positive direction. The company now forecasts FY revenues of $24-$25 billion, up $600 million from the previous $23.4-$24.4 billion estimate. Additionally, the company sees profitability growing as well, raising its Non-GAAP diluted EPS estimate to $4.40-4.55 from $4.25-$4.45.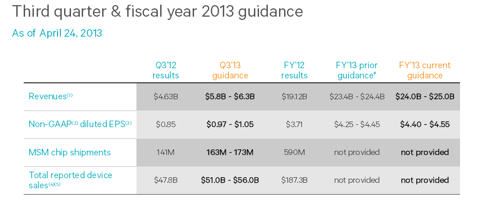 Strong Fundamentals
The company continues to bolster its already impressive balance sheet. Like many technology companies, QCOM has decided to rely on equity as opposed to debt to finance its operations. The company increased its cash and marketable securities by nearly 15%, year over year, to $30.5 billion while maintaining only $1.1 billion in total debt. Cash flows continue to grow, which provides the company liquidity for M&A while also allowing the continued rewarding of shareholders.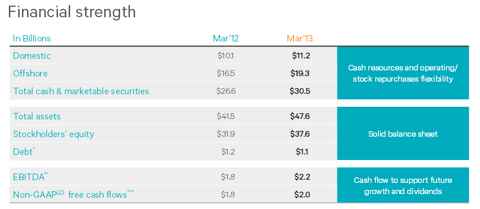 As seen above, QCOM has a strong track record of reinvesting into the company with share repurchases and a strong dividend yield. The company has repurchased over $20 billion in stock since 2003 and has authorization to repurchase an additional $5 billion in the coming years. Additionally, the quarterly dividend of $0.25 will be raised to $0.35 in June. QCOM has consistently grown the dividend since its inception in 2003.
Conclusion
It wasn't a perfect quarter. Global growth trends are beginning to decelerate, but they're still growing at a solid rate. Investors are also upset about the company not allocating any of the allowed $5 billion toward a share repurchase, which can change as soon as the conference call later this afternoon.
Overall, as noted, the general results were very encouraging. What's most impressive to me is the revamped FY2013 guidance, showing renewed strength and some clarity in the face of European and Chinese uncertainty. I doubled my position this afternoon and look for the stock to continue trading, short term, in the $65-$67 range.
**All graphics courtesty of QCOM Investor Presentation.
Disclosure: I am long QCOM. I wrote this article myself, and it expresses my own opinions. I am not receiving compensation for it (other than from Seeking Alpha). I have no business relationship with any company whose stock is mentioned in this article.