With the Baltic Dry Index up every day for an entire week, the shippers become somewhat divorced from the general market, and find a strong support zone:
click to enlarge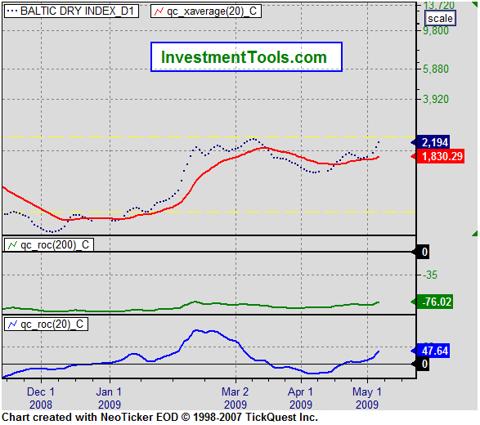 My key plays on dryshippers have been calls on ESEA, EGLE and TBSI. Individual stocks:
ESEA: a shipper with one of the lowest debt-to-equity ratios around, and a P/E ratio of 7. Stock is struggling with resistance just under the $6 mark, but we could see this stock at $9-10 by midsummer. Played this with June 5 calls GWQFA.
EGLE: a former shipping darling with a 6 P/E, it has an average debt load but has fine management, and they have good survival ability when rates are low. Stock was showing exceptional holding power. QEKFB and QEKFU are the June 7.5 and 10 calls which I held.
TBSI: This versatile shipper has a P/E ratio under 2! Yet it is not in trouble, has manageable debt, and a variety of smaller vessels which keeps it flexible. This company is about $10 now, and I fully expected to see it at $25 before the end of the year. I held TQFEB and TQFFV, the May 10 and June 12.5 calls. If ever there was a decent shipper with grossly oversold stock, this is the one. For goodness sake, they have over $4 per share cash in the bank.
On Wednesday, EGLE and TBSI calls were up with gains of over 300% each, and ESEA was up 50%. I took profits because of earnings on TBSI, not wanting to play the uncertainty. Because I had fairly fat stakes in these three, the overall gain was really good. I worried that I would be missing gains from TBSI earnings, but selling turned out to be a good move.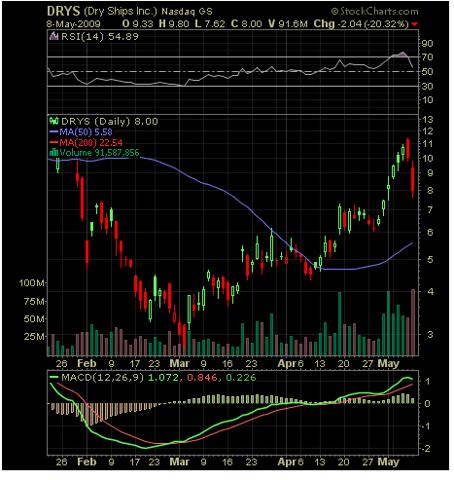 What happened? TBSI reported a larger loss than anticipated. Not unreasonably, either. But the market slammed TBSI back into the pit. Earnings from EGLE followed, and the company reported good results in line almost exactly on predictions, with only a tiny miss in revenue, and the company sold off massively. I was baffled, but the logic of the market, crude as it is, can always be discerned.
It was DRYS which spoiled the party. The "bad boy" of shipping, the company is always the most heavily traded, and is regarded by the market as the bellwether of dryshippers. But this badly managed company, one might even say borderline criminally managed, is the worst possible bellwether for the group. DRYS filed another ATM equity offering to sell another $475 mln in common equity to shareholders, which would increase DRYS share count by another 47.5 mln shares to 232.3 mln shares outstanding, assuming the shares are issued at $10 per share which is likely conservative. After three dilutive equity offerings over the past six months, the market is extrapolating the situation to the rest of the shippers - spawning the market's feared THREE D's -- disappointment, dilution, and downgrades. No matter that a couple of weeks of rising BDI could not possibly have a bottom line effect on the individual names this early - the market is upset, and the casualties are the entire sector.
But all is not lost. The market, seeing that we have not had a disappointment in the tanker sector, has decided that, perhaps dryshippers are accursed, but maybe the tankers are not. Let's look at my current recommendations for tankers:
DHT: Petroleum shipper whose $5 calls are amazingly cheap. Because this foreign company is so hard to evaluate, the market just ignores it when its stock is under $5. Stock now at 4.50. The P/E ratio is under 4, but this is not a dog, just a slow mover. Be patient with this one, and you will win very big. I am targeting $6.25.
ONAV: A fairly opaque stock but I have a position in it. The company cut its dividend and was promptly dropped a few months ago, but the price is attractive and moving up.
GASS - lpg shipper, still paying its dividend.
GLNG: This non-Greek methane shipper is exceptionally strong. I put out the word on Friday and scalped a quick 30% as a day trade on its $5 calls. We can possibly see this one move a lot more.
So, what can go wrong? DHT and GASS earnings are May 14, before market open (BMO). ULTR, another undervalued tanker, earnings are May 12 AMC. FRO reports May 21. None of these names are bellwethers, except for FRO, so we do have time to exploit an anticipatory earnings play. So, let's do it!