Intel (NASDAQ:INTC), the world's largest semiconductor company, has been facing pressure due to the declining PC market. Though the company has captured a ~85% market share of the PC microprocessor market, the stock has been range bound in the last few years. Intel is now targeting the fast growing smartphone and tablet semiconductor space. Intel has started to increase its focus on mobile products, which are growing much faster than the PC and laptops.
Intel's new processors are focused on reducing power consumption, which is critical for success in the mobile devices space. Intel's new Haswell chips for PCs/laptops are ready to ship in the 2nd quarter of 2013, and they will hit the ball out of the park in terms of battery performance. The Haswell powered ultrabooks and notebooks will give the same battery performance as the iPads, which should help in slowing down the cannibalization by tablets.
Intel is also increasing its focus on the lower priced notebook space, and the CEO indicated that the company will make processors for the ~$200 notebook segment. In the higher priced segment, Intel processors are already powering innovative new products by Sony (NYSE:SNE), Lenovo and HP (NYSE:HPQ). Huge tablets with 17-27 inch screen size have already started making an appearance. Though these first generation products have kinks in software and hardware, the next generation, which will use Intel's more powerful and less energy consuming chips, could give rise to an entirely new category of computing devices. I remain highly positive about Intel's prospects in the coming year, given the new generation of processor launches, cheap valuation and a high dividend yield of ~4%.
Intel has three catalysts
While many readers would already be aware that Intel is moving aggressively into the smartphone SoC space with "Merrifield" processors in the 2nd half of 2013, they might not be aware of the $200 Android books and massive tablets that Intel is going to introduce. These products would capture a large amount of market share from ARM (NASDAQ:ARMH) based processors in my view. ARM processors do not have the horsepower to compete with Intel in the giant tablets segment. Also Intel's new Atom processors on the 22 nm node will help fight cheap Android products in the $200-300 segment.
Catalyst 1 - An Update on Intel's Smartphone Strategy
Intel already has a number of smartphones in the market which have Intel processors. Intel is still working on improving its mobile processors, though the current generation of "CloverTrail" dual core processors is already receiving good reviews from the market. Intel's biggest smartphone customer is the Chinese PC giant Lenovo who is all set to release one of the most anticipated smartphones - K900 on 6th May in China.

While Intel does not have much of a market share in the smartphone chip space, it will change significantly in the next year as Intel does two things:
a) Introduce the next generation of mobile processors "Merrifield" on the 22 nm process node. Note this will be the most advanced mobile chip as Qualcomm and Mediatek do not have the 22 nm process capability.
b) Intel integrates the 4G LTE communication capability in its smartphone SoC product. QCOM currently has more than 50% of the global smartphone SoC market due to its 4G LTE advantage.
Catalyst 2 - Cheap Touch Enabled Notebooks and laptop/tablets hybrids
Intel's management indicated that the company would help support notebooks and laptop/tablet hybrids in the $200 range. Intel's "Baytrail" 22 nm processors will help the PC OEMs gain an edge over ARM competitors, as Baytrail will have a significant technology advantage. Intel has suffered as its processors are oriented more towards processing power than energy conservation. But the new generation of processors like Haswell and Baytrail will have energy conservation as their central focus. I expect that Intel will be able to capture a large portion of the tablet and cheap notebook market with these products.
And I'd say the big change over the last 12 months there is that Bay Trail is going to be a great product in that segment of the market. We think it enables stunning performance relative to what the competition can bring. And it's going to enable these price points. A year ago, we didn't really have line of sight to hitting that, and today we're cleanly there.

We have a certain spec for ultrabooks, and that is the product that Stacy said is going to be centered at as low as $599 with some [diverse] SKUs to $499. If you look at touch-enabled Intel based notebooks that are ultrathin and light using non-core processors, those prices are going to be down to as low as $200 probably.
Intel is collaborating with Google (NASDAQ:GOOG) for running the Android OS on its processors, and we should see Intel processors running $200 Android tablets and even touch screen laptops by the end of this year. Intel is already collaborating with partners to introduce cheap Android notebooks/tablet hybrids to compete with super cheap Android tablets. Hewlett-Packard (HPQ), Toshiba, Acer and Asustek Computers are expected to launch $500 Android notebooks hybrids in the 3rd quarter, which will use Intel chips. Currently the entire Android market is dominated by chips based on ARM designs. I think that $200 touch screen laptops could take substantial market share away from tablets and lead to a resurgence in PC/laptop unit shipments by the end of the year. Microsoft (NASDAQ:MSFT) is coming out with a new OS which will be optimized for mobile devices. This new OS "Windows Blue" will see MSFT take the fight to the Android camp in the tablet and cheap notebook space. Intel will also be looking to take a large share of the new cheap Windows Blue computing devices.
Catalyst 3 - Giant Tablets (All in One PCs)
Intel has started to push PC OEMs to introduce all in one PCs or giant tablets. These giant tablets are truly revolutionary products in my view. They have a very large touch display with 18.4 to 27 inches size and have high specifications. They allow multiple users to interact at the same time due to their large size and processing power. Some of the top PC vendors like Sony and Lenovo have already introduced products using the reference design from Intel.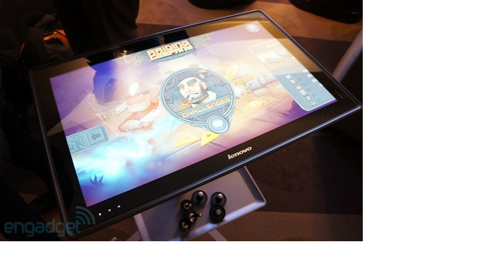 Click to enlarge
IdeaCentre Horizon 27 Table PC.
Source - Engadget
Stock Performance and Valuation
Intel's stock has broken the $20-22.5 range in which it was trading till the current 2013, after it reported a decent set of quarterly results. The stock is currently trading at ~$23.3 as the company maintained 60% gross margin guidance for 2013, despite severe challenges being faced in the PC market. The company has a cheap valuation with a forward P/E of ~11x and a dividend yield of ~4%.
Summary
Intel's stock has been underperforming the technology industry due to the cannibalization of the PC market by tablets. However, Intel is making a very strong play for the mobile chip market, and its next generation of processors should see Intel capture a large share of that market. It is also helping the PC OEMs develop new form factors and designs which would lead the PC companies out of their current sales slump. The giant tablets or all-in-one PCs could give a strong push to the premium segment of the computing market. Intel will also try to stem the sales decline at the lower end of the computing market, by introducing chips for $200 Android touch screen notebooks and hybrids. I think that the market is not fully priced in the revenue and profit jump that the company will experience due to these new products. With a P/E of around ~11x and a dividend yield of ~4%, Intel remains one of my top technology picks. You can read my full bullish thesis on Intel stock here.
Disclosure: I have no positions in any stocks mentioned, and no plans to initiate any positions within the next 72 hours. I wrote this article myself, and it expresses my own opinions. I am not receiving compensation for it (other than from Seeking Alpha). I have no business relationship with any company whose stock is mentioned in this article.