By: Jason Napodano, CFA
NeurogesX, Inc. (OTC:NGSX) filed a new drug application (NDA) on Qutenza (formerly NGX-4010) for post-herpetic neuralgia (PHN) in October 2008. The filing includes data from 2,300 patients and two positive phase III trials, C116 and C117, discussed below.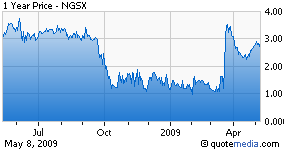 The FDA accepted the application in December 2008 and established a PDUFA action date of August 16, 2009. However, in recent discussions with the FDA, NeurogesX was asked for additional information around the topical anesthetic used in the phase III program.
Management used a 4% lidocaine cream to numb the area of skin prior to the application of Qutenza (to reduce burning). This is a commercially available, but non-FDA-approved product specifically for the application in which it was used in the trials. Therefore, management may need to conduct a small study testing an approved topical anesthetic along with Qutenza prior to the FDA granting approval.
Management noted the FDA concerns have nothing to do with the safety or efficacy of Qutenza. We believe this is simply a "CYA" request by the FDA, and NeurogesX should be able to provide the necessary information to the agency in a short period of time. In a sense, we are pleased that this was brought to NeurogesX's attention in May -- three months prior to the action date -- and find it comforting that so far this is the only going concern the agency has suggestion to management.
While it could delay the FDA decision by a few months into November 2009, we still believe that NeurogesX will be in position to launch the product in-line with its first half of 2010 guidance.
Given the efficacy and safety profile of Qutenza as demonstrated in these programs, we think the odds favor FDA approval. We are not overly concerned with the FDA's recent request. We believe management's goal in the U.S. is to promote the product through an in-house specialty sales force which eventually may grow to the size of 60 – 80 representatives.
However, given the difficult financial market and fluid dynamic in which patients may ultimately end up on Qutenza, the possibility exists that NeurogesX may look to partner with a larger organization and co-promote the drug.
As of now, our financial model assumes a launch in early 2010 with a small specialized sales force of 20 to 25 representatives. This group will target the top quartile or so of the 5,000 pain centers and 10,000 neurologists that are high-prescribers for PHN.
When progress is made here, management will probably look to expand through a co-promotion agreement with a larger organization. NeurogesX will use the upfront cash from that deal to expand its own in-house group closer to the eventual 80 goal, while allowing its partner to focus upstream on the dermatologist and primary-care market.
On March 19, 2009, the European Medicines Agency's (EMEA) Committee for Medicinal Products for Human Use (CHMP) issued a positive opinion recommending approval of the marketing authorization application (MAA) for Qutenza for the treatment of peripheral neuropathic pain in non-diabetic adults, either alone or in combination with other medicinal products for pain. NeurogesX filed the MAA under the centralized procedure, and a final decision is expected by the EMEA late May or early June 2009.
Management expects that as part of the final approval the company will need to conduct certain post-marketing studies, including potentially an open-label safety study of Qutenza in on-label indications, as well as a clinical safety and efficacy study in painful diabetic neuropathy.
NeurogesX is currently in very late-stage talks with potential partners for the marketing and distribution of Qutenza in Europe. Management is looking for a pan-European partner with experience in the pain and neurology market. The goal is to have a partnership secured here in the second quarter around approval.
Management is working through the delicate balance of securing enough upfront cash to fund a potential U.S. launch alone vs. agreeing to future royalties and potential backend milestones so they can participate in the European upside from Qutenza. Based on securing reimbursement and completing sales force training, management believes that a commercial partner may be in position to launch the drug in early 2010 if approved on schedule in May / June 2009.
NeurogesX stock is thinly-traded and, as a result, highly volatile. We like the name, but we urge caution when establishing a position. The stock is up nicely on the positive CHMP review news. We think it can trade even higher – potentially doubling – based on European market approval and the signing of a commercial partner.
However, a launch of the product is still over six months away, and we are anxious about the pending U.S. review. We rate the stock a 'Hold' based on risk and volatility. However, our $5 price target represents significant upside, and we are not opposed to buying the name at today's price below $3 per share. Additional information is available in our full research report.