What in the world happened? Qualcomm (NASDAQ:QCOM), the world's leading developer of modems and applications processors for smartphones, announced a strong quarter and yet-again raised full year guidance. It's a little surprising, although completely explainable, that shares of this chip giant would decline about 6% in the after-hours session on a somewhat less-than-expected sequential guide. Is it now time to buy shares on weakness, especially as nearly all of the company's YTD gains have evaporated, or is it time to shift money elsewhere to make a play on this sector?
Qualcomm Was Setting Up For A Beat
The price action on the shares were clearly indicative that investors expected a beat. A quick look at options activity seems to confirm this as there was plenty of interest in the weekly $67.50 and $70 call options: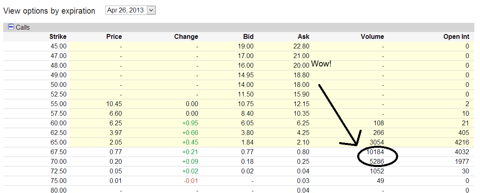 However, when there is such overwhelming conviction in one direction, any chinks in the armor - no matter how well it is otherwise crafter - will lead to a drop in the share price and all of the bullish call buyers end up being wiped out.
While Qualcomm delivered an in-line quarter, and while it raised full year guide (this is a key reason why I bought shares on weakness), the sequential guide was a tad off the mark, as the overwhelmingly bearish headlines seem to indicate. This headline "miss" will drive the shares until option expiration, which will likely see a mass wipeout of the weekly call buyers.
Long Term
As I have repeatedly said...2013 is going to be a great year for the company. The firm raised EPS and revenue guidance again as it continues to ride the LTE wave unopposed. I would be very surprised if a strong name like Qualcomm actually exits 2013 down from the beginning of the year, which in light of the after-hours price "reset", helps me to feel more comfortable about buying in here.
But how about going forward? Well, interestingly enough, it seems that Broadcom and Intel are going to be duking it out in the LTE space during 2014 for 2nd place. This means that should either company produce a comparable product to Qualcomm's, we will see some significant margin erosion. That being said, if you look at what Qualcomm has been doing with its "Snapdragon 800" high end processor, it is clear that the firm is trying to stay multiple steps ahead of the competition with regards to integration and modem capabilities. As Qualcomm has traditionally had very strong positions in both integration as well as the performance of individual subsystems of its chips, and as it has the capacity to really pump in R&D to keep the lead, it remains to be seen just how much competition will pressure margins.
At the end of the day though, these concerns don't kick in until smartphone growth (which is really mix shift away from feature phones) starts to taper off. Until then, Qualcomm will be able to grow its chip business, albeit at a much more muted rate than it can today with a near monopolistic position.
Patent Licensing
Keep in mind that despite all of the hype from the chip business, Qualcomm's real EBITDA maker is royalties collected from 3G/4G devices, which represented the vast majority of Qualcomm's EBIT, as shown here (QTL = licensing, QCT = chips):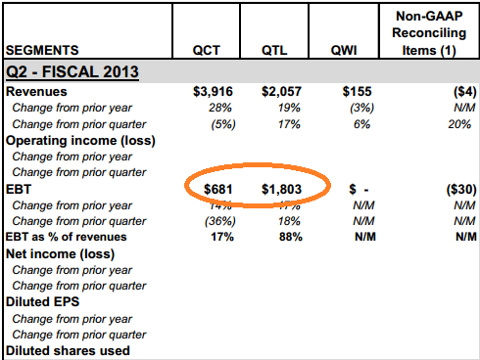 A mix shift to LTE only phones likely knocks down the royalty rates a bit, but the continued growth of 3G/4G multimode devices across the world should keep these royalties growing nicely.
Conclusion
Bottom line, the company reported a good quarter, raised full year revenue and EPS guide again, and is in excellent financial health. The "weak" sequential guide is immaterial to the Qualcomm 2013 story, but it will be important to watch the trading action during the next couple of days. My best hope is that the after hours trading is overdone, but it will really depend on how the analysts digest this information. Do we start seeing "buy" recommendations pop up, or do analysts begin to turn pessimistic on the name in light of the love affairs that the Street is now having with two formerly neglected chip names - Intel (NASDAQ:INTC) and Broadcom (BRCM)? Another problem may be that all the buyers have already bought Qualcomm, especially as the analyst recommendations are already all glowing.
The next couple of days will be interesting. I picked up a decent chunk of Qualcomm during the after hours session, but you may want to hold off until the analysts chime in.
Disclosure: I am long INTC, QCOM. I wrote this article myself, and it expresses my own opinions. I am not receiving compensation for it (other than from Seeking Alpha). I have no business relationship with any company whose stock is mentioned in this article.