Back in October, I argued that shares of Procter & Gamble (NYSE:PG) were severely overvalued. Trading at the time at $67.94 per share, PG sported a forward P/E over 17 (based on the midpoint of the company's then-guided earnings range of $3.80-$4.00 per share for the fiscal year ending June 30, 2013). This despite significant headwinds for top- and bottom-line growth, ranging from commodity inflation to continuing global weakness to the company's inability to create any sort of substantial organic sales growth across most of its product categories.
Over the next six months, the market showed its clear disagreement with my thesis; PG would gain some 20 percent, hitting an all-time high on Tuesday at $82.54. Better-than-expected fiscal second quarter earnings were a key catalyst, but PG has essentially gone nowhere but up for most of 2013.
That changed on Wednesday, however, as the company's third quarter results led to a relative rout in the low-beta stock. PG fell over 6 percent after its pre-market release, a huge one-day drop for a defensive stock with a beta of just 0.46 (according to finviz.com). The main catalyst was a weaker-than-expected forecast for Q4; though the company raised its full-year "core earnings" guidance range to $3.96-$4.04, that came in below analyst expectations for full-year earnings of $4.05 per share. ("Core earnings" exclude restructuring and other one-time changes.)
Even at PG's new lower price, however, the stock looks rather richly valued. PG's P/E ratio still sits over 19 at the midpoint of its FY13 guidance. The drop led the dividend yield to jump back over the 3 percent mark, but that yield still trails several fellow members of the Dow Jones and dozens of stocks in the S&P 500. Notably, PG has the highest forward P/E ratio of any of the Dow's 30 stocks, according to finviz.com.
I argued in October that PG's rich valuation made little sense; with the valuation now higher, it seems even less sensible, particularly given Wednesday's earnings report. While PG does offer a long-standing franchise, entrenched brands across a variety of product verticals and geographies, and 56 consecutive years of dividend increases, it remains questionable as to whether those attributes justify the current valuation. Because beyond those positives, there's little going on at Procter & Gamble to justify even an above-average multiple, let alone one that surpasses many of its peers. Indeed, Wednesday's release shows just how difficult the road ahead is for Procter & Gamble, in nearly every metric of importance to investors.
Sales Growth
Organic sales growth is defined to exclude the effects of currency translation, which have been modestly negative for P&G over the last few years. (The company is guiding for forex effects to reduce overall revenue growth by two percent in fiscal 2013.) Organic growth is expected to be 3-4 percent this year, continuing the company's recent sluggishness out of the 2008-09 financial crisis: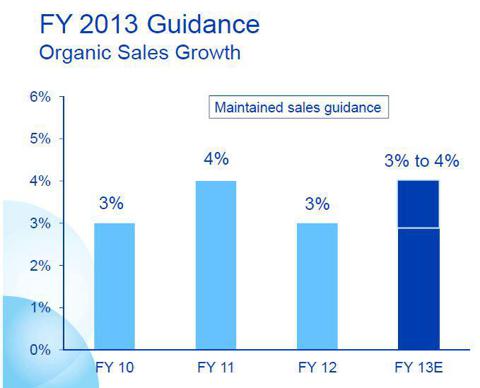 slide from FQ3 2013 Procter & Gamble earnings presentation
On the Q3 conference call, CEO Bob McDonald didn't express much optimism that organic sales would rebound any time soon. "I think the economic recovery is going to continue to be choppy," he told an analyst on the conference call. The weak sales growth appears to have driven some of the sharp fall in the stock price; as portfolio manager David Blount told Reuters, "There's a lot of frustration that they've been talking about a lot of actions they've been taking, but we haven't really seen an acceleration in the sales growth." Paying 19x earnings for this type of modest growth seems simply too high a price to pay, barring any other initiatives to improve the company's other metrics.
Earnings Growth
To be fair, the company does have other initiatives, notably a $10 billion restructuring plan announced in early 2012, which included substantial workforce reductions, decreased marketing expense, and a focus on increasing supply chain efficiency. On the conference call, both McDonald and CFO Jon Moeller emphasized the company's progress in the restructuring, noting that job cuts were ahead of schedule; indeed, Moeller credited the company's above-guidance Q3 earnings to "strong cost savings and productivity progress."
However, the Q3 earnings should be of little comfort to investors. The fact that workforce reduction plans are ahead of schedule does not affect future earnings at all; if the targeted number of job cuts remains the same, the long-term effect of those savings on the bottom line is similarly unchanged. Meanwhile, the weaker-than-projected Q4 guidance was attributed by management to increased spending on marketing, distribution, and new manufacturing plants for new products.
All told, the restructuring has, so far, done little to boost earnings. FY 2012 core EPS was $3.85 per share; at the midpoint of guidance, FY13 core earnings will increase less than four percent year-over-year, and sit barely ahead of FY11's $3.95 per share. Again, the simple question remains: why pay 19 times earnings for single-digit earnings growth? True, the estimated effect of the cost savings will grow over the next few years -- the company expects its program to conclude by 2016 -- but what comes after that? PG is not going to be able to create consistently strong earnings growth simply through cost-cutting. Over the long term, top-line growth is a must; and yet, analyst consensus for 2013 revenue is barely more than one percent higher than PG's 2008 sales of $83.5 million.
Shareholder Returns
Procter & Gamble announced a dividend hike earlier this month, its 56th consecutive year of dividend increases. The company has also instituted a stock buyback program, originally guided at the beginning of the fiscal year for $4-6 billion, but now estimated at $6 billion for the full year. The company touted its impressive shareholder return projects for fiscal 2013 in its earnings presentation: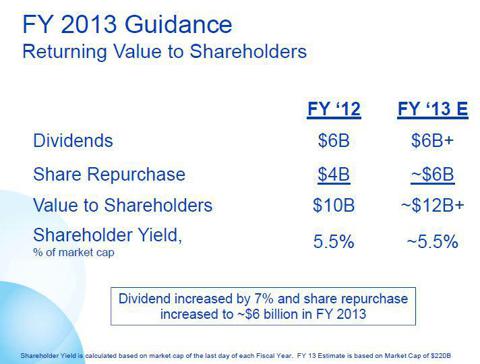 slide from FQ3 2013 Procter & Gamble earnings presentation
But there are some issues with PG's policy here as well. To begin with, the shareholder yield of 5.5 percent is solid, but hardly enough, on its own, to justify the stock's valuation. Stocks are based on the future, not the past, and there are a number of reasons to believe that PG's ability to return capital to shareholders will see significant stress in the near future.
To begin with, PG expects free cash flow to come in at 90% of net earnings. Earnings per share, at the midpoint of guidance, are expected to be $4.00 for fiscal 2013. At year's end, assuming an additional $1 billion in share repurchases in Q4 (the company has spent nearly $5 billion so far), there will be 2.917 billion shares outstanding. Therefore, net income should come in at $11.7 billion for the year, and free cash flow (at the 90% target) at $10.5 billion. But P&G is planning on returning more than $12 billion to its shareholders, leaving a nearly $2 billion deficit relative to free cash flow.
For PG to support its 2013 return policies without borrowing or depleting its cash balance, earnings would need to rise to $4.76 per share -- a 19 percent increase. Right now, PG is borrowing to create the shareholder yield it touts; without earnings growth, it will have to continue to do so for the next few years. That will limit P&G's ability to boost its dividend or increase its share repurchase authorization; indeed, given the single-digit annual earnings growth and the double-digit gap between shareholder yield and free cash flow yield, it will have to borrow billions of dollars simply to sustain its current returns.
The effect of this gap has already been seen, as P&G's dividend increases have slowed significantly over the past few years:
| | | |
| --- | --- | --- |
| Year | Dividend* | Growth Rate |
| 2003** | $0.92 | 10.5% |
| 2004 | $1.00 | 8.7% |
| 2005 | $1.12 | 12.0% |
| 2006 | $1.24 | 10.7% |
| 2007 | $1.40 | 12.9% |
| 2008 | $1.60 | 14.3% |
| 2009 | $1.76 | 10.0% |
| 2010 | $1.93*** | 9.5% |
| 2011 | $2.10 | 9.0% |
| 2012 | $2.25*** | 7.0% |
| 2013 | $2.41*** | 7.0% |
* -- annualized
** -- adjusted for 2-1 for stock split in 2004
*** -- rounded (percentages calculated to actual amount)
Annualized total calculated after January distribution for ease of comparison; dividend data from P&G investor relations website
The rate of increase has clearly slowed; and yet, P&G is simply not generating enough cash to cover even the more modestly growing dividend. This is not to say that P&G's 56-year streak is likely to come to an end soon; the AA-rated company should easily be able to borrow enough to cover any shareholder return policy it aims to create. But it calls into question P&G's ability to create the long-term shareholder returns dividend stock advocates so often tout. Debt creates interest; interest expense lowers earnings per share. And for a company that is already struggling to create any sort of bottom-line growth, even the modest impact of the admittedly low interest rates on PG debt can provide a headwind.
Even the share repurchases don't seem to have had much effect. According to the Q3 report, Procter & Gamble spent over $4.9 billion on share repurchases in the first three quarters of the fiscal year. Yet shares outstanding actually increased from June 2012 to March 31, 2013, albeit by an extremely modest margin (roughly 700,000 shares).
With so many challenges, PG's current valuation -- even after today's 6 percent fall -- seems to assume near-perfect execution by the company and its management. Its restructuring must go to plan, with the company cutting costs without impacting revenue growth through lower marketing, employee, and customer service spending. It must finance the capital returned to shareholders without the interest costs of that financing affecting the company's currently meager earnings growth. It must find a way to finally create organic sales growth that has eluded the company for the last five years. And even if all that works, it's still not clear that PG is particularly well-valued at 19x earnings. If organic growth doubles to 8 percent, and cost cutting drops 10 percent, shareholder yield will not grow substantially, as the company must make up the cash flow-shareholder yield deficit it has established over the last few years.
Procter & Gamble is a great company; it is, without exaggeration, an American institution. But a great company is not necessarily a great stock. Even after Wednesday's fall, Procter & Gamble is priced as if it has the ability to create strong, consistent earnings growth. Over the last five years, it has failed to do so; over the next five years, there are a myriad of obstacles in its path. The flight to safety and the search for yield driven by a sluggish economic recovery and the US Fed's zero interest rate policy has no doubt aided the demand for PG's yield and long-standing franchise. But that won't last forever. At some point, the fundamentals will matter again, and as Wednesday's report shows, it simply appears that Procter & Gamble's fundamentals do not support the valuation of its shares.
Disclosure: I have no positions in any stocks mentioned, and no plans to initiate any positions within the next 72 hours. I wrote this article myself, and it expresses my own opinions. I am not receiving compensation for it (other than from Seeking Alpha). I have no business relationship with any company whose stock is mentioned in this article.