Get out of shares of Medical Marijuana (OTCPK:MJNA) before it's too late, especially if you are sitting on a profit. Several months ago, I talked about how I suspected that shares of Medical Marijuana Inc were essentially just being inflated as part of a "pump and dump" scheme. While I continue to believe this, there are also some other red flags that cannot be ignored. Read on to find out just why you need to stay the heck away from this stock.
Collapse In Full Effect
The "pump and dump" thesis that I outlined here is still in full effect. Back then, the chart had only begun to show the initial signs of "toppiness" associated with such pump and dump schemes, but now it is clear that the collapse is happening before your very eyes: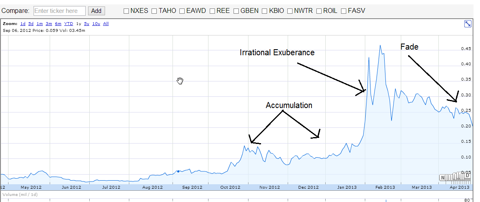 While the stock has already lost more than 50% from its high of $0.50/share, there is still plenty more downside to come. With these pump and dump schemes, you are almost guaranteed to see the share price drop not only right back to where it was before the "pump" began in the first place, but it will likely drift much lower. Before the show is over, you can expect MJNA to hit about $0.10, yet another halving of the share price.
Don't Believe The Promoters
I am going out on a limb now and urging you to not believe those that "pump" this stock, including management. See, if you take a look at the recent "earnings report" and "guidance" you will notice the following careful wording:

The company "forecasts" revenue for 2013 to be $47mm with "operating cash flows" of $32mm. Now, okay, that is somewhat believable, although for a pink-sheet penny stock that seems to have a ballooning share count (does MJNA count selling unauthorized shares as "operations"?), but the real hilarity is when the company doesn't claim that they "forecast" $155mm in revenues for 2014, but simply that there is the "potential" to increase revenues to that level. This is carefully worded so that "investors" can't come back later and claim that they were "promised" such revenues.
See, this is the kind of shadiness that helps me feel 100% confident in the notion that this is a penny stock scam. Further, given how desperately the company itself is trying to market its stock by giving wild projections, I believe that this "pump" could go far beyond a few penny stock promoting hooligans and that management may be profiting handsomely.
Stay Away
Many retail investors are buying this stock because, I believe, the ticker is "MJNA". The stock is seen as a play on the legalization of marijuana, and as a result most people with MJNA in their portfolios probably have no idea what the company actually makes or does. When the people running this gig are done selling, the retail bagholder will want to sell, too, and will find only other retail bagholders to try to sell to.
Lots of supply and soon to be little demand. This stock is set to crater once the jig is up, and judging by the terrible price action since the $0.50 peak, it seems that anybody buying here is being robbed of their hard earned money.
Caveat Emptor.
Disclosure: I have no positions in any stocks mentioned, and no plans to initiate any positions within the next 72 hours. I wrote this article myself, and it expresses my own opinions. I am not receiving compensation for it (other than from Seeking Alpha). I have no business relationship with any company whose stock is mentioned in this article.