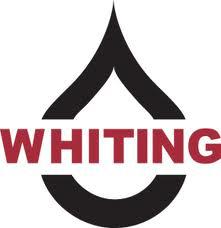 Whiting Petroleum (NYSE:WLL) announced Q1 2013 earnings after the market closed on Wednesday. Q1 2013 net income was $86 million or $0.72/share as compared to $98.2 million and $0.83 in the year ago quarter. Adjusted net income was $111.6 million or $0.94/share as compared to $122.6 million and $1.03 in Q1 of 2012. The street estimate was for $0.89/share. WLL was trading down -$0.26 in after market trading.
WLL's first quarter production came in at 89,140 boe/day of which 87% was crude oil and natural gas liquids. Production was up 10% year over year. Whiting's production profile and realized product prices is summarized in the following table: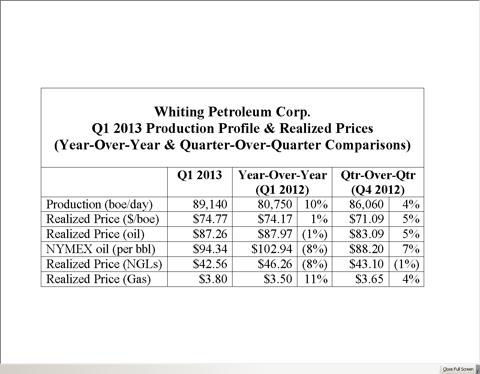 Realized Prices
It's interesting that WLL's realized oil price was basically flat year over year (-1%) while the NYMEX oil price declined 8%. This indicates an improvement in oil takeaway infrastructure in the Bakken - I would guess primarily via the railroads. NGLs continued their slide and were down 8% year over year. Realized prices for natural gas are firming and were up 11% compared to last year.
Losing Patience
I have lost patience with Whiting. The company continues to find ways to impressively increase production while reducing net income per share. Consider that WLL grew production by 10% YOY while its realized oil price was stable and yet net income was down (again). As a result, the stock has gone practically nowhere in 5 years: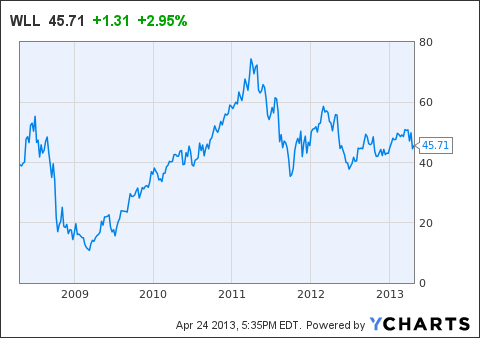 For the quarter, revenues rose by $49.7 million dollars over the prior year due to the jump in production. Yet costs and expenses rose by $69.3 million. Depreciation, depletion, and amortization expenses were up $45 million and the employee participation plan liability was up s whopping 400% to $4.4 million. As a result, net income per share was down year over year.
Bottom Line:
I sold the majority of my position in WLL last month at $51. I now wish I had sold it all. The returns for WLL, whether measured by share price appreciation or net income, are just not materializing in line with its production growth. I suggest investors consider moving out of WLL and into dividend paying oil companies like Conoco Phillips (NYSE:COP) which is currently yielding 4.5%, Chevron (NYSE:CVX) yielding 3%, and Exxon Mobil (NYSE:XOM). Exxon increased its dividend Wednesday by 6 cents a share ($2.52/year) and is now yielding 2.8%.
Considering WLL's quality acreage in the Bakken, a long rumored buyout is possible and may indeed happen. However, I suspect such an event would be brought on by significantly lower oil prices - meaning the stock would likely drop considerably before hand. Regardless, a buyout will probably not take shares off my hands as I will likely not own any by then. I will listen to a replay of Thursday's conference call (11am EST), but doubt I will hear anything to change my mind.
Next up on the earnings calendar is Exxon Mobil and Conoco Phillips, both reporting Thursday. An earnings preview and links to the company conference calls can be found here.
Disclosure: I am long WLL, COP, CVX, XOM. I wrote this article myself, and it expresses my own opinions. I am not receiving compensation for it (other than from Seeking Alpha). I have no business relationship with any company whose stock is mentioned in this article.
Additional disclosure: I am an engineer, not a CFA. Please do your own research and contact your investment adviser. I am not responsible for investment decisions you make. Thanks for reading and good luck!